Kathy and Rick's
Family and Friends Page
JANUARY TO DECEMBER, 2004
Most recent events are listed first.
>

A Childhood Photo Album
and a poem by Stephen
in honor of his birthday, December 25


An Early Thanksgiving celebrating Sara's 15th Birthday
Tim, Dylan and Ryan come from San Diego

See a little photo essay Rick did:
Kathy and her Mom Mary Abela E.
and their many smiles!


Daniel Jencka, friend composer and harpsichordist
joined us on our third anniversary in Pasadena
for a midnight celebration.


At The University of Chicago October 26


Family day in Chicago October 25


Combinatorics and Autumn in Evanston near Chicago October 22-24

A Tribute to Stephen (12/25/50 - 10/21/94)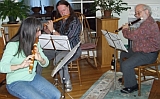 A Night of Music in northern California September 21, 2004


Perfect anniversary Soup


Kathy's Birthday (September 6) at the Zoo


Kathy and Julian had a double birthday celebration in Santa Barbara.


Tim brings Dylan and Ryan to Santa Barbara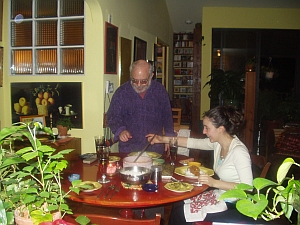 Niece Elizabeth Wilson visits from Skokie
Part 1. See Elizabeth's arrival and welcome.
Part 2. See Diana and Elizabeth in Pasadena together!
Part 3. See the girls come for dinner and an overnight.
Part 4. See us wake up the girlsbreakfast and departure.



Diana Wilson has a holiday
in Santa Barbara (September27-28, 2004)



Celebrating our third anniversary in northern California with friends.


Dylan and Ryan
welcome Grandma, Grandpa and Colleen
for a day of fun while parents are busy...
Timothy was in Ireland and Sally at work.


Diana Wilson
will go to the University of Redlands.
We welcome Diana, her mom Georgie,
and friends Rachel Foster, and her mom, Linda
to a celebration in Pasadena.


Nesting in Pasadena.
See who came to visit!
August 24, 2004 was the fourth anniversary of the passing
of Fred Kasper.
We have added four short poems of his to the website we made for him in his honor. Go to:
Fred Kasper's Page


Go to Maureen's Page

KATHY AND RICK WELCOME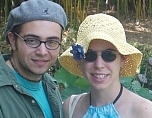 SEAN AND JAMIE TO PASADENA!
August 17 to 22, 2004.
FOLLOW THEIR ADVENTURES! GO TO
DAY SIX and DEPARTURE (Sunday and Monday, August 22 and 23, 2004)
DAY FIVE (Saturday, August 21, 2004)
DAY FOUR (Friday, August 20, 2004)
DAY THREE (Thursday, August 19, 2004)
DAY TWO (PART TWO) (Wednesday, August 18, 2004)
DAY TWO (PART ONE) (Wednesday, August 18, 2004)
DAY ONE (Tuesday, August 17, 2004)
See Sean's previous visit (December 17-24 2003)


Arjeh Cohen from Eindhoven visits Caltech and Pasadena.
A (golfing) visit to Santa Barbara! (August 11, 2004)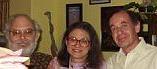 Michael and Marjorie Collins visit us in Pasadena(July 7, 2004)




Before we leave for our trip A visit to Lotusland (July 11, 2004)
VISITING FAMILY AND ART
in the Chicago area
(June 26 to 29, 2004)


THE ART OF JEREMY FOSTER

We visited Jeremy at home in Wilmette, near Skokie, June 29, and photographed his art.

HONORING STEVE WILSON in Skokie, June 27, 2004
Go to our report on our visit to Skokie to honor Steve, Rick's youngest brother who died last May.



Steve Wilson 1951–2003



THE "KRAZYKAT KONZERT":
Rick, Harry and Alan play 19th century music on 19th century instruments.
JUNE 12, 2004
Click above
for a concert report, photos and sound samples.