Go to NAGOYA TRAVEL JOURNAL
Go to BUSAN TRAVEL JOURNAL PART I
Go to BUSAN TRAVEL JOURNAL PART II
Go to "Flashbacks" to Busan (July 29, 2004)
We arrived in Busan on July 17, 2004. Rick gave a lecture at the conference at Pusan University. Then, we flew from Busan to Nagoya, Japan, on Sunday, July 25.
Rick gave a lecture at Nagoya University.
On July 28 we traveled by train from Nagoya to Kyoto,
where we stayed for one week. Rick lectured there at a conference
on Combinatorial Designs. We arrived home in Pasadena on Monday, August 2.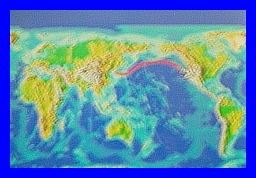 Our flight pattern
as pictured on screen on the seat in front of us (on Korean Air)
just before landing
back home in Los Angeles.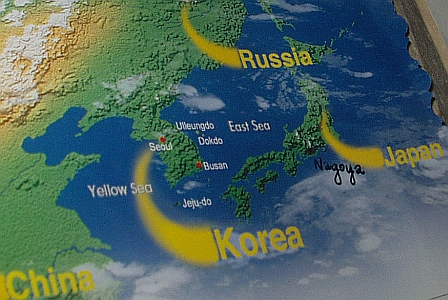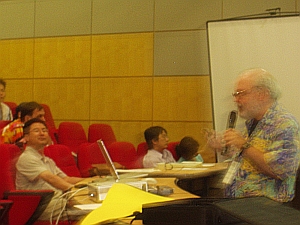 Rick was one of the speakers at
2004 Com2MaC Conference on
Association Schemes, Codes and Designs at the University of Pusan.
In the photo above, Rick is giving his lecture.
Front row left, listening, is friend and organizer Sung Yell Song, Professor of Mathematics at Iowa State University.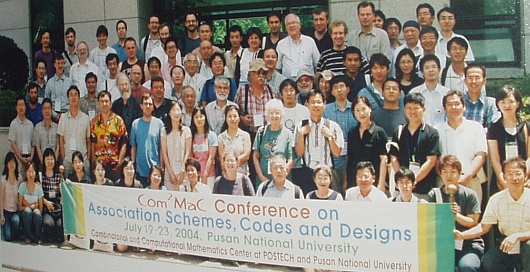 Above, the speakers and conference participants
(See Rick and Kathy, fourth row, right of center)
To see more about the conference, click: here.

For a description of the food in Korea, click here
Busan is the second largest city in Korea, about 80 miles south of the city of Pohang. For more about Busan (also previosly and sometimes still referred to as Pusan) go to
Port of Busan
The purpose of the conference was to stimulate research and to foster the interaction of researchers in the interface between Association Schemes, Codes, Designs and Related Fields. This conference provided a forum through which scientists working in the areas of algebraic combinatorics, coding theory, design theory, and graph theory exchanged ideas with researchers from all over the world to be better informed of the latest developments and newest techniques.
In Korea and Japan we were 15 hours ahead of you in California. When it is 7 pm in Santa Barbara, and Pasadena, it was noon, THE NEXT DAY in Korea!
(Hopefully, if you live anywhere else, you can figure the time difference from that. It is Greenwich mean time plus nine hours.)