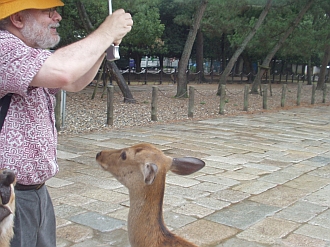 What, you might ask, is that???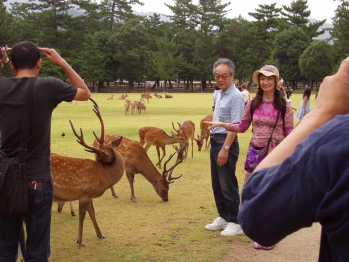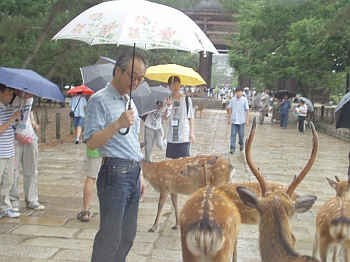 Well, it is one of these! Nara is overrun with deer. Along with our host, and kind organizer of the conference in Kyoto, Shinji Kuriki (on Kathy's left, and holding the umbrella) they greeted us at the station in the rain. You can just see Shinji's lovely wife, Junko, who also accompanied us on our adventures in Nara, which is their home city. Here she is with Yuki, just after we arrived. What did they know that we didn't know?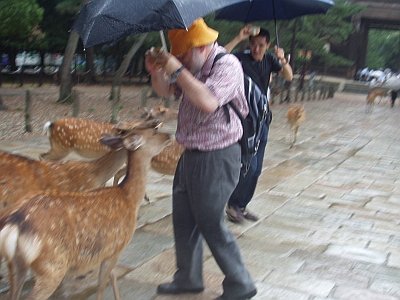 We weren't the ones that bought those deer cookies. Now Rick is being overrun with deer, and we just got here! That one just bit Rick on his tummy! (Rick was protecting Kathy from the deer, by the way. someone had handed Kathy the cookies and Rick grabbed them when he saw what was happening!)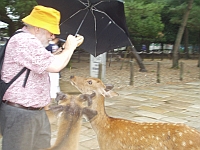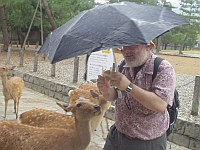 Rick was trying as hard as he could to get those cookies unwrapped fast!
Well, why didn't someone warn us? We could have just read the signs!

(Seems like those deer can be grouchy sometimes!) Now, we are sure you haven't seen enough of the deer, so you will have to keep checking back for
deer sightings
but we have temples to see, and stairs to climb, and shrines to visit and a national museum to examine and puddles to avoid, and Japanese curry and donburi to eat before we go back on that train to Kyoto!
Here's where we were, at Todai-Ji Temple...don't think there weren't any deer around, they just didn't get into this picture.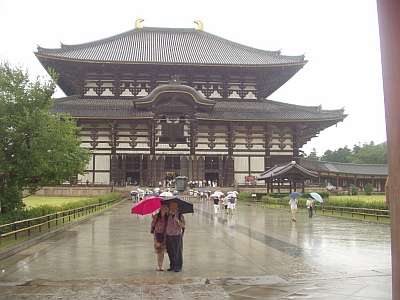 It is a good think we remembered to bring our umbrellas from Pasadena, because a typhoon was coming! Actually, it avoided Kyoto and headed for Tokyo.
You can see more of our adventures in Nara soon, and more about Kyoto, Nagoya, and Busan when we can post more about our trip. Yuki will come soon to take us on more adventures on our last day in Kyoto, then we will pack, and tomorrow morning we leave for home!!
The reason we are able to post these journals from Kyoto at all, we found out, is that the hotel NEXT to ours has a high speed free wireless connection, and it leaks out to us!! We are very lucky! Our hosts were amazed we could connect.
Kampai! (Cheers!) from Kyoto, from Kathy and Rick! And
Arigato!(Thanks!) to all of our gracious hosts in Japan (and Korea) who have made this a tremendous and unforgettable trip for us.
F..............Before we leave (in a few hours) we just have to make a note about what happened yesterday! Our host for the day, young Yuki Mutoh had a plan. (This involved many taxi rides, and miles of walking, up and down stairs and through and around temples, shrines and gardens, all new and amazing and to be continued later.) We did all of that, but there was more! We were standing at an outdoor souvenir shop looking, and inquiring about something, and the woman seller told Yuki...what we knew already...'those are toys', but I can help you find real ones. Yuki made several phone calls on his cell phone during lunch, and made an appointment. Then went a long way in a taxi with him, until we arrived at an unmarked, unlikely doorstep in an area of Kyoto we had never been before. Have you guessed yet?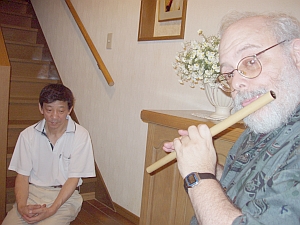 The man in the background is Matano Shinryo, a FIFTH generation FLUTEMAKER. And Rick is playing the FLUTE, a Japanese shinobue, he chose to buy from him. Rick tried each one (Kathy too) and chose according to sound.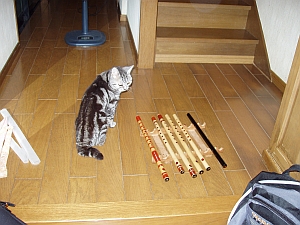 The flutemaker's cat notices one is missing.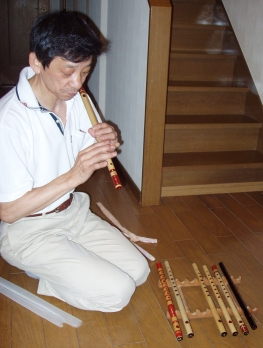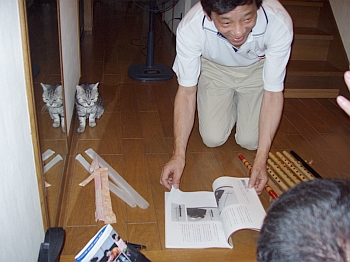 The transaction took place in the hallway at the foot of a wooden staircase in the flutemaker's meticulously clean and beautifully arranged hallway.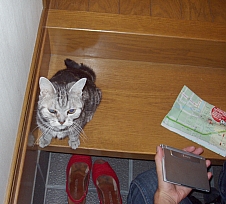 We were all impressed with Yuki's resourcefulness in bringing us here. You can see his map and small electronic dictionary he uses to show us English meanings of Japanese words.

G.............. GOODBYE Kyoto!! Last night under the full moon, on the bridge over the Kamo River.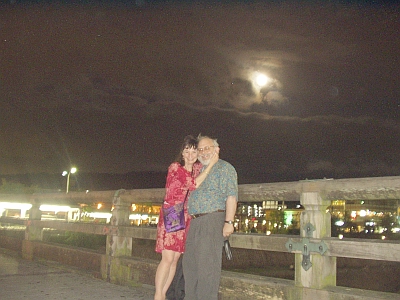 Go to the story of our journey home and the rest of our memories of KYOTO
Go back to our main travel page
Go back to NAGOYA, JAPAN
Go back to FLASHBACKS from BUSAN
Go back to Part II of our visit to Busan
Go back to Part I of our visit to Busan
Go back to Kathy&Rick Home Page