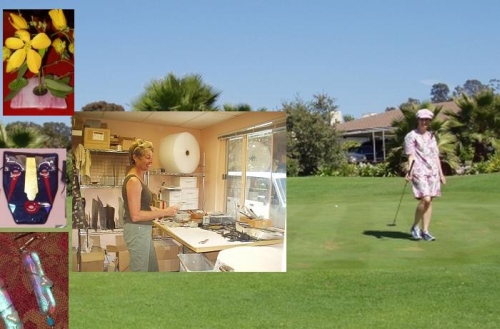 We visited Shelly Szekely, a wonderful glass artist, who has one of the most beautiful studio locations we have ever seen. Nestled into the foothills just outside of Santa Barbara, her workshop adjoins the jewel-like nine hole "Hidden Oaks Golf Course". Arjeh and his wife Peggy have started playing golf together in Holland, and so he was eager to try some courses here. Shelly and Kathy have been good friends for over ten years, companions at the Santa Barbara Arts and Crafts Show. She has always asked Kathy to come and visit her studio and the course so we took this opportunity to arrange a visit. Shelly makes beautiful dichroic glass moribana flower arrangement holders (top left). You can see some of her other work, amazing masks, and glass jewelry. The earrings in the lower left are a Kathy-Shelly collaboration. Shelly made the glass, Kathy added the heart shaped pearls and turqouise.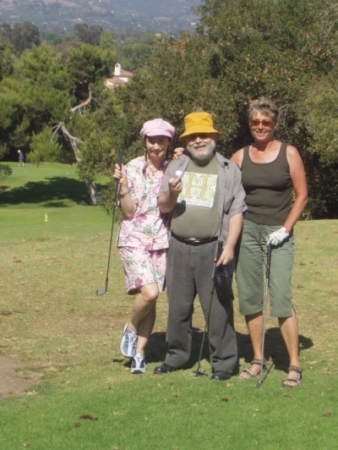 Arjeh took this group portrait of his golfing friends!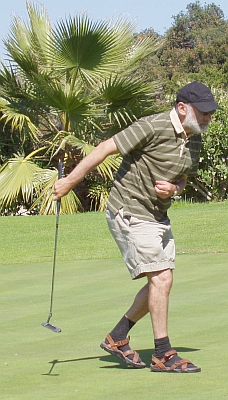 It was fun to watch Arjeh play with style and many good shots. (He told us he learned in a week-long intensive French golf workshop. Full days of golf lessons, and french food. Sounds like the best way to learn. It really works too!)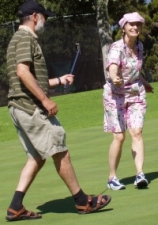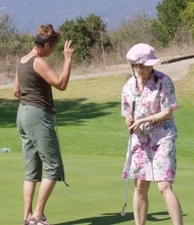 We all enjoyed it so much we did a little dance. Kathy has not played in about ten years, so she was celebrating.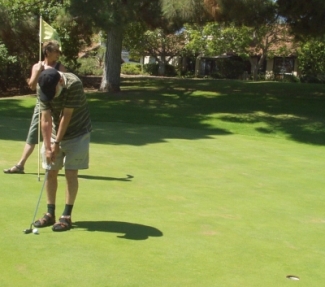 The big surprise is that Rick, who was on a golf course only twice (when he was twelve), was a natural! He had great form, hit many good shots, and was good at putting. Kathy asked him why, and he said he just listened to what everyone said you were supposed to do. Isn't that a great golf story!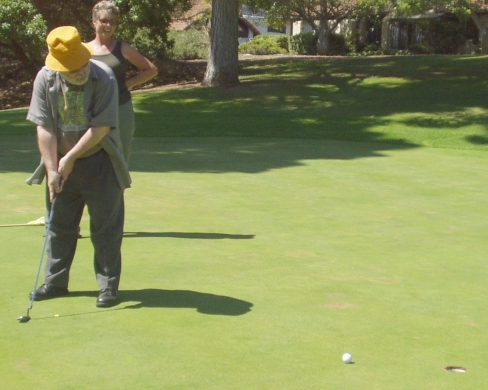 Why is Shelly so happy? Is it that Rick is making his putt? Yes, but more. Our presence was her lucky charm. Although she has played the course hundreds of times, she played her best round ever with us!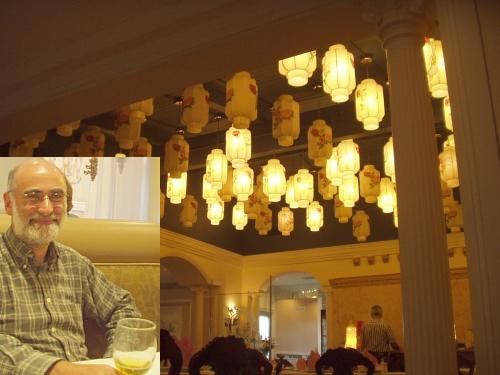 Arjeh took us to dinner at a great Chinese restaurant (Empress Palace) in Santa Barbara after the round.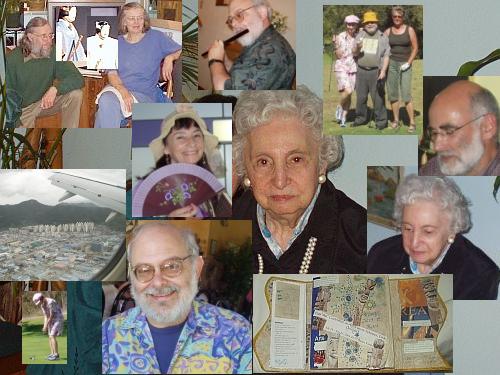 Our final stop in Santa Barbara was the sweetest, a visit with Kathy's Mom, Mary to give her a return hug after our trip, and show her journals and share stories of our travels and our day. Arjeh had met her last year on his visit, and our good friends Hyla and Tracy came on a moment's notice to join us at Mom's and share the stories and fun. It was a celebration of love, fun and good friendship that filled her room at 'The Garden Court at De La Vina' in Santa Barbara. We drove home to Pasadena happy with a wonderful day.
Read a favorite poem sent to Arjeh by a friend...a good motto for our adventures.
See Arjeh's last visit(2003)