A LONG (Percussive) WEEKEND
(Saturday to Monday) IN PASADENA
Sean's Days Eight, Nine and Ten
December 18, 19, 20, 2004

Sean began the weekend before leaving on Saturday, with a danmo solo...appropriately, since we began the whole visit with a bang!
The danmo is a classic Vietnamese percussion instrument, carved from the resonant wood of the Jack Fruit tree, having a wooden stand, five tuned temple blocks, and four horizontal tone blocks with "scrapers" and is played with two, two-ended wooden mallets. Kathy and Rick found it in a music store in Claremont, CA.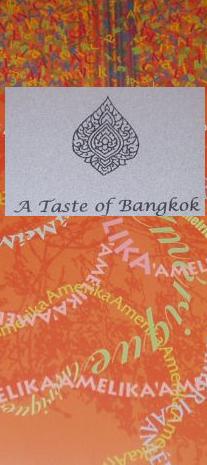 We went for a lunch at our favorite local Thai restaurant, A Taste of Bangkok.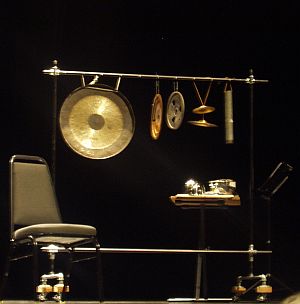 Saturday night we had made reservations for Southwest Chamber Music's performance of two contemporary percussion pieces, in tune with the theme of Sean's visit. We attended the pre-concert lecture, in which Jeff Van der Schmidt, the founding artistic director, spoke eloquently on the pieces and performance details.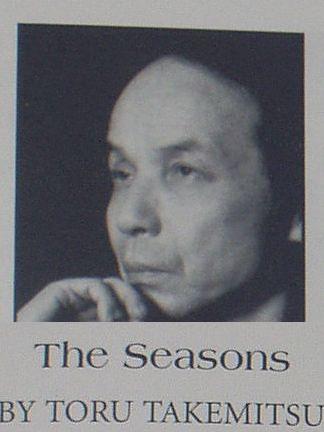 The first (zen-inspired) piece, by Toru Takemitsu (1930 – 1996) was, as Jeff van der Schmidt notes, an illustration of Takemitsu's words..."The unknown is not to be found in either the past or the future but in the present." Immediate, insistant, delicate, and intense, the acoustic calligraphy was set forth by Southwest Chamber Music's percussionist Lynn Vartan, joined by excellent student performers in the ensemble's mentorship program at John Muir High School, in Pasadena (William Logan, Abel Garcia, Manoa Razafimanantsoa, and Allessandro Manteros). Also added, to fulfil Takemitsu's suggestion of an earth conscious uniifying text or atmosphere, were interspersed current weather reports, read by native speaking student performers from John Muir... in Armenian (Tamara Baghdassarian), Malagasy (Mini Baghdaassarian), Vietnamese (Carol Pham), and 'American English" (Jim Foschia, Chair of the Music Department at John Muir). Percussionists and speakers were positioned on the front stage and in the rear overhead balconies, behind and above the audience.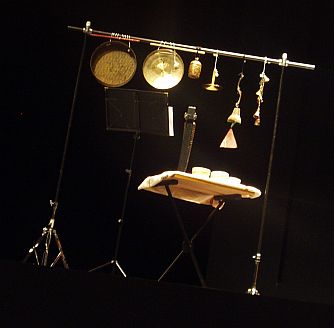 Both sets of interesting and various dangling percussion instruments were used in the piece, as well as the central marimba, pictured below.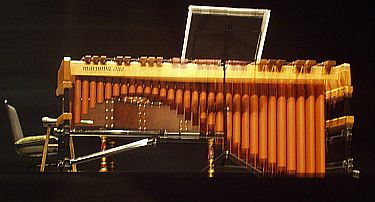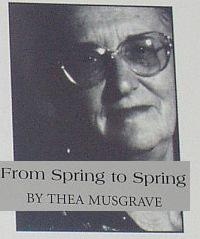 The second piece was for solo marimba, by Thea Musgrave (b.1928) who, as Jeff van der Schmidt explained, is the most important and groundbreaking of women composers. Her beautiful "From Spring to Spring" is based on four Haiku poems, and is a rich and emotional journey through the four seasons. The Four Seasons was theme of the concert, and a performance of Vivaldi's version was performed by Southwest Chamber Music as the second half of the concert. Although we were tempted, we could not stay as we were all on New York time...thanks to Sean.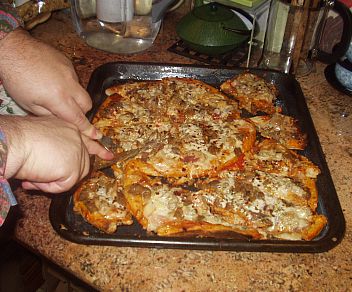 Kathy and Rick made a quick dinner by adding lots of crushed red pepper and "Gimme Lean" tofu sausage to our favorite "Amy's" pizza.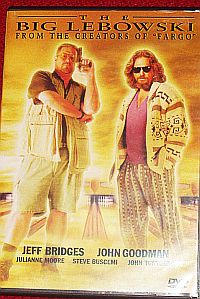 And we finished our latest movie, one of our favorites, and one that Sean had never seen. "The Big Lebowski", as hilarious as it is enlightening. It's bowling theme made it even funnier for Sean who, as a teenager, bowled two 300 games in competition!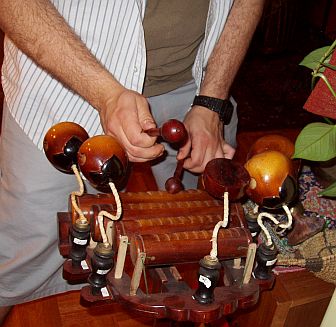 More danmo solos,
more naps, more dips in the hot tub, more hours at the gym at the nearby LA Fitness Center...Sean's visit was approaching its last danmo roll.
Sean is a real musician, you may have guessed. He played trombone for years and now plays guitar, as well as percussion.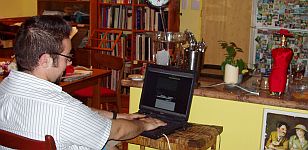 This is our guest computer station in the living room. Sean made good use of it.
More checking on some of the great responses Sean got to these pages from friends who read them! Thanks everyone!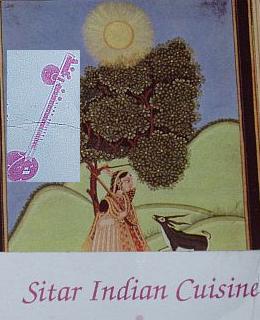 Sean loves Indian music and Indian food, so on a relaxed Sunday, we lunched at "Sitar" and enjoyed a long walk and then a nap...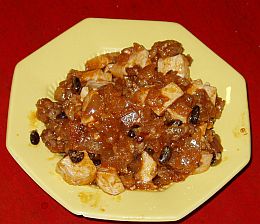 For dinner Monday night, Rick and Kathy again collaborated on their recipe for MaPo Tofu. This was the best ever, as we added some salted black beans from the Asian market in San Gabriel.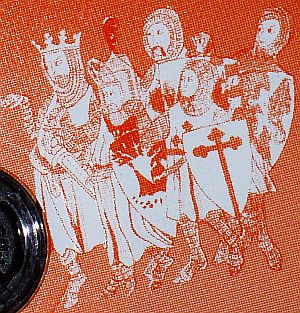 And we started another movie... one with the best percussion accompaniment ever composed, and based on an ancient legend... "Monty Python and the Holy Grail".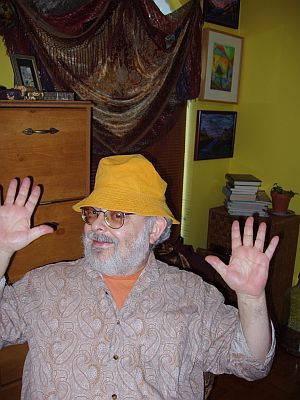 Why is Rick saying "stand back"???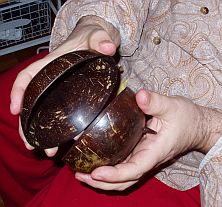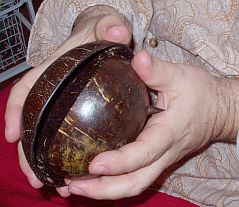 Because he is about to do this!!
After Sean left, we discovered
another percussion instrument in the house...two small bowls, each made from half a coconut shell!!
We set to work reenacting the movie...
okay, Sean...see you next time in Camelot!
The concert at the Norton Simon was part of the celebration of a Pasadena wide effort:
"The Tender Land: A Festival of Art, History, Music, and Science." Running from Oct. 9, 2004 to Jan. 31, 2005,
"The Tender Land"
celebrates "interpretations of landscape, environment, and ecology, tracing the changing perceptions of nature and the human relationship to the earth. 14 Pasadena cultural institutions (including Southwest Chamber Music and the Norton Simon Museum) are participating". We are proud of Pasadena for providing this beautiful, evocative, cooperative cutural offering!
Continue on to Departure from Wonderland (Seans last day in Pasadena
Go back to Sean's Day Seven, Part Two (Beijing Opera)
Go back to Sean's Day Seven, Part One (Poetry reading)
Go back to Sean's Day Six
Go back to Grandma's birthday dinner (Sean's fifth day, part two)
Go back to Grandma's birthday lunch Sean's fifth day, part one
Go back to Sean's fourth day
Go back to Sean's third day
Go back to Sean's second day
Go back to Sean's first day
Go to Sean and Jamie's visit last August
Go to Kathy&Rick Home Page