THE LAST DAY OF OUR VISIT
Tuesday, October 26, 2004
AT THE UNIVERSITY OF CHICAGO




We came to the University of Chicago on the spontaneous invitation of László (Laci) Babai, Professor of Computer Science at the university, who asked Rick if he would give a seminar talk. When we arrived, Laci served us tea and snacks at his home not far from the campus. Then we enjoyed a leisurely walk and talk amidst autumn leaves through the park and several blocks to the university. Rick and Laci have known one another for years, and Kathy is happy to have him as a friend now too.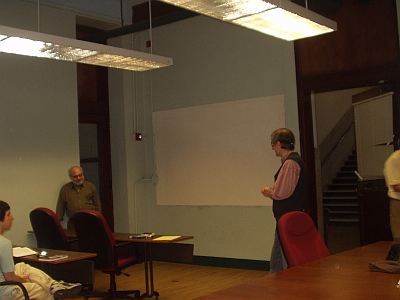 Laci introduced Rick to his seminar audience, about fifteen graduate students and faculty.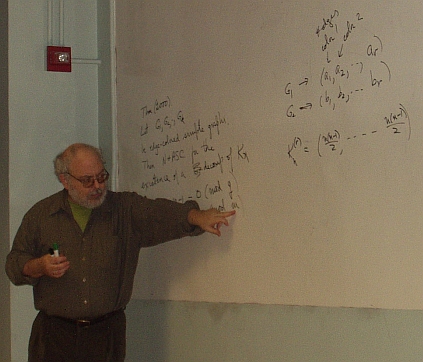 Rick gave his presentation on Decompositions of edge-colored complete graphs, which showed the progression of his thought on a topic he began work on in the 1970's.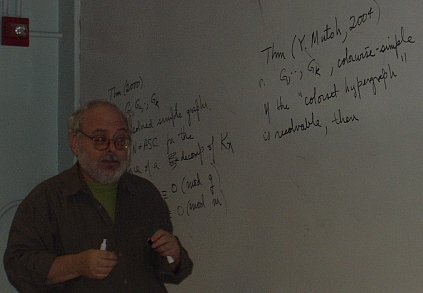 Just this year he presented some further work on the topic he has done with Yuki Mutoh, who visited Caltech from Japan last year.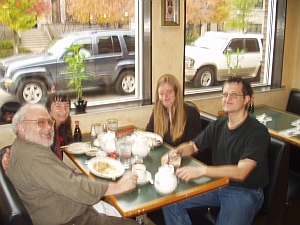 After the lecture we were taken to Noodles, Etc, a fine Thai influenced noodle shop, a favorite of local mathematicians and computer scientists. Our luncheon hosts were Carolyne (Carly) Klivans and Daniel Stefankonc. (Sorry, the waiter was was carrying several trays of noodles while he took this picture so he could not hold the camera still.)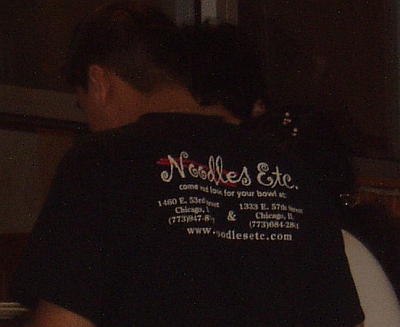 We should have taken a photo of the 'leek cakes'...they were a nice surprise. A good amount of bright green, cooked leek, in a thin rice dough, shaped like a small thick pancake, they were especially delicious.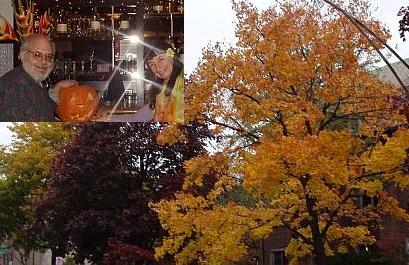 After lunch and some jasmine tea, we had an idea.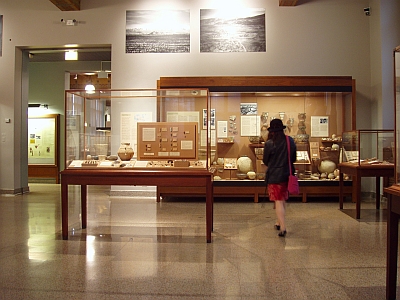 We had just about a half and hour to go to the Oriental Institute Museum a small but rich museum focused on the history, art and archeology of the ancient Near East.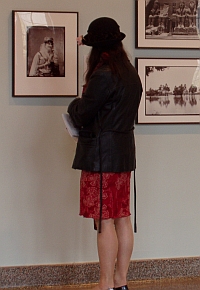 The special traveling exhibit was Lost Egypt: A Limited Edition Portfolio Series of Photographic Images from Egypt's Past. "These exquisite photographic prints recapture images of the Nile Valley at the turn of the century, revealing glimpses of an Egypt that no longer exists." Kathy found this especially fascinating, because her mom, whose Maltese parents were living in Port Said when she was born, lived in Egypt until she came to America when she was seventeen years old. (See a photo album of Mary Abela in Egypt)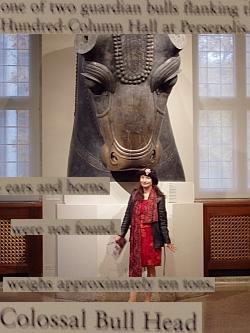 In addition, the museum has permanent collections that focus on Iran, Iraq, Syria, and Turkey. Here is a restored sculpture that originally was part of a larger guardian bull, one of two that stood at the entrance to the Hall of a Hundred Columns in Persopolis, in ancient Iran.
This also was of special interest to us, as we visited Iran last year, when Rick spoke at the International Workshop on Combinatorics, Linear Algebra and Graph Coloring at IPM (The Institute for Studies in Theoretical Physics and Mathematics) in Tehran, Iran, held in August 2003.
See the fascinating story of Our Trip to Iran.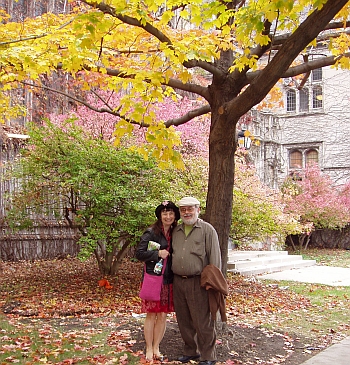 We left amidst the beautiful colors of a brisk autumn day, after an interesting and heartwarming working visit to Chicago.
Go back to the conference in Evanston (at Northwestern University)
Go to visits with family in Skokie
Go to Kathy&Rick Home Page