There's still more alphabet soup left!!
We have very little time because our hosts are so gracious to us, and plan wonderful trips and activities (including meals of course) so we do as much as we can whenever there are a few minutes.
******************************************************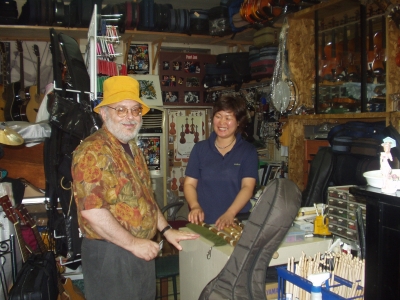 F..........We took a very long walk (just the two of us) the day before we left Busan and came across this music store. We found two nice Korean FLUTES for Rick! One is a long transverse flute, and the other a small end-blown one. Both are wrapped bamboo (more photos later).
G...........GOLLY GEE, GOOD GRIEF, how come everybody has a flip-top phone here??? In the cities of South Korea everyone, from small children to older adults, has at least one cell phone, and it is almost always a flip-top.We are way more than fifteen hours behind in this area!! (maybe 15 years?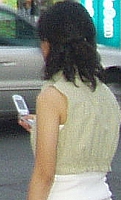 And we think everyone finds a way to have a garden! On our walks we found small home gardens in many odd situations... squeezed between buildings, on rooftops, on sides of a walkways were melon, squash, tomatoes,onions and corn.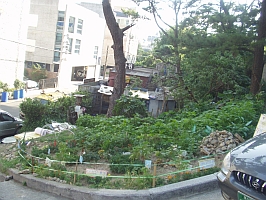 In fact, right next to our hotel, was a rather extensive garden, and a small farm truck that sold produce.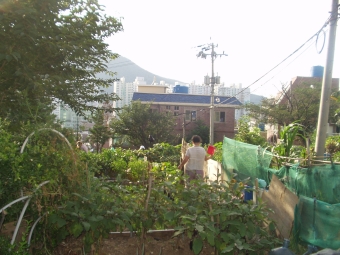 See more gardens in Busan.
H............Rick did a HAT trick in Busan. Remember the Caltech Hat he was wearing before the cruise on July 21?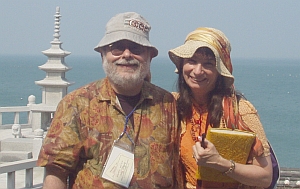 Now, look at him checking out of our hotel in Busan!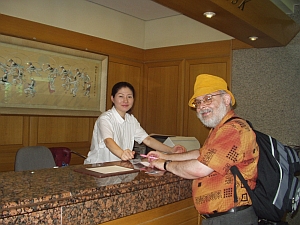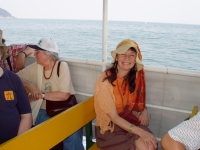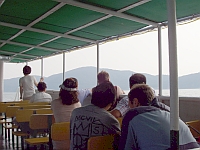 The cruise was less wild than the first one, but the winds were wild enough to grab in a second, Rick's hat, and take it into the sea.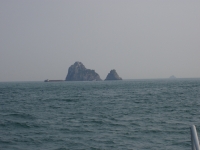 While Rick's hat disappeared, these islands got closer and closer!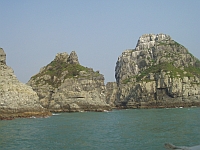 No, we did not find Rick's hat on the islands.
But as soon as we got off that boat, when everyone else went to see the beach before dinner, we two (having seen beaches before) set off on our own, through the winding beachside small market streets, and found a a new hat. Everyone laughed when they saw Rick strolling back to the bus with his brightly colored new chapeau.

I..............A very INTERESTING thing we discovered about eating in Korea is that every meal, everywhere is eaten with METAL chopsticks, and they are accompanied by a metal, longer than normal, soup spoon. That is the standard table setting! We never saw wood or bamboo there at all. After we found the hat pictured above, we inquired, down those winding ways, of shopkeepers who spoke no English, as to where we could find some chopsticks, and we went down unlikely paths, following gestured directions! We found some metal chopsticks to take home in a cooking supply store. We did not get lost, and met the rest of the 'beach group' in the right place at the right time! Here is a typical set.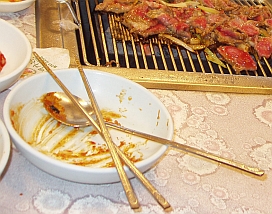 GO TO KYOTO TRAVEL JOURNAL
GO TO NAGOYA TRAVEL JOURNAL
GO TO BUSAN TRAVEL JOURNAL PART I
GO TO BUSAN TRAVEL JOURNAL PART II
Go to Our Main Korea - Japan Travel Page 2004
Go to Kathy&Rick Home Page