AN ANNIVERSARY DINNER BY HARRY BOWER
with Jean Spencer, at Stephen Malinowski and Lisa Turetsky's
home in Richmond, California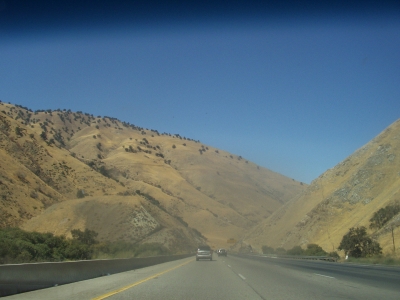 We drove north to the bay area from Pasadena through the golden hills. Rick always says
"this is why California is called the golden state".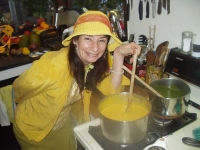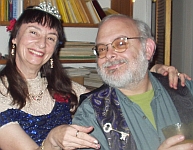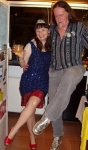 We all dressed up for the anniversary celebration. Notice Harry is wearing his sparkling wedding shoes, Kathy is wearing her tiara, and Rick is wearing his paisley wedding vest, a gift from Kathy.You'll notice throughout the evening, that Harry made sure we were sparkling! Here you can see the key to Kathy's heart Harry pinned on Rick.
We're back again on September 19th in the kitchen at Stephen and Lisa's, where Harry is cooking golden soup ...remember how well Kathy matched the soup? Well that was only the beginning!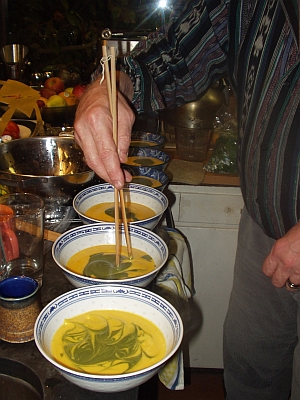 That was before it really became meaningful and beautiful! The perfect blend of TWO soups, that Harry artistically swirled together! This time he used a puree of greens (spinach, parsley and arugula) swirled into a puree of butternut squash.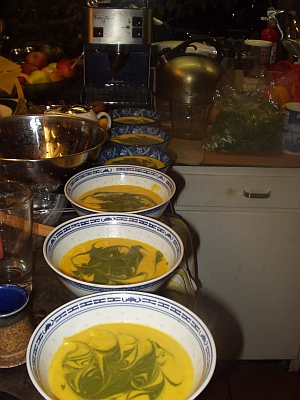 What could be more perfect as an anniversary soup for two people who are the perfect swirl??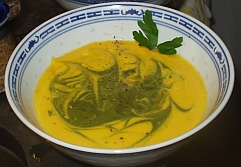 Remember Harry cooked the meal for our actual wedding celebration three years ago! So he knows what he is doing. The final soup...with a parsley butterfly!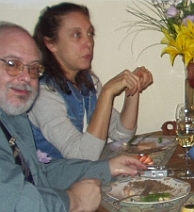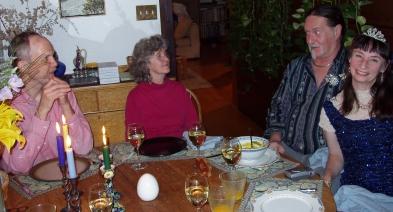 A beautiful celebration dinner with dear friends. Jean Spencer (in red) listened to Harry's secrets on making the wonderful meal. Harry cooked at her cafe at the Musical Offering in Berkeley as a guest chef a few months ago...a rare treat.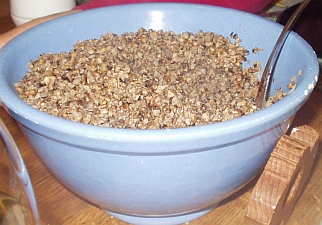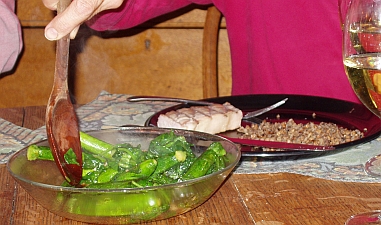 Harry made Kasha, especially because Rick made a request. He remembers fondly his Mom stirring the beaten egg into the buckwheat groats, adding water, and the wonderful scent of onion being cooked golden, and added before serving, disappearing except for adding a wonderful taste. Then she served it with a light gravy with whatever meat she made. Harry made grilled pork, and served it with greens.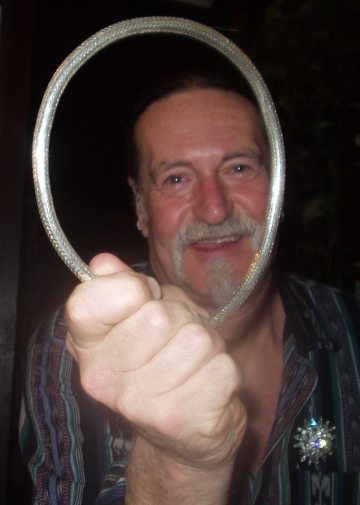 It was a perfect (sparkling) night.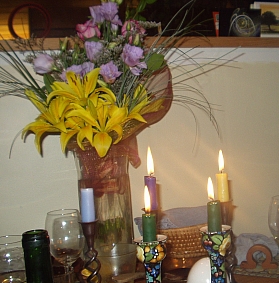 The table bouquet was a gift from Diana Wilson and Rachel Foster for Kathy's birthday, before we left Pasadena. We brought it in the car and it was the wonderful centerpiece for the time we visited.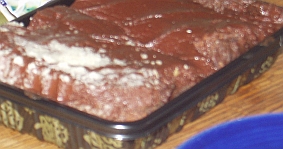 For dessert we all shared some Harry's special 'Queen of Sheba' wedding cake, preserved in our freezer for the last three years!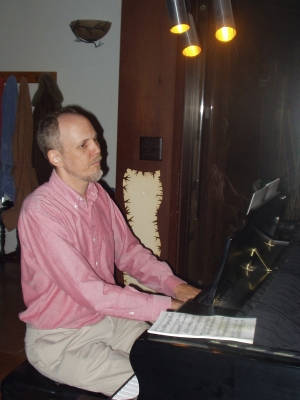 Stephen played us a dance.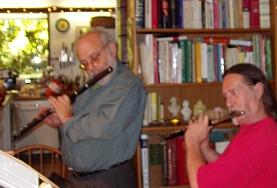 Harry and Rick played some romantic music.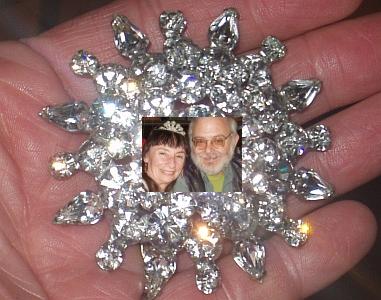 Coming soon: Another night of music , another wonderful meal by Harry, and walks in the golden hills.
Go back to Kathy&Rick Home Page