OUR VISIT WITH DYLAN and RYAN IN SAN DIEGO
Saturday, August 28, 2004
We drove to San Diego in Kathy's daughter Colleen's chestnut mini-van on Friday night. Colleen felt better wearing Rick's hat. When she got tired (she had worked all day at her spa in Santa Barbara) Rick drove the rest of the way. We had toys: ten boxes of plastic tracks and trains Kathy had collected for Dylan...we had bought some before and they were so much fun. We wanted more but the tracks were out of stock for several months. When they appeared on shelves again, Kathy called Dylan to say "I couldn't help myself, Dylan, I bought ten boxes!" (Kathy was hoping he had not outgrown them, because she could not wait to put them together, and play!) When we got there, everyone was sleeping, so we had to wait till morning to see everyone.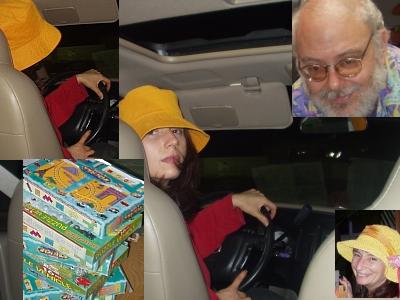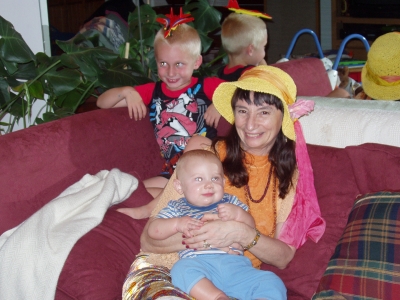 Dylan and Ryan were happy to see their grandma!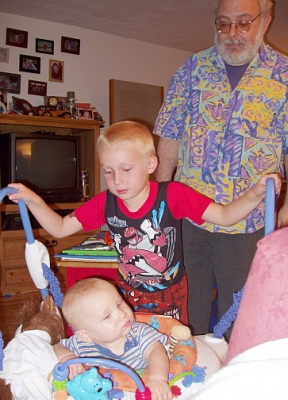 A thoughtful trio! Grandpa watched out for Dylan who watched out for Ryan. Surely Ryan was thinking about his grandma!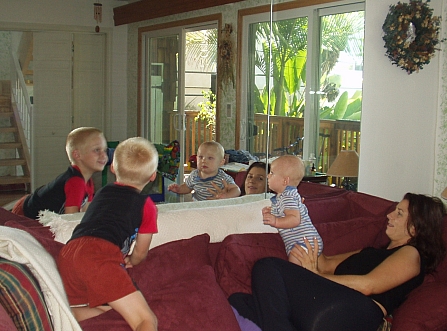 Colleen, Kathy's daughter is the best babysitter.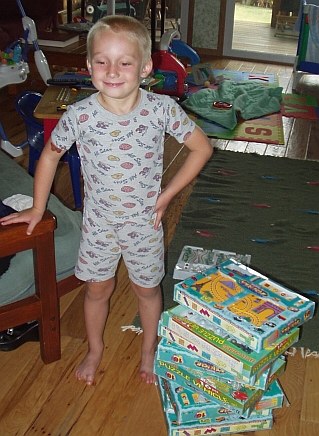 Grandma brought the most toys.
"Grandma... you couldn't help yourself!!"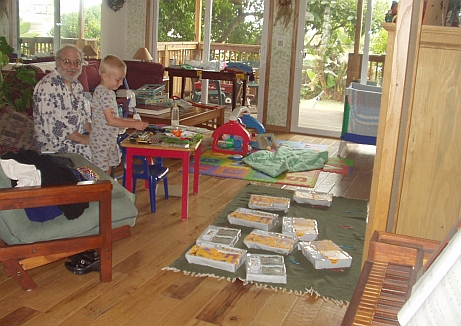 Grandpa watched over the Saturday morning activities.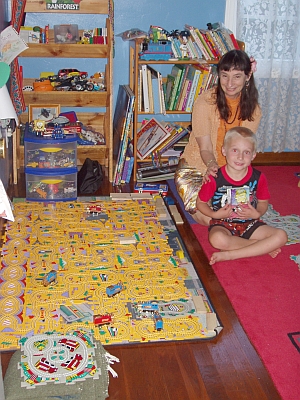 It took us all day, but aren't we the best track builders??
We outgrew the living room and covered Dylan's bedroom floor with them.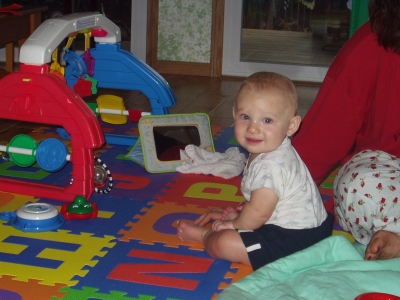 Ryan was busy with his alphabet puzzle.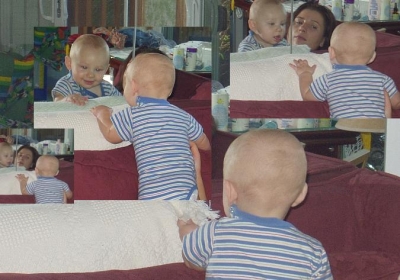 Ryan at six months, is really finding himself.
(However, he still has to prove it to Dylan, who says "He is still zero!")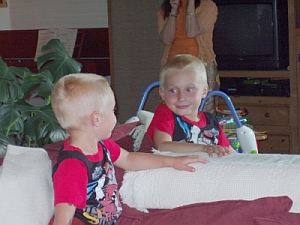 Dylan, at five years, is self confident and cheerful..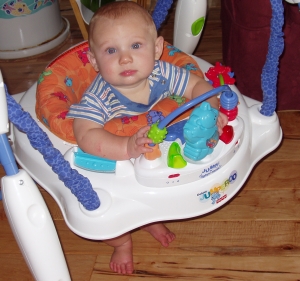 Ryan is atonishing himself constantly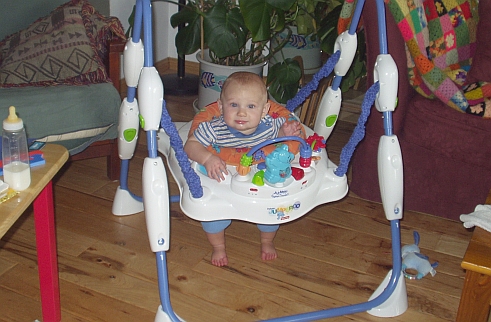 Don't we all wish we had one of these?
Dylan's feet are a lot bigger.
Usually running quickly, he knows how to relax too.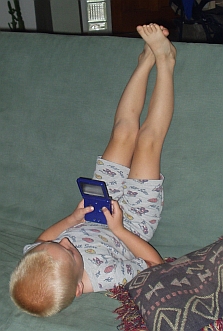 Here he is hard at work, climbing another level at his "SpongeBob SquarePants Game Boy"... He got his grandma so involved she was calling a few days later to find out if he gotten the "golden spatula" and how??!!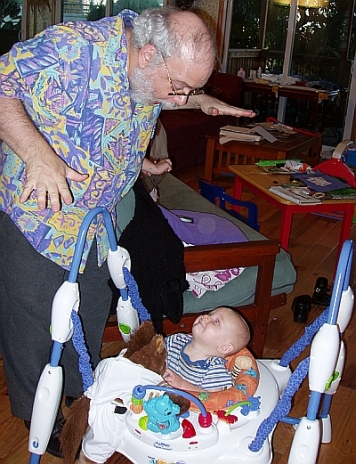 "Oh gosh, grandpa is really funny!!"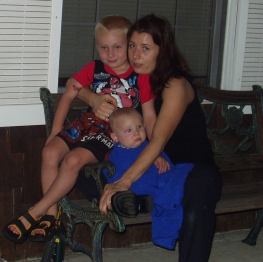 Auntie Colleen will protect us from all that laughing!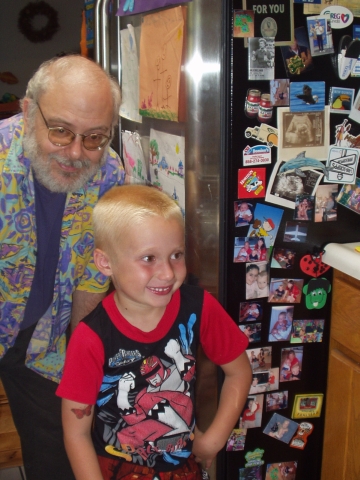 "Grandpa gave us all these magnets, with pictures of us!"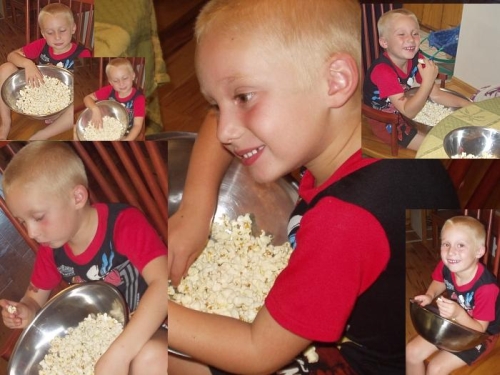 "And he makes us popcorn!!!"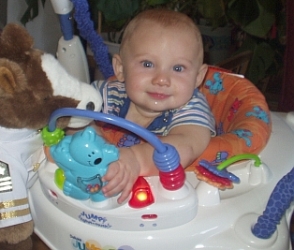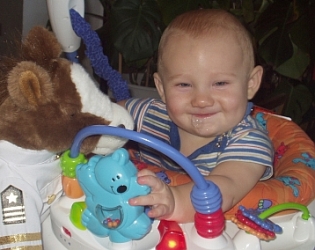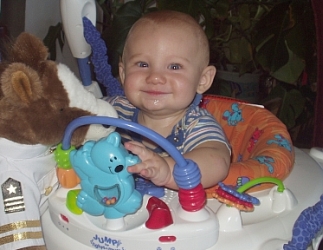 Okay, we know, your heart is completely won over, he's adorable, even if he is "still zero!"
Looks like he is growing up before our eyes.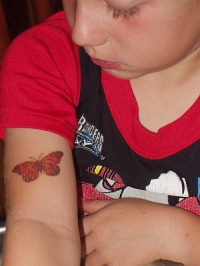 Dylan showed us the (temporary) butterfly tattoo he got at school. He loves animals.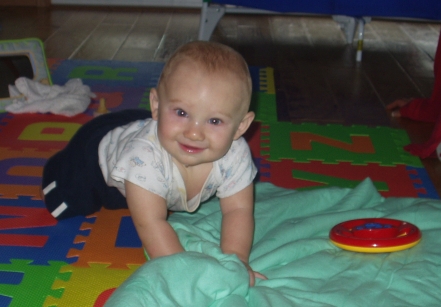 Ryan is a charmer. What a sweet personality!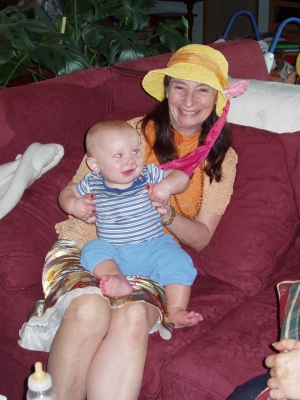 And he is ready for action.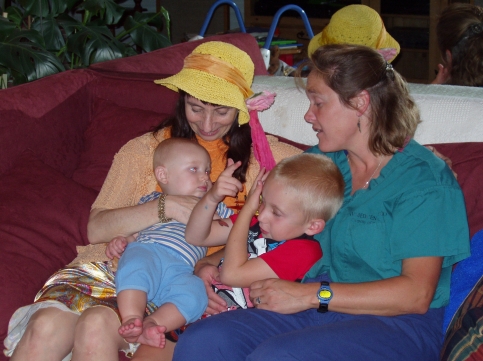 By the time mommy (Sally) came home everyone was tired and we had to leave...we were so grateful Tim and Sally needed "babysitting".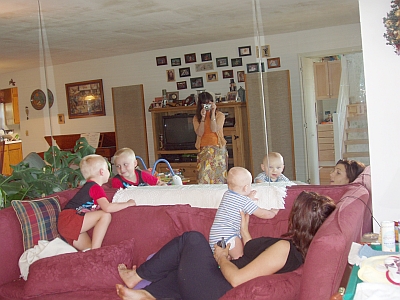 We made sure to capture the precious moments for you!!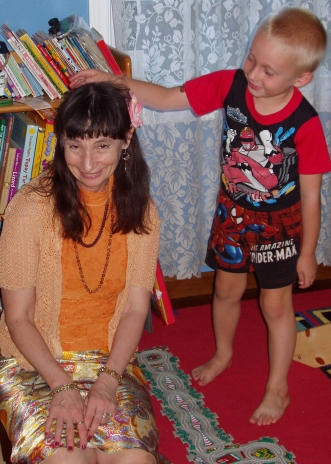 Rick captured Kathy's favorite moment.
Dylan said "Bend down, grandma" and he petted her hair for about five minutes...
Are there words for this kind of bliss?
Go back to Kathy&Rick Home Page