ELIZABETH'S TRAVELING DAY
Breakfast and Farewell

Kathy was up early making breakfast and waking up the girls! She was proud she could lure them all to the table in time for a leisurely breakfast. Rick was pacing back and forth as if HE was going to take a plane at noon, encouraging Kathy to "call them again", and toasting muffins and bagels! He was right too. Kathy thought they were up, then called again and peeked in their room. Elizabeth was sitting and staring at the other bed. "Are they awake, getting ready?" Kathy asked hopefully. "No", said Elizabeth. But a little while later, they were at the breakfast table smiling and doing a good job of looking awake.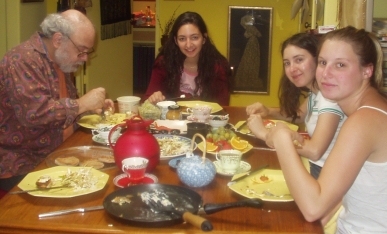 Rick was still nervous, and concentrated on eating. However, he did relax once he saw some progress, enough to take the first photo!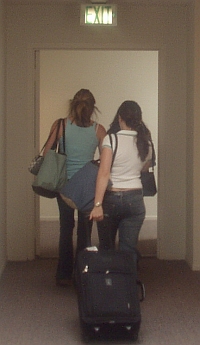 Then everyone concentrated on getting them out the door and "on the road."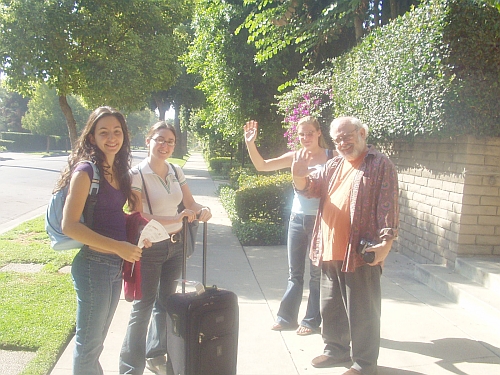 "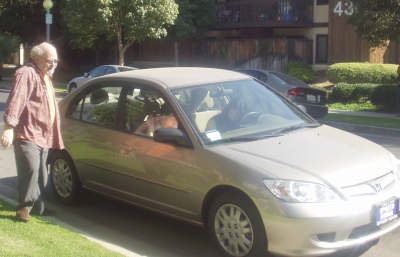 Rick was relieved to see them ready to go! (See Diana's new car.)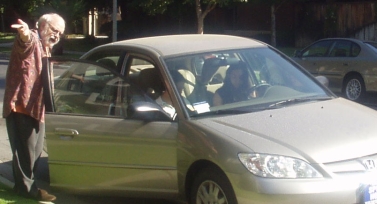 Rick made sure Diana had good directions to the airport. We think he was helpfully doing an imitation of an airplane in this picture!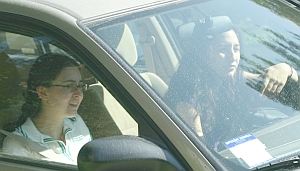 We were all sad to see Elizabeth leaving, but it was a wonderfully full visit considering its length, and we look forward to more visits from all three!
Rick and Kathy
love
Elizabeth, Diana and Rachel
Go to Elizabeth's arrival and welcome dinner
Go to Elizabeth's next morning and visits with friends
Go toThe girls come for dinner and stay overnight
Go to Notes for Overnight Guests
Go to Kathy&Rick Home Page