HARRY BOWER VISITS PASADENA
MUSIC FUN AND GREAT FOOD ONGOING
(Come and join us!)
November 30 to December 8, 2004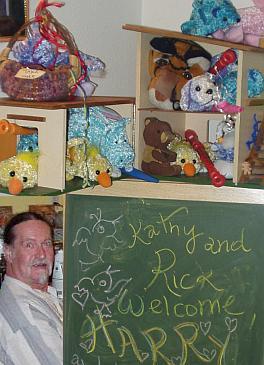 Kathy and Rick welcomed Harry from San Francisco yesterday afternoon. Our whole week is planned, full of musical days and evenings.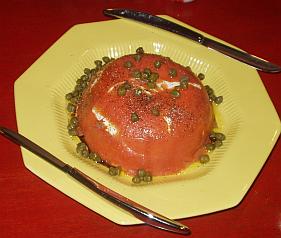 Who else but Harry could get off the plane and rush to the kitchen to create this beautiful smoked salmon-goat cheese appetizer.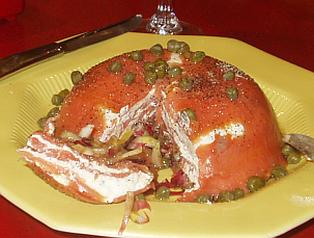 Cut open it reveals a luscious endive salad within!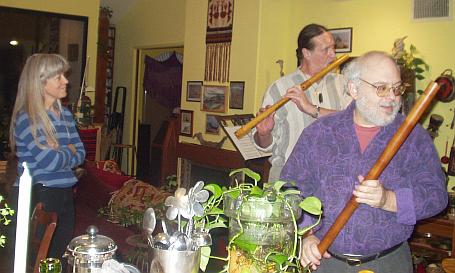 Flutists began arriving within the hour. We were delighted to finally host accomplished flutist, and bluegrass artist, Janet Beazley to our home.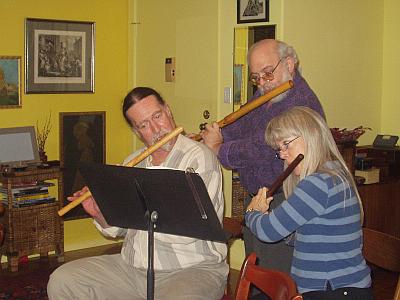 The long awaited Renaissance flute trio in action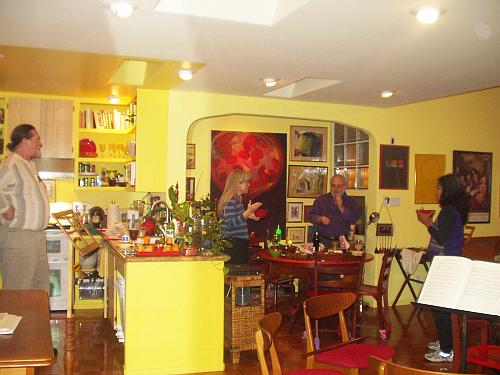 Soon, another friend flutist, Asuncion, joined us. Everyone got a bowl of Kathy's turkey soup, and a multitude of Harry and Kathy-created appetizer dishes.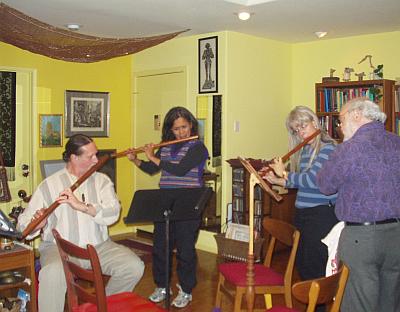 The Renaissance continues on Catalina Avenue.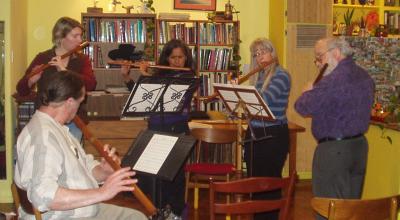 Finally, Julie arrived to join the party, to create the Renaissance Quintet!
Where else in the world is this happening tonight??

Kathy serenely soldered little silver flute players while they played.
Was a maker of musical jewelry ever so appropriately entertained? Kathy has an order for a flute player charm from her jewelry website right now.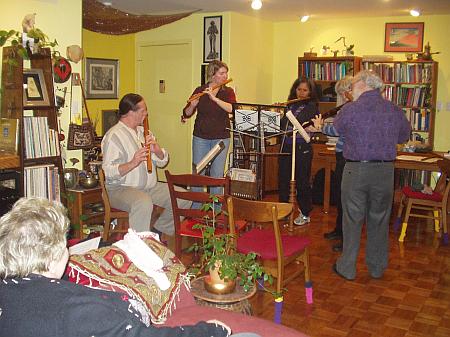 Our next door neighbor, friend Cynthia Gross, came to listen.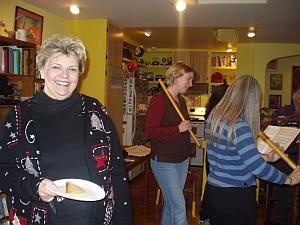 You can see from her smile, she knew how lucky she was to have this private concert!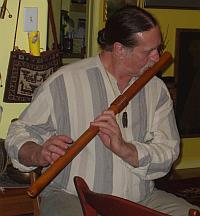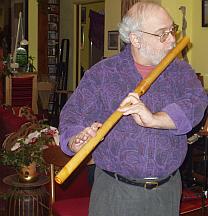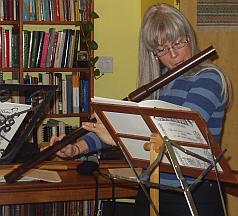 Above, the Three Basses!
Do you think there are three people playing Renaissance Bass flutes in the same room anywhere else tonight?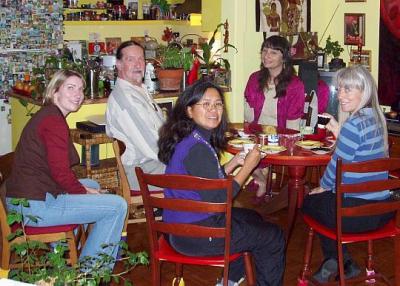 We all had the last of Rick's birthday pumpkin cheesecake for dessert.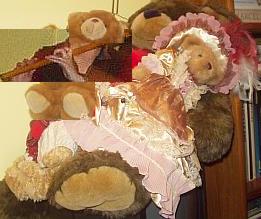 And after everyone left, the three bears...played on alone.
Goodnight, see you tomorrow, we'll try to keep you up to date!
Many flutes made by our friend Philippe Allain–Dupr&eacute
Elegant female bear a gift from Michelle-Nicole Amber
Gigantic Papa bear a gift from Harry
Go back to Kathy&Rick Home Page