CHILDREN'S MUSIC IN PASADENA
GRANDSON DYLAN KASPER
AND FRIENDS MARTY AND LOUIS JENCKA (DANIEL'S SONS)
COME TO PLAY TOO (CONTINUING)SATURDAY DECEMBER 4, 2004
What is this little charmer smiling at? See Ryan at the concert.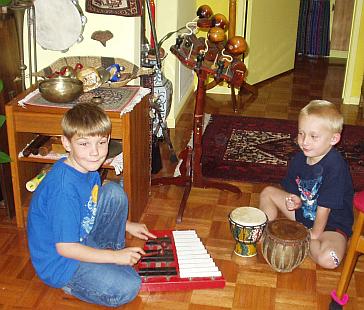 He's listening to the music coming from Kathy's percussion corner, which was a big hit, as soon as the boys walked in. Kathy's son Tim said, ah, I see you childproofed your house for us before we came!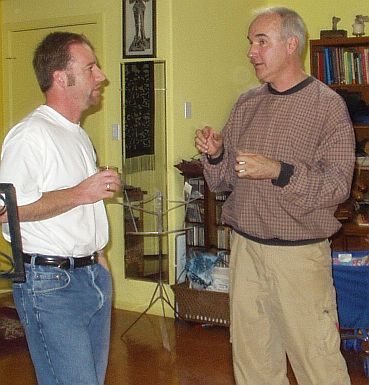 These two men, Tim (left) and Daniel, were responsible for bringing four boys ages 11 months (still zero, as Dylan would say) to 9 years to participate in our musical extravaganza. They traveled together, since they both live within a 30 minutes from one another near San Diego, but never have a chance to talk, or get their children to meet. It was a big success, and the boys Marty and Dylan became best of friends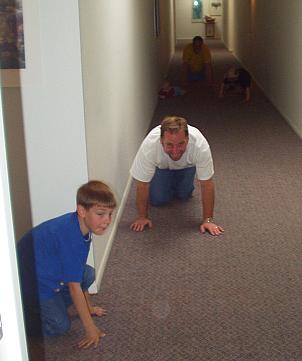 After a short time the adults had descended to the kids' level, even Harry was crawling down our condo hallways.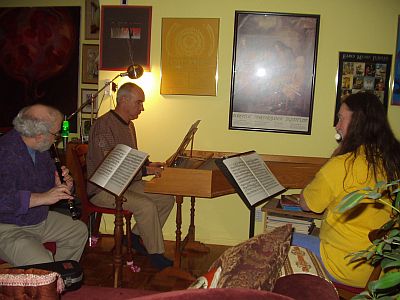 So how come everything looks so calm now?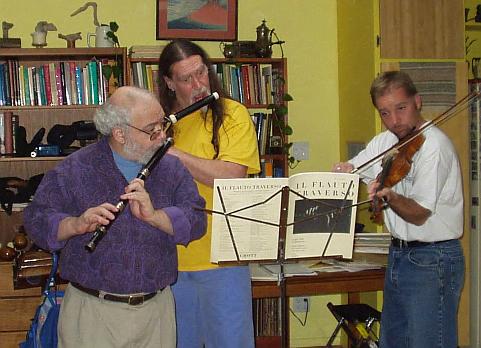 Ah, undisturbed trios...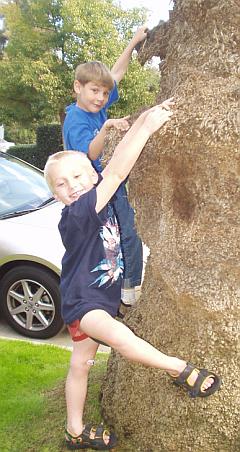 Kathy finally convinced the two middle boys to go for a walk. No they did not walk straight up this palm tree, but almost. Kathy was worried no one would listen to her, but actually they were wonderful, and helpful, and Dylan stood on line, holding our place, with the two large toys we had picked out while Marty and Kathy went upstairs to pick out bathing suits for the older boys.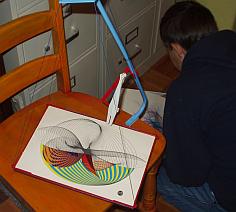 Meanwhile, Louis the oldest, was peacefully fascinated with Rick's old PendulArt set. Rick was delighted he appreciated it and we were happy to have him adopt it.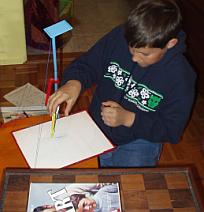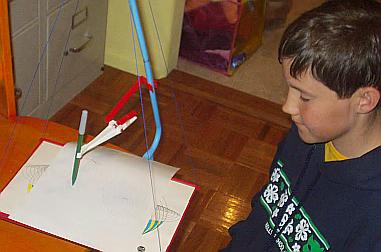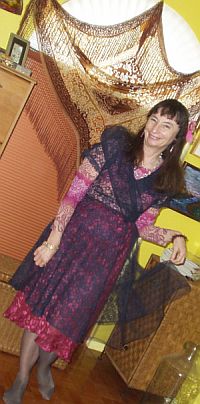 When we got back from the store Louis took this photo of Kathy, just before our next adventure.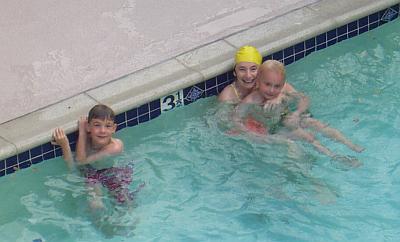 Here's the explanation for the lovely trios that were floating out over the water...we went in the pool for hours! Kathy decided we'd stay there until someone other than her had enough...that was a long time for 2 happy children.
Harry took this photo of Marty who had never done this dive before. Harry taught him how from the balcony above, and then Marty did it about 20 times while Harry tried to convince the camera to take the photo at the right moment. Success!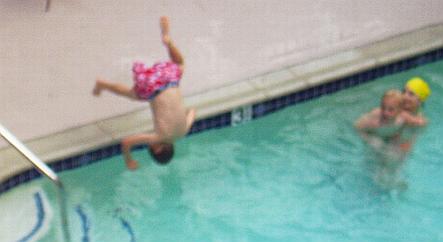 After an hour or so, Louis joined us in the pool too.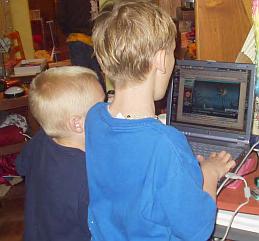 After we got back, everyone was in a different mood, and enjoyed computer games art and chess!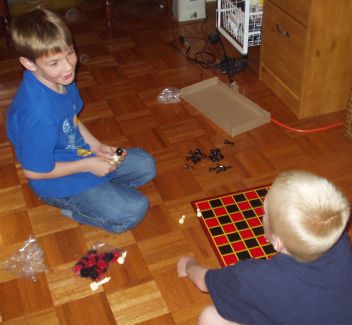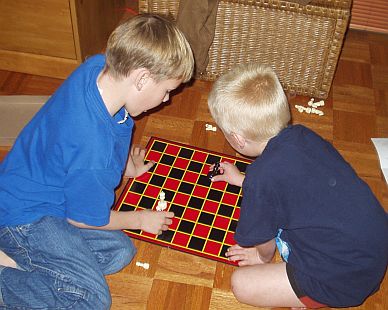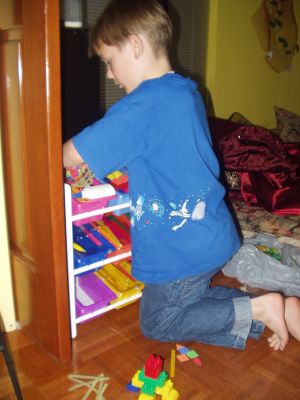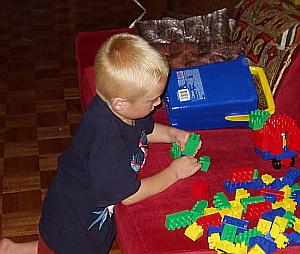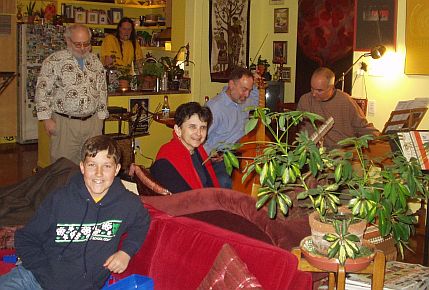 Louis, in front, plays cello, so meeting our friend Phil Schlosberg (in back center, with the blue shirt) and hearing him play his viola da gamba was a great experience. Phil's wife Kiki is smiling in the center. Kathy and Kiki had not had a chance to see one another for a long time with her busy schedule as a kindergarten teacher, and having twin 2 month old grandchildren and their parents visiting for a month. Little did she know she would come to another house full of children!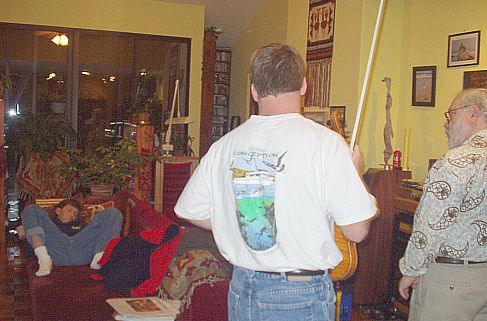 Suddenly, it became evident it was time to leave.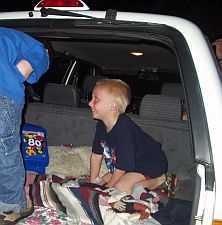 Traveling is more fun with friends!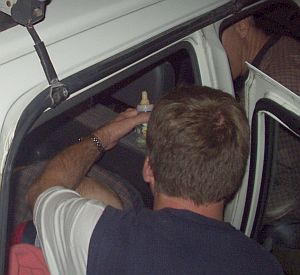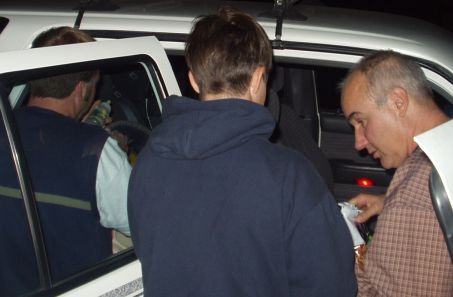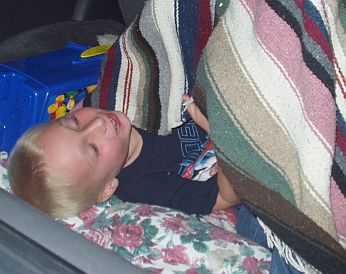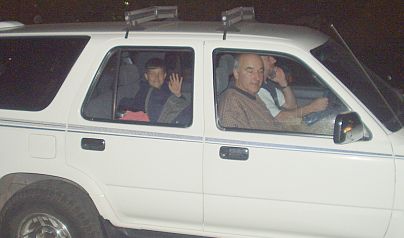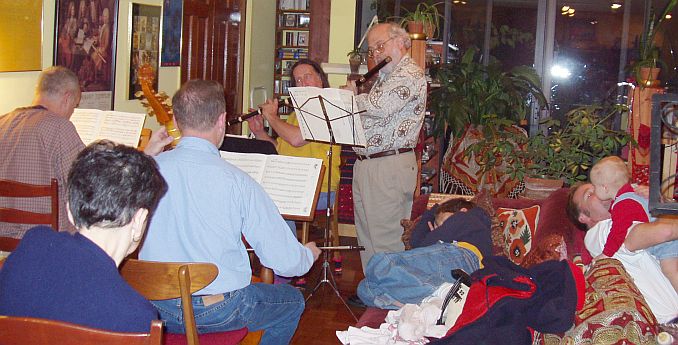 It had been an amazing, wonderful day in true baroque tradition.
Go to The Musical Extavaganza Saturday, December 4, 2004
Go back to Renaissance in Pasadena Harry Day One
Go back to Renaissance in Pasadena Harry Day Two
Go back to Renaissance in Pasadena Harry Day Three and Four
Go to Kathy&Rick Home Page