NAPPING
WITH SEAN IN PASADENA
TUESDAY DECEMBER 14, 2004 (Day Four) Silenced
Morning sun shatters a darkness of tortured multiplicity.
Screaming children in chaos
frightened and falling
a disrupted impassee.
Mindful adults laugh quietly
gazing patiently with composure and warmth,
integration forthcoming.
All the while his reason had been construed as unreason,
a desperate betrayal
of shadows turning away for eternity.
Fading clarity washes over zen garden visions
collapsing into ruminatory exasperation gone undone.

Sean started the day by contributing the above poem,
a product of his zen meditations over the last few days.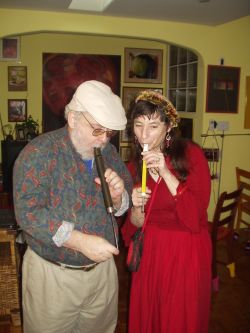 Rick and Kathy played him an antidotal song on their slide whistles.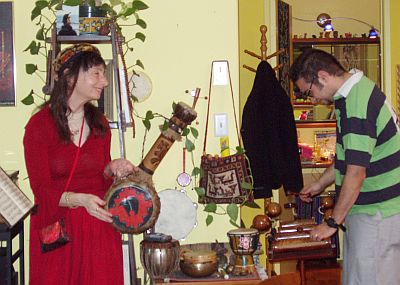 Sean lightened up a bit
when he played a Dan Mo version and Kathy accompanied on Navajo Indian drum...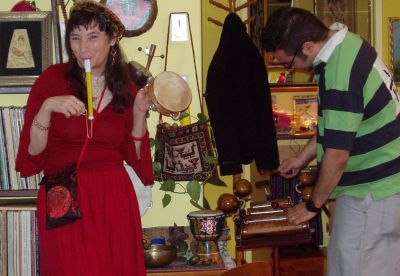 Music for Dan Mo, slide whistle and tambourine anyone?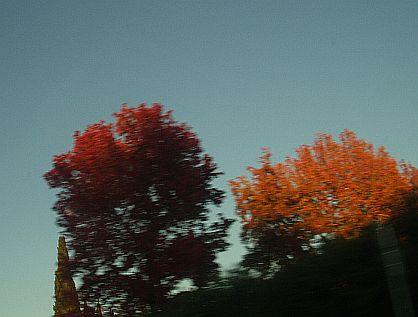 Then we all turned into trees.
You would be impressed with our deep autumn colors,
and the gleaming white snow (not pictured)
on our distant mountains here.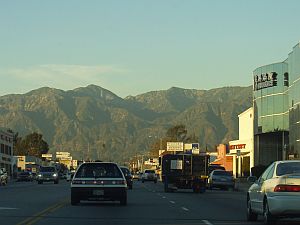 We were on our way to see if the numbing pepper treatment would work on Sean...while we took the 30 minute drive to San Gabriel, a flashing sign (not pictured) flashed the information that it was 84 degrees here!
Sorry folks back east...
we recommend visiting Kathy and Rick in Pasadena.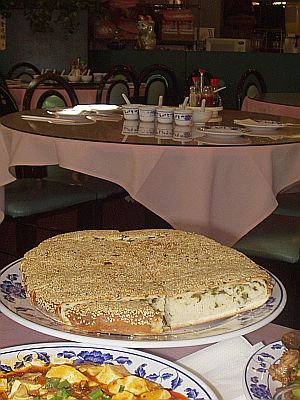 Sean loved the numbing pepper, and also the eggplant, spicy won-tons and spicy tofu dish we had, and the Chinese sesame-green onion bread this restaurant provides. (We brought some of this bread home to bring to Santa Barbara to share on Grandma's 84th birthday on Wednesday...more about that soon.)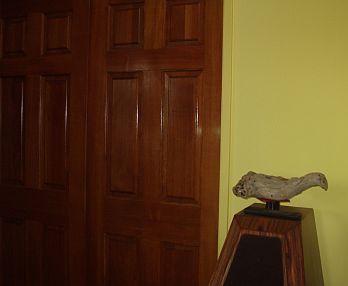 The numbing pepper effect was relaxing. Sean disappeared into his room.
Kathy cooked a pumkin cheesecake for the birthday,
and went out for two shopping trips.
Kathy and Rick went in the pool and hot tub.
Sean kept napping.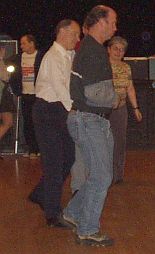 He didn't even wake up at 9:30 pm when the Macedonian dancing started.
(Actually this didn't happen at our house, it was a couple of miles away...we had another plan Sean slept through.)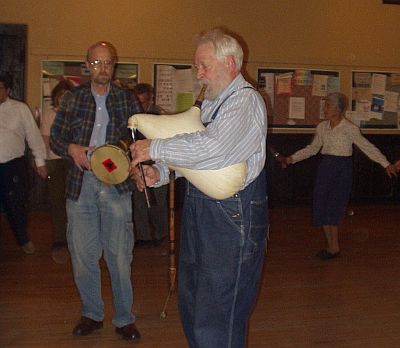 Our friend Joe plays Bulgarian bagpipe with a small group that plays for dancers at a nearby hall once a month. We wanted to hear him play.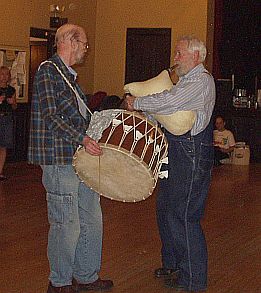 Sean slept through the big drum too.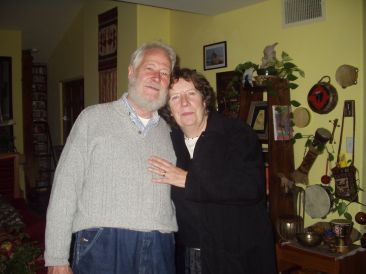 We were a little worried at 11 pm when our friend Joe and his wife Dominique came over for Duck Soup and wine after the music, and Sean was able to sleep through that too!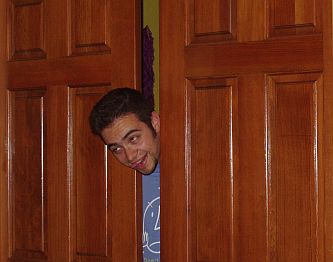 But in the morning a well-rested Seanio emerged, a little bleary, amazed to hear about all that went on while he took his big nap, and ready for the adventures in Santa Barbara!

Continue on to to Sean's fifth day(Grandma's birthday)
Go back toSean's third day
Go back toSean's second day
Go back toSean's first day
Go to Sean and Jamie's visit last August
Go to Kathy&Rick Home Page