VISITING FAMILY AND ART, PART I
in Skokie, Wilmette, and Chicago
(June 26 to 29, 2004)

On Sunday evening, after a day of ceremony and the luncheon in Steve's honor, Linda and Bill Foster again welcomed us all to their home in Wilmette for take-out Italian food and a loving atmosphere. That evening we photographed Jeremy's art (see upper right hand corner). Jeremy is bottom center with his mom Linda on his right. Elizabeth is in the upper left hand corner, with Bill Foster on her right. Linda and Bills's daughter Rachel are cheek to cheek smiling below Elizabeth. Linda and Georgie, two great friends are in lower left. Diana was resting after a long day. Linda and Bill's son Daniel is to their right, and Richie is next to Rick.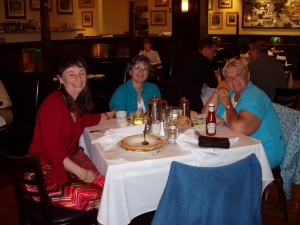 The next morning we met with Georgie and Barbara Nidetz at the Daily Grill for brunch, and later went to Georgie's to be with Barbara while she identified family and friends in stacks of old photos.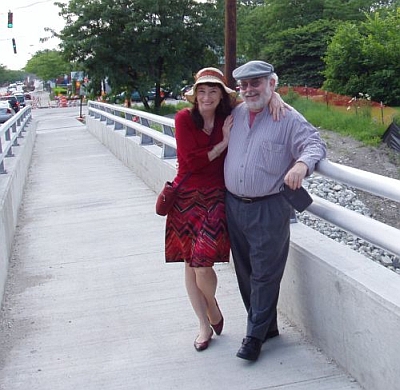 Rick and Kathy decided to walk to the nearby sculpture garden along the river about a mile from the house.