NUMBING PEPPER, THE LOBSTER
AND THE HURDY GURDY
IN PASADENA

DECEMBER 2 and 3, 2004
(Continuing the visit of Harry Bower)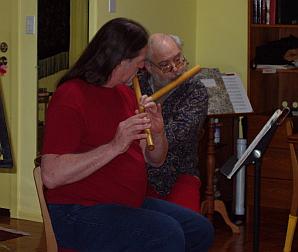 Most of Thursday and Friday looked like this on Catalina Avenue...
when no one else was visiting, great duets through the centuries filled the air.
But after a while, on Thursday, Harry encouraged us to venture out of our usual territory, the safe verdant Caltech campus area of Pasadena, to the wild ways of San Gabriel. Harry had in mind to get a lobster, and when he had a man in white hold up a gigantic five pound squirming creature at 'Ranch 99', Kathy screamed and ran to Rick, who always saves her in these situations.
See Rick save Kathy from hungry deer on our trip to Japan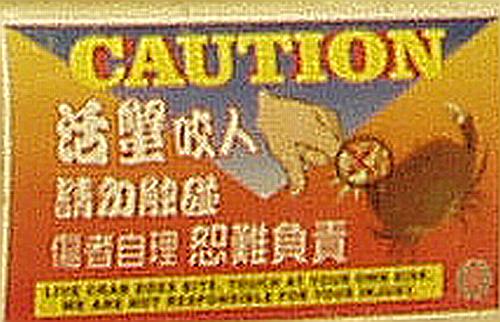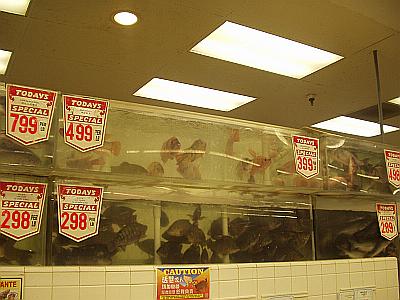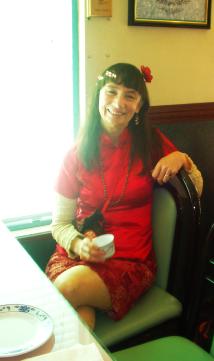 Instead Rick just winked at Harry and said, "Kathy, you just have some hot numbing pepper before we shop, and you'll be fine". Rick was looking forward to lobster bisque that Harry promised to make.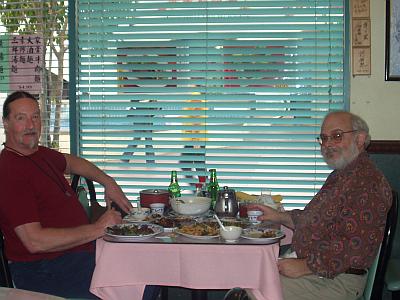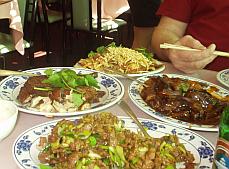 We went across the way to a special restaurant: our friend Qing Xiang introduced us to Tung Lai Shun on his last visit from the University of Delaware to Caltech. It specializes in the use of the Chinese numbing pepper, which impressed us very much. Native to the Szechuan province, it is made from reddish-brown berries rather than peppers. Used extensively in Szechuan cooking, it is known for the "numbing" sensation it produces on the tongue. It is one of the five ingredients that makes up five spice powder (the others are star anise, fennel, clove, and cinammon). We ordered the dishes we know had the most numbing pepper. (You will want to share our lucky visit to Delaware where Susan, Qing's wife, who comes from Szechuan provice made us a numbing pepper home cooked meal!
******************************
Back last Thursday, we went back to Pasadena one lobster, many oriental items, and many lunch leftovers richer. And when we got home Harry started cooking! He was actually beginning the creation of several future meals for guests... he was making the lobster for another day, today was our one night alone and he was cooking an all American meal, for a very late dinner, the three of us alone: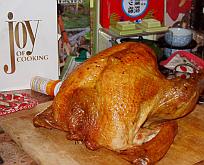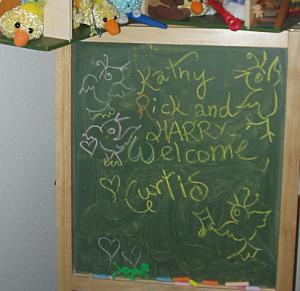 On Friday, December 3, we welcomed Curtis Berak and his hurdy-gurdies to Pasadena.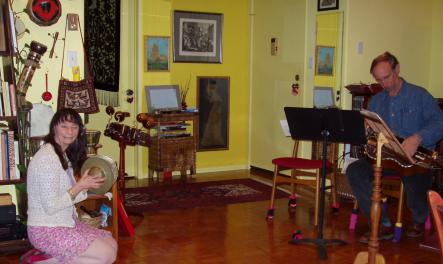 Kathy always enjoys improvising along with Curtis...here she is trying a large pair of old Tibetan cymbals...not an authentic combination, but interesting...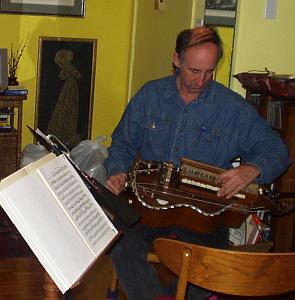 The gathering of the four of us brought back happy memories. Curtis and Harry were the two musical performers at our family dinnerthe night before our wedding concert and ceremony!


Harry made an exotic mix of thinly sliced lamb and pea sprouts for the main course of this dinner with Curtis. He served it on a sweet-potato pancake, studded with corn kernels and pecans!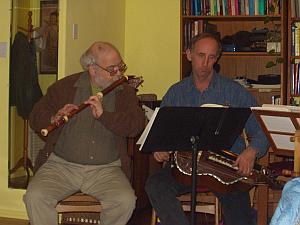 Curtis has one of the best collections of working antique hurdy-gurdies in the world. And he plays them with great style amd verve.See his concert at the Hancock Museum at USC with Bruce Teter March, 2004.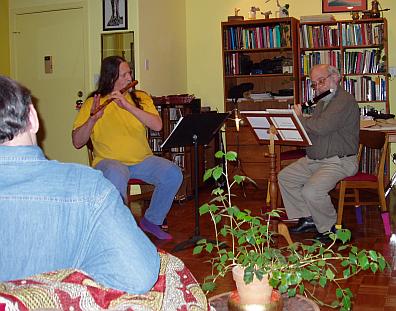 Many duets and much listening.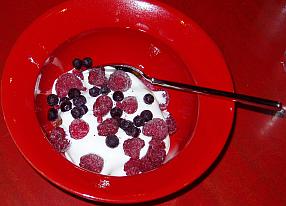 A berry dessert in cream and sour cream mix, over a thin slice of cointreau cake.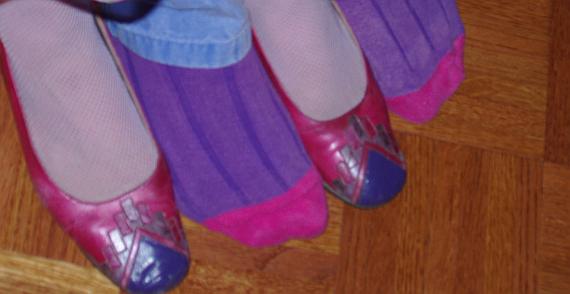 Kathy and Harry had matching feet...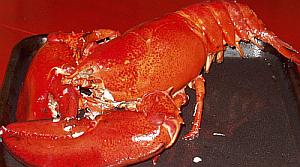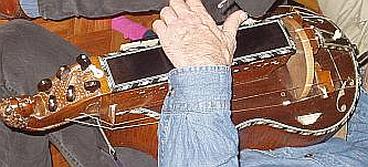 From Lobster *************************to Hurdy Gurdy
It was a wonderful two days!
Go back to Renaissance in Pasadena Harry Day One
Go back to Renaissance in Pasadena Harry Day Two
Go to Kathy&Rick Home Page