H..............On the way HOME from Kyoto,we had to go to backwards to Seoul first, which added 2 hours of flying time and 3 hours of waiting time to our already 13 hour flight. But in return we got the best flying experience of our lives. Where else would you get (among other things to be continued) an individual video screen in every seat, with remote control, individual settings for language, brightness, volume and a choice of about 10 channels of videos????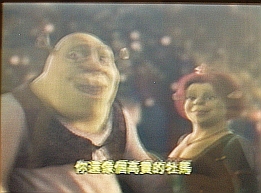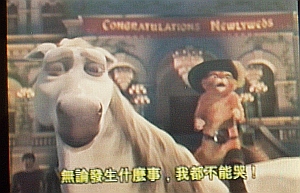 Yes, it is really true, and we couldn't wait any longer to tell you! Flipping through the channels we heard Shrek and Donkey talking Korean! No, it wasn't that Eddie Murphy went to language school....who knows who was dubbing....but after a few more minutes we found this normal version of Shrek 2 with Korean subtitles! We hadn't seen it yet, and so our first viewing had a distinctly Korean flavor! We watched the whole thing, and even several parts twice. (Can you see it says "Congratulations Newlyweds over Puss-in-Boots' head?)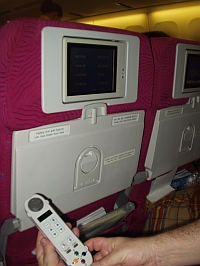 Our personal video equipment
The ANA (Air Nippon Airways) flight to Korea (before the Korea Air flight to Los Angeles) was luxurious in a way we did not expect. We were notified as we boarded, that the flight was overbooked, so we had been upgraded to first class. (What do you think, were we chosen because of Kathy's pretty dress, or Rick's distinguished look?) Or maybe they know about our home page review system!!! On ANA first class meant slippers, lots of room, glasses of wine, and this wonderful meal.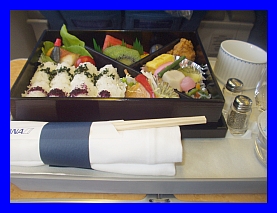 The Japanese have a flair for the beautiful, gracious and practical.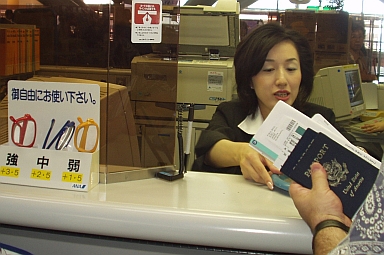 Notice on the ANA counter, the clearly labeled courtesy reading glasses in three different strengths, for use while filling out forms!
I............IMMACULATE....that's how clean the subways, stations and express trains are in Kyoto. We took the train many times, and on the train ride to the Kansai airport to begin our trip home, we took these photos. When the train comes into the station there is a cleaning person with a fully equipped cleaning cart ready to enter each car.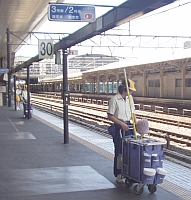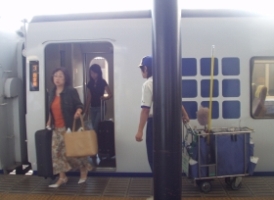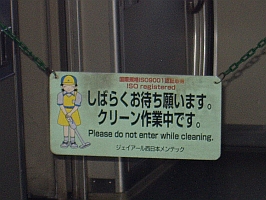 Then they put this sign up so no one can interrupt. Kathy counted these steps: First all the plastic parts are cleaned with a cloth, then the seats are cleaned with a feather duster, then each seat is vacuumed, then the car is mopped, then another check with the cloth, and all seats and seat back decorations are straightened. The whole thing takes about ten minutes.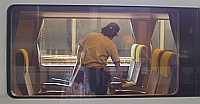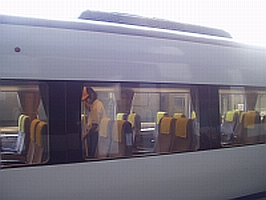 Part of the reason the cars may need cleaning is that people can do this on the train.
However the train looks spotless in general, as does all of Japan that we saw. A cause of this may be their elaborate rycycling system. Our hotel had a whole page of disscussion regarding the various kinds of recycled materials, all separated, and to be disposed of in different ways. These bins were near the faculty cafeteria in Nagoya, were each for a different kind of material, and some materials such as batteries and fluids have to go somewhere else.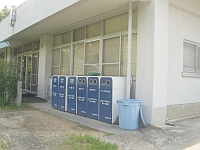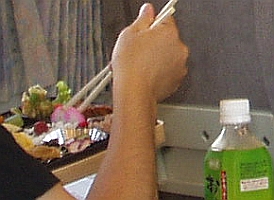 At the station you can buy many things, including a "bento box" which is a traditional picnic like collection of foods, usually including ten or more small items such as rice balls, fish cakes, pickled vegetables. Each seat has a tray table and drink holder. This person is drinking iced green tea.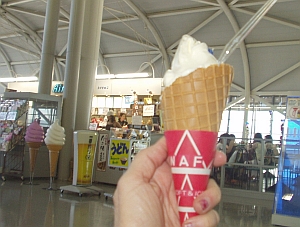 Another thing about Kyoto you may not know is that the streets are paved with ICE CREAM, usually soft-serve. (Well, not literally, but it is everywhere.) At home we usually eat soy 'ice cream', but in Japan people looked at us sideways, as if they thought we were wierd. (Even though they have 21 varieties of tofu dinners!) Their ice cream is delicious. One of the last things we did before getting on the plane in Kyoto, is have an ice cream cone! (Notice the soft cone models in the background.)
While the "convenience store" ice cream is delicious, you can find more elegant varieties everywhere.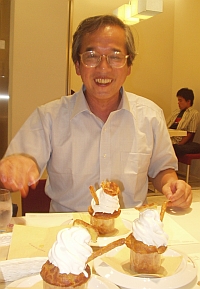 After the opening conference banquet sushi feast, everyone was feeling the need for ice cream. (We know that is unbelievable.) So some of our hosts took us to "Crème de la Crème" in the busy Sanjo district. Here is our good friend and host Masa Jimbo, from Nagoya University, proudly encouraging us to try these delights. Made with the lightest cream-puff pastry, and soft ice cream, there is nothing else like them.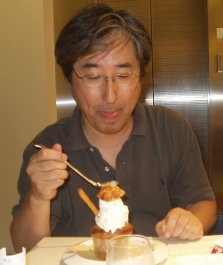 Another host, Ryoh Fuji-hara, is an ice cream connisseur, and he definitely approves!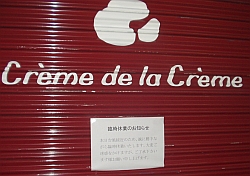 What does that swirling soft-serve remind you of?

Is it a typhoon? We told you we avoided them! And while most people assumed that no typhoon would dare to come to Kyoto (it didn't) Crème de la Crème was taking no chances. The next day we saw this sign on their door, which our hosts translated as saying something like "Closed due to the typhoon."

And as if in protest, our host for the day, Yuki Mutoh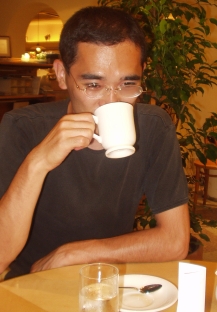 took us to an other ice cream parlor!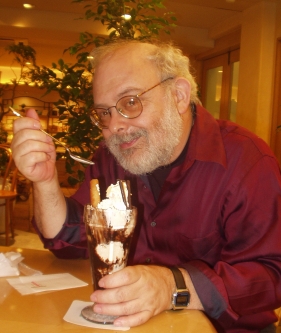 Now why, in spite of all these feast and desserts, does everyone look so trim, and we seem to be getting slimmer and slimmer? We'll tell you that story later. But here's a hint: it has to do with this: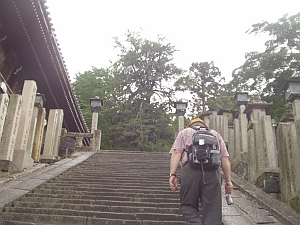 Our last morning in Kyoto, we were enjoying the amazing breakfast buffet at our hotel before we checked out. A lovely and interesting waitress-hotel worker introduced herself: Here is Annabelle, (the English name she has chosen for herself) Yuan Li. Kathy gave her a card so we could keep in touch.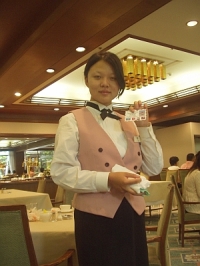 It was a heartfelt connection, and since then we have exchanged two emails, and will look forward to a visit from her someday. She plans to study English in the United States.