DIANA WILSON HAS A HOLIDAY
WITH KATHY AND RICK
IN SANTA BARBARA
We were so happy to hear from Diana Saturday morning. After talking for a while about her new school and schedule, she told us she was fasting for Yom Kippur so it was a perfect time to bring her to Santa Barbara to be with family, and break her fast with us at a special anniversary meal daughter Colleen had arranged for us.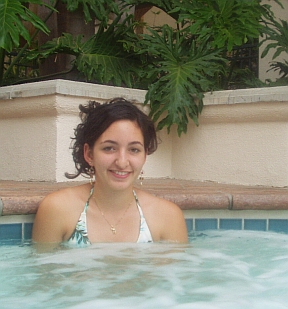 Here's Diana in the beautiful hot tub at the El Escorial where we live in Santa Barbara. She felt like she had come to a wonderful hotel for a vacation.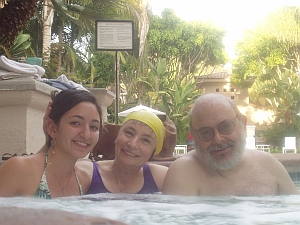 We all did. It was the first time we had tried this, since we moved in more more than two years ago! We used the pool too, which is warmer and longer than our pool in Pasadena where we have been swimming laps recently. The atmosphere is more tropical, and it was great fun.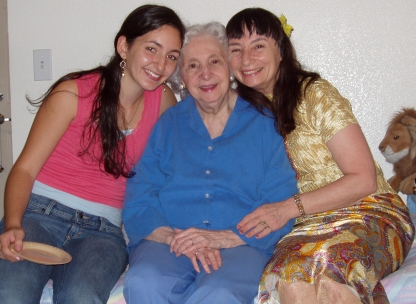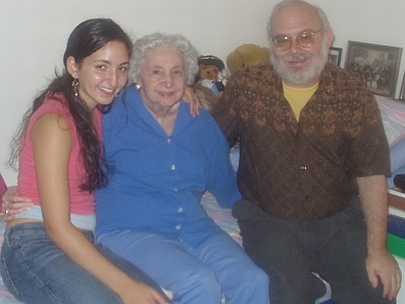 We were so happy to have Diana finally meet Kathy's mom, who lives at 'The Garden Court' a retirement communiy in downtown Santa Barbara. They loved each other right away. It was the first family meeting of Rick and Kathy's family since our wedding, when Rick's brother Phil, cousins Arnold and Roz, and cousin Josh were there for the festivities in September 2001.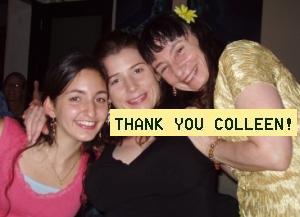 After the visit (Diana had a few favorite crackers and brie at sun down with us) we met Kathy's wonderful daughter Colleen at one of her favorite Santa Barbara restaurants. We had never been there before, and it was a treat and a surprise.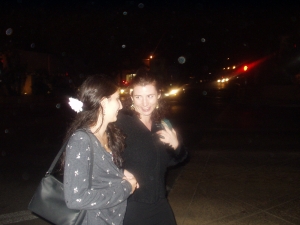 This was Diana and Colleen's first meeting with Colleen and again, it was a great match!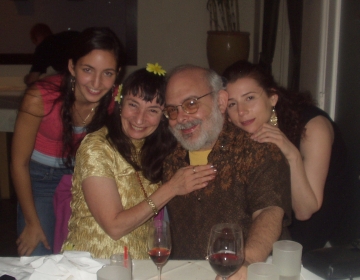 The restaurant is called 'Quantum', and the surprise was how delicious things were and also the many small plates that were served! We enjoyed it so much we did not take a photo until dessert, which at first glance looks normal, but if you look closely: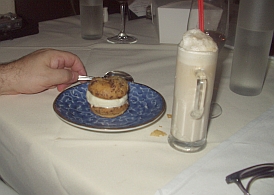 Above is an 'ice cream sandwich'...the size of the bowl of the spoon nearby, and the 'root beer float' is in a glass smaller around as one of the lenses of the eyeglasses on the table! Very cute, and so, how many desserts can you eat? All the dinner servings were similar, so we could try many things.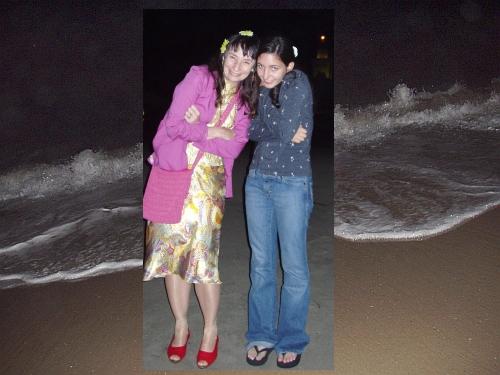 After dinner we walked down to the ocean, across the street from our home. It was cold and beautiful!
****************
After a good sleep at our condo, we had breakfast by the waterfall on our balcony and we were ready for the zoo next door. (See beautiful Santa Barbara in the background.)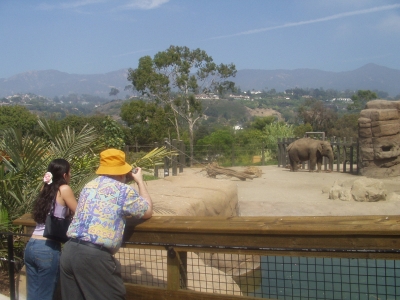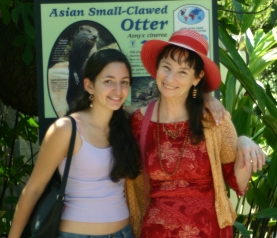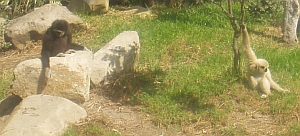 One of the best parts of the visit was a behind-the-scenes look at the gibbon's home, and insights into their lives during a docent guided tour. The Santa Barbara zoo gibbons are now a family of four, mother, father and two children, ages one and five. They live on an island surrounded by water, which keeps them apart from visitors, since they cannot swim and fear going in the water. The many stories we heard deserve a web page of their own...but no time now!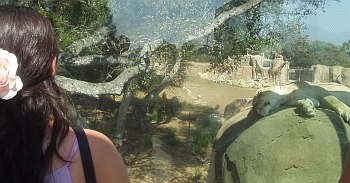 Above,you can see Diana looking at a new mother lion sleeping on a rock. You can't see her new (two-week old) child because she kept pushing her away and sending her out to play so mamma could nap! Look closely and you'll see giraffes in the background!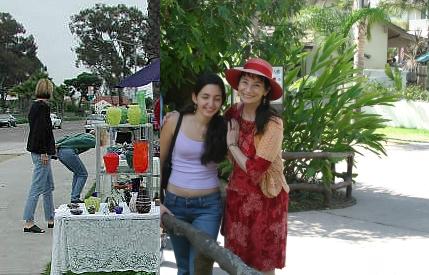 One of Diana's favorites was a visit to the Santa Barbara Beach Show. Kathy sold her jewelry there for almost 30 years, every Sunday all year round. It was a treat for Kathy too, since she, having just 'retired' from the show to pursue other venues for her jewelry and her art and poetry was a first time 'tourist too!! It was great fun, Diana found some special gifts, and Kathy enjoyed seeing all her old friends. One of the artists smiled at Kathy and said, "You're one of the few that have escaped!"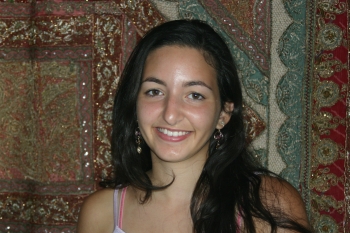 We had to rush off for special treat, again thanks to Colleen, Diana got a facial! Look at that glowing smile!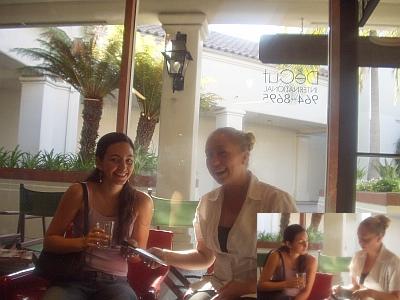 Here's her practioner, Amy, giving her some samples and advice.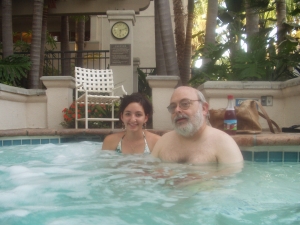 After a quick return trip to the Beach Show, we managed to put dinner in the oven and us in the pool and hot tub before a wonderful gathering with the family. Kathy made almond-mustard lamb, Rick and Kathy had made kasha (our first try to make it like Rick's mom did). It was delicious. Asparagas with almonds and green beans. Diana arranged the festive soy ice cream-strawberry desserts, accompanied by little cinammon crackers (sweets from our visit to Kyoto).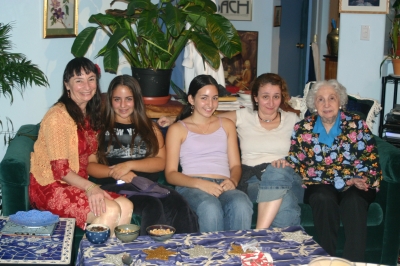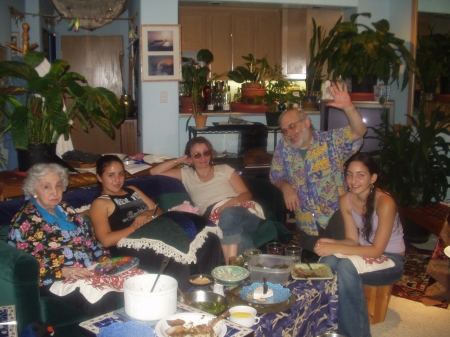 We had to rush off for the drive back to Pasadena, so Diana could drive to Redlands and be rested for the next school day. It was a quick and easy drive home after a wonderful family time.
Go back to Kathy&Rick Home Page