We were asked about what meals we would enjoy, and Rick said interesting, spicy and ethnic. So the evening of our arrival Thursday, (PHOTO BOTTOM LEFT) we were taken to 'India Garden' "Only as spicy as you are" and were very spicy. Professor Greg Constantine (who met us at the airport) is next to Rick. On the left is Professor Stuart Hastings (who organized the Saturday night musical gathering we already reported), and between them is graduate student Or Neeman who initiated our invitation to Pittsburgh. After Rick's lecture on Friday evening a dinner with other mathematics faculty and graduate students was arranged, this time at 'Surin's Thai Bowl and Sushi Bar' (BOTTOM RIGHT PHOTO) You can see our friendly graduate student Or Neeman smiling near the center of the picture. We had some delicious 'Dancing Shrimp." In the right foreground is Professor Glen Whitehead. In the UPPER LEFT PHOTO is the 'University Club's breakfast and luncheon room. We stayed in this hotel-guest house, right next door to the math department!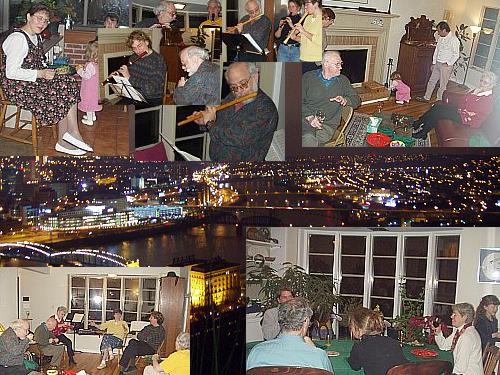 In the photos above you can see the potluck dinner gathering after Rick played with recorder and flute ensembles at Martha's home. Professor Stuart Hastings is a part of these groups. The math department faculty came too. So it was an unusual and friendly group!
In the upper left hand corner is Professor Greg Constantine's wife. They have three beautiful little girls and she is expecting another child. She made the most wonderful cabbage rolls we have ever tasted as a contribution to the potluck, and we almost could eat nothing else. She also made a delicious sweetbread that we sent samples of to Kathy's mom, from the post office in the Pittsburgh airport (I can't resist telling you that it was open on Sunday, and I could mail graciously a priority mail package, which as far as I am concerned, makes Pittsburgh the most civilized place we have ever been. You can mail bread on Sunday..!)
Here are the girls (left to right youngest to oldest):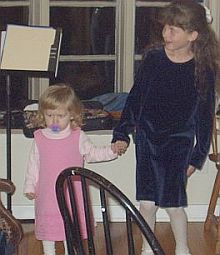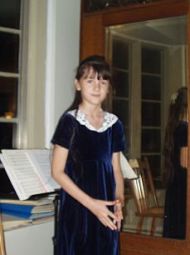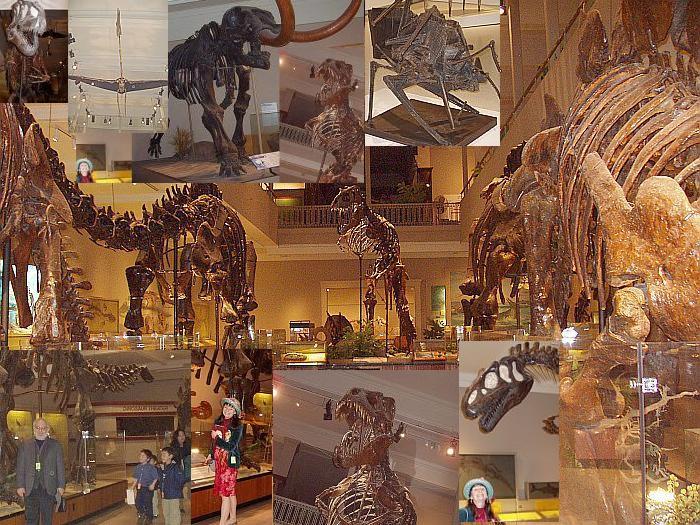 In 1895, Pittsburgh industrialist Andrew Carnegie established Carnegie Institute "to help people improve their lives through educational and cultural experiences." His ideals are now embodied in a collective of four distinctive museums three of which are easy walking distance from the university. We walked with our friend Or to the Carnegie Museum of Natural History, and the adjoining Carnegie Museum of Art. Andrew Carnegie, we discovered had sponsored many of the digs that resulted in the most important discoveries of dinasour skeletons. We were overwelmed by the unexpected treat of being in the misdt of the largest collection in the United States!
Next door to the dinosaurs the Carnegie Art Musem holds treasures, and though we had only a little time, (we went on Friday, before Rick's lecture) we were able to see many beautiful things, including these two favorite paintings. Photography without a flash is allowed in all the regular exhibitions.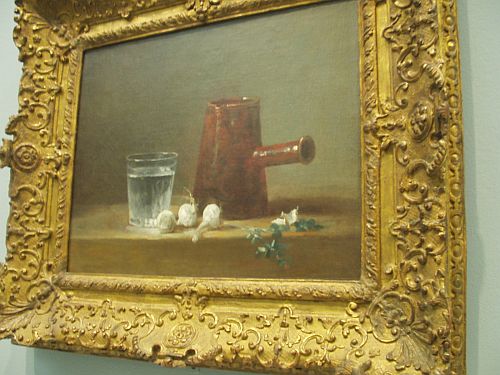 Jean Simeon Chardin (1669-1779) Glass of Water and Coffeepot (1761) Oil on Canvas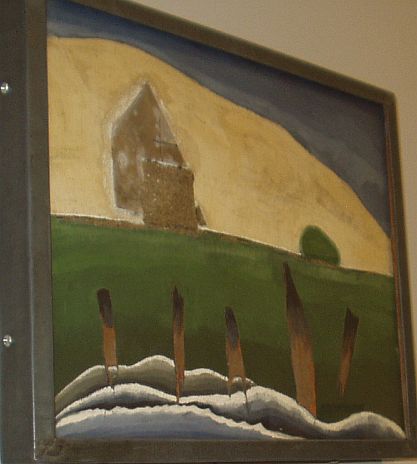 Arthur Dove (1880-1946) Huntington Harbor II (c.1926) sand cloth woodchips and oil on metal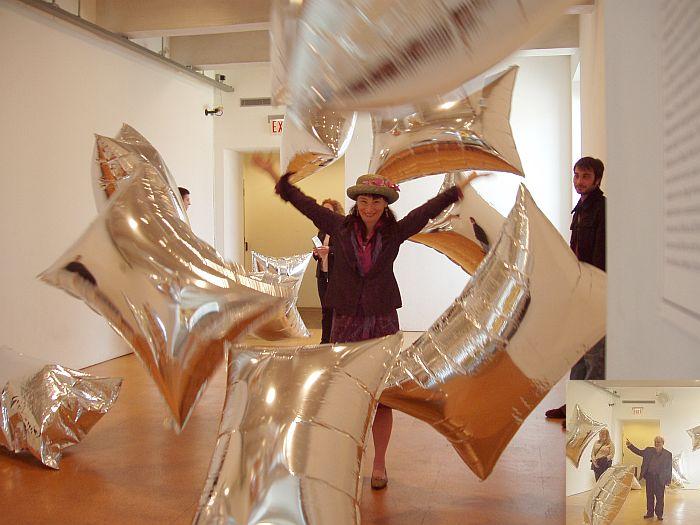 The most amazing museum trip we had was to the Andy Warhol Museum, which is part of the Carnegie Museum system.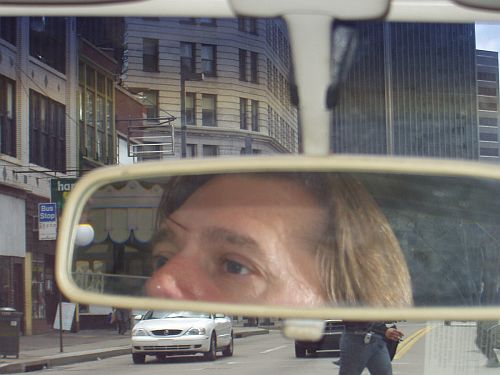 Our hosts arranged to have someone take us there on Saturday. Professor Paul Gartside, a topologist at the University shares our interest in contemporary art, and we were fascinated with what we learned on this outing.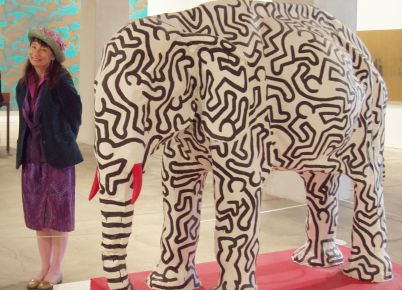 Until this visit, we had seen glimpses of Warhol's work, one at a time. This was a (narrow) seven floor museum of Warhol's work. We did not know that he was born in Pittsburgh (hence this museum in his honor). His parents were Julia Zavacky and Andrej Warhola, both immigrants from Eastern Europe. His mother supported his talents, and from the fourth grade he took classes at the Carnegie Museum of Art in Pittsburgh.
One of the most interesting things (not pictured here) was a glass room full of cardboard boxes, (Warhol called them "Time Capsules,") all the same size and labeled with dates. Warhol always kept one next to his desk, and dropped things into it, after a few months clearing everything off into the box, including any unopened or opened mail, objects, mementos, small gifts, invitations, newspaper clippings, etc.and sealed and labeled the box. In a few glass cases near the room are the contents of several boxes, each arranged for temporary display, for a month, and then resealed, when another is opened. It was a fascinating concept.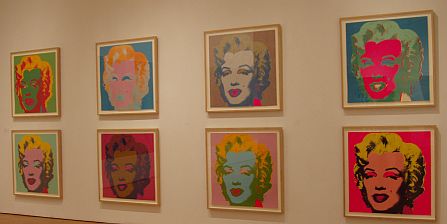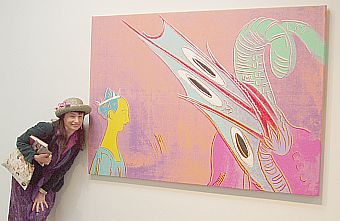 We left knowing much more than we ever knew about Andy Warhol, and being impressed, both with his work and with Pittsburgh. Thanks again to everyone who made this such a wonderful visit.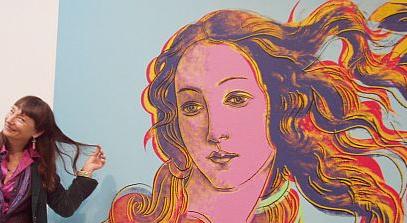 Go back to Kathy&Rick's Home Page