NESTING IN PASADENA
August, 2004

It was great to come home to Pasadena after our visits to Korea and Japan (more stories still to be told about that) and find that baby doves were born on our balcony! The mother had been nesting when we left. See Rick's story of last year's Birth on the Balcony. We've been nesting too, relaxing after our travels, and enjoying our home and friends.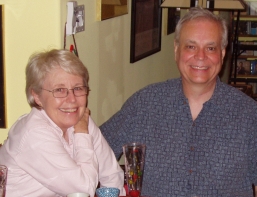 Our friends Paulie and Al Davis visited a week after our return for dinner and music. Al is a composer on the faculty at Pasadena City College. It was fun to enjoy a relaxed evening and music together.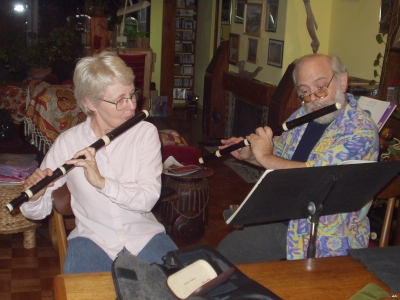 First, Rick and Paulie played some eighteenth century music (a Boismortier duet) on baroque flutes.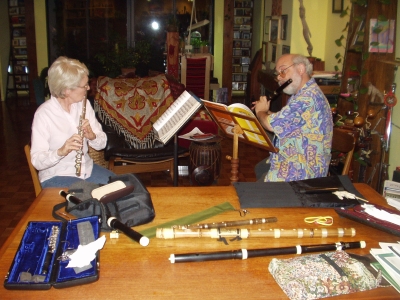 Then they played nineteenth century music (a Kulau duet). Paulie played her silver flute, while Rick played a nineteenth century Viennese flute.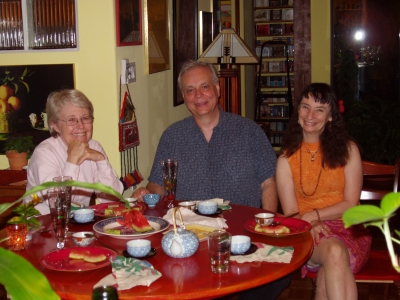 Kathy made them a shrimp curry. You can see the beautiful blue flowered teapot we were given by our gracious hosts in Kyoto, Shinji and Junko Kuriki. We have so much enjoyed using it, and making the green tea they gave us, and so have our friends!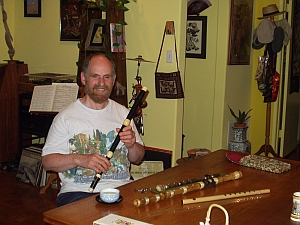 Another happy visitor on our return, was Harry Bernstein, from San Francisco.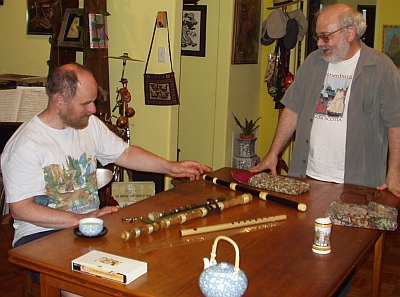 Harry got to see and appreciate the flutes we brought home from Korea and Japan. In the foreground you can see the Japanese 'shinobue', made by the fifth generation flutemaker we visited in Kyoto, and closest to Harry an small end blown Korean 'tansu', and a larger Korean 'tageum', with a gigantic embouchure hole.
Rick and Harry played nineteenth century flutes, and Kathy enjoyed listening.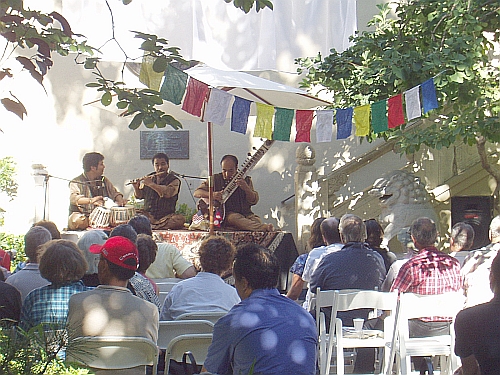 The Pacific Asia museum, walking distance from our home, had a great concert by Sur Sudha, a group of three of Nepalese musicians (including a flute player)playing folk and classical pieces. Some of the flutes played were North Indian bansuri and another smaller flute, a murli. The Pacific Asia Museum is one of our favorite Pasadena places.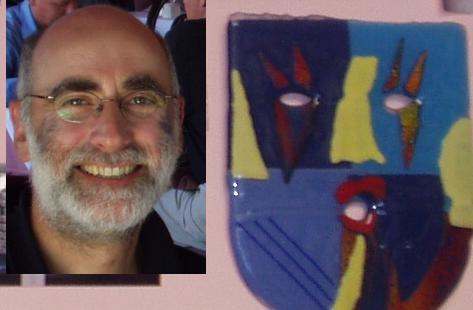 Our friend mathematician Arjeh Cohen is back in Eindhoven with his wife
and family now, we had a few more gatherings with him, and now we wish he was here, because we know he'd love tasting the Lamb Keema we learned how to make today, inspired by the Indian meals he enjoys too!
*Glass mask by Shelly Szekely, Santa Barbara (last photo, right)
*The wire dove nest (first photo) is a plant hanger about eight feet from the floor of our balcony. When we did not water it enough, doves adopted it, and we have never watered it again. They nest there several times a year, and redecorate regularly.
Go to Kathy&Rick Home Page