Saturday, July 24, 2004
E..................Last night we went out EXPLORING on our own on the streets outside the university.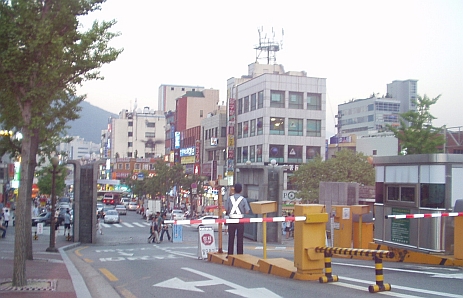 It was another proof of our favorite equation: Rick + Kathy = success .
The area around the university is a maze of shop lined streets. At night they are teeming with strolling people and sparkling lights, and there is an atmosphere of excitement and cheerful leisure. We had looked in our Lonely Planet guidebook and found the name of an interesting place, Won Chon, described as a 'traditional style soju bar, decorated with fockcraft and antiques. Try a bowl of dongdongju with pajeon (the traditional style pancake)." Folkcraft and antiques sounded good, and we have already told you that pajeon was our favorite, so we were off the find Won Chon. (There was no address or street name given.) Rick has a pretty good sense of direction, and Kathy is not afraid to lead Rick down unlikely paths, or to ask questions (even when she can't speak the language). So Rick got us into the general area, and after searching and wandering for a while, Rick would have settled for 'bibimbop'. But Kathy started asking people questions, pointing to the name in our book (which had Korean characters next to it.) After a while we found a young couple who knew of it. They sent us off in a direction toward the train station, and soon after we started walking, we heard someone running behind us. The young man had changed his mind about where it was, and (not wanting us to be lost and disappointed) directed us further down the street we had been walking on before. We walked less than a block in the direction he pointed.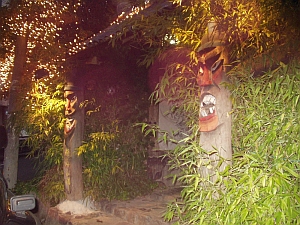 Doesn't it look worth waiting for?
Now we did not know what dongdongju was, but we knew we would love the pajeon, so we ordered them both, and a beer. Luckily we did not order two beers. (We ended up giving our beer away later!)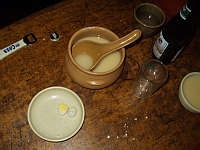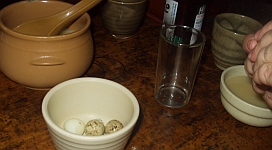 Here is our bowl of dongdongju, which came with tiny eggs. (It is not soup, even though it comes with a serving spoon!) The woman who served us helped us to peel the eggs and directed us to ladle some into our bowls.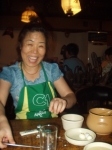 Next came the pajeon, with a dipping sauce.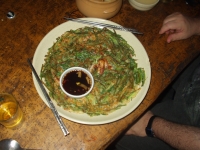 It was as delicious as it looks, and had a little seafood (small pieces of squid, we think) delicately embedded in it. (We had read in our book that the best pajeon is made with only a small amount of rice flower, and then egg, spring onions, parsely and seafood are added. This seemed to be a good description of this one. We have had others that were more doughy.) We were feeling very happy, and just a bit dong-dong from our dongdongju, when we noticed a group of Korean young people coming into the restaurant. They were from our conference, including our hostess from the temple tour Seojoung Bang!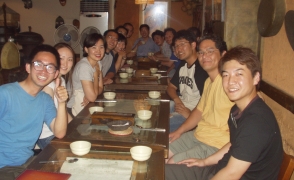 We joined them (and gave them our beer) and then walked back through the brightly colored lights and bustling streets to the university.
On the way, we passed a pet store, where these little dogs were so cute, we wanted to bring a pet home! (Or was it the dongdongju?)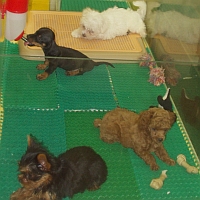 As if we needed more success, look what we brought home from a convenience store on our way back. (It was a flat packet when we found it.)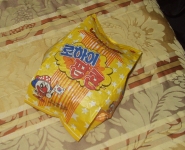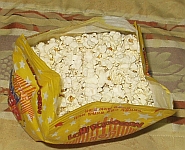 The man in the convenience store popped it in his microwave for us.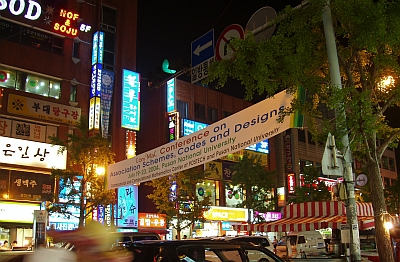 Can you believe, as we approached the entrance gate of the university, we saw this banner stretched above the street? (We had missed it before, going the other way.) It is the announcement for our conference!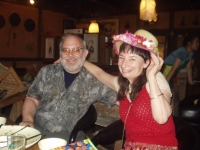 Go see more photos inside Won Chon!

Go to the next stop on our trip:NAGOYA
Go to the top of this page
Go back to Busan Journal Part One