TRAVELING WITH THE BASS RENAISSANCE FLUTE
PITTSBURGH, ATLANTA, AND AUBURN ( April 1–6, 2004 )
It was still winter in Pittsburgh, and spring in Atlanta and Auburn, but it was bass renaissance time everywhere on our trip! We traveled proudly and bravely, across the country, with our bass renaissance flute made by Philippe Allain-Dupré. It got lots of attention, and rave reviews from everyone that tried it. Rick really enjoyed playing it in chamber groups and duets.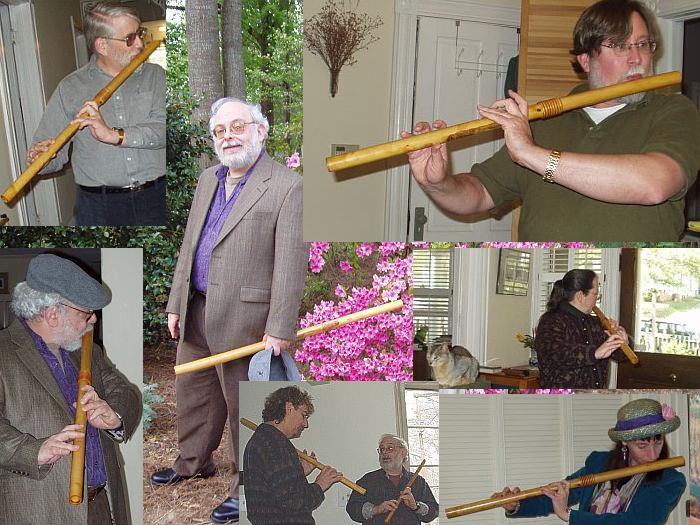 In the center, Rick stands in Auburn, Alabama, with his renaissance bass, among the azaleas blooming prolifically in Doug Leonard's front yard.
At bottom center is Stephen Schultz and Rick, in Pittsburgh with the bass. The day before we left Pasadena, we got a note from our host, informing us the Stephen was in Pittsburgh, and that he would stop by and see us at the potluck musical gathering they had organized. We later discovered that he is now living in Pittsburgh. It was great to have him there all evening, and to catch up, since he and Rick had not seen one another for five years, and Kathy had not met him before. In the above photo, all enjoying the bass renaissance: at top left is Doug Leonard, on the right Daniel Pyle, below him with the cat is his wife Catherine Bull, all at our Atlanta gathering. Even Kathy tried when we got to Auburn.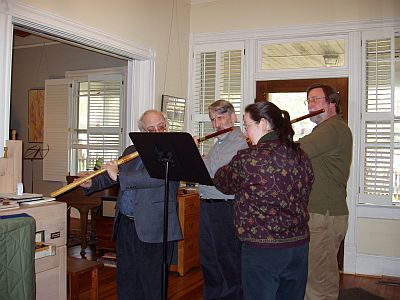 Above the quartet at Daniel and Catherine's, after our arrival in Atlanta.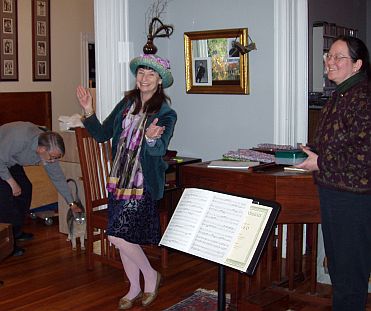 Meanwhile, Kathy was doing her own version of a rennaissance dance, which definitely amazed the cat!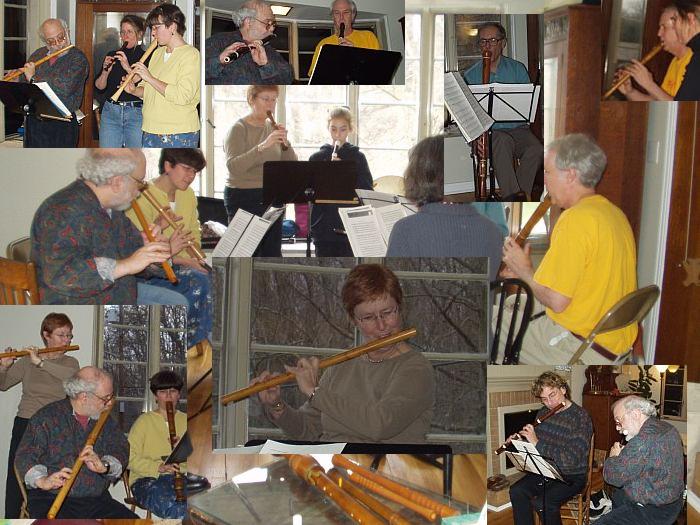 Before we left Pittsburgh, we had a wonderful musical gathering, organized by one of our host mathematicians Stuart Hastings, above right in the blue shirt, playing the bass recorder. The potluck was held at the home of Martha Funderburgh and her husband.
See Martha in the center above, trying the renaissance bass. Stephen and Rick, lower right had a chance to play a few Telemann duets.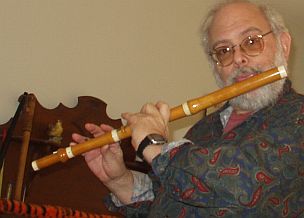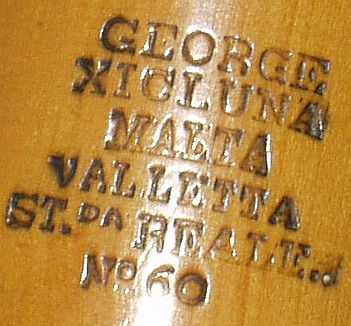 Above Rick is trying Martha's four-key boxwood flute. It is stamped VALLETTA, MALTA. Rick thinks it was probably made in England, and imported to Malta, and stamped with the dealer's name George Xiclune, Valletta, Malta. Of course this has especially sentimental significance for us, since Kathy's mom's family is Maltese.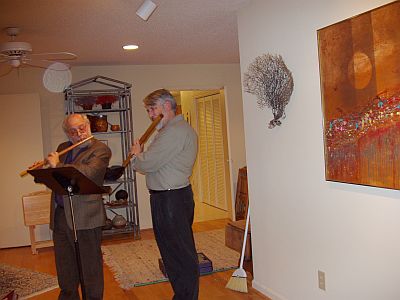 At Doug's home in Auburn, a few days of duets, and we are off to Delaware tomorrow morning! Doug and his wife Jane are sweeping away a space for a new beautiful 12 foot couch which will be in the right side of the photo next year!
Go back to KathyandRick's Home Page