THE KRAZYKAT KONZERT IN BERKELEY, JUNE 12, 2004
RICK WILSON, HARRY BOWER, ALAN BOSTROM

Left to right: Alan, Rick, Harry during their "konzert" on June 12, at Trinity Chapel, Berkeley, CA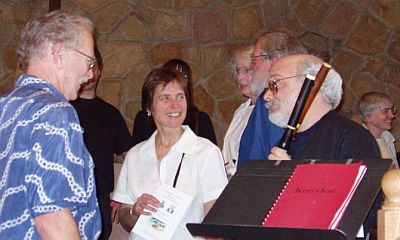 Intermission
On the printed program, Rick wrote "There is an intermission between the works of Kulau and Koehler.
Actually about 60 years."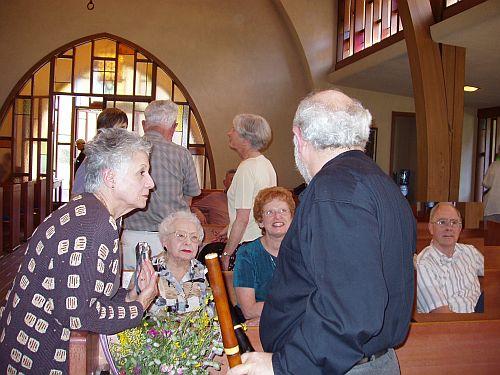 We were thrilled that (above left) cousin Barbara Graham and her husband Larry were able to come to the concert and bring( center of the photo) AUNT ELIZABETH (age 93). We are also happy to meet Barbara's former college roomate from University of Michigan (to Aunt Elizabeth's right) Ann Metzger, and her husband Dean, who live in Berkley.
About 65 people attended the concert, a good crowd for the small chapel.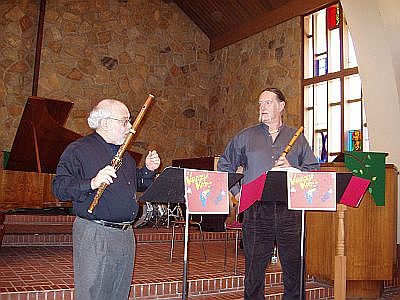 Two friends set the tempo.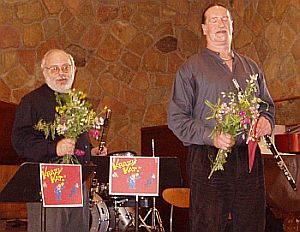 Kathy had picked wildflower bouquets on her morning walk for all three KrazyKats.
Here are two blissful ones taking their bows...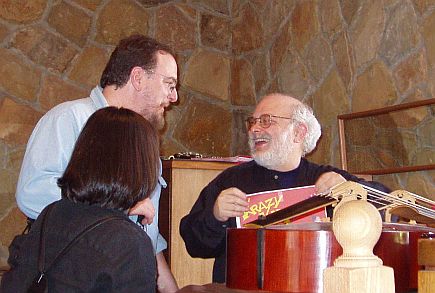 Friend, flutemaker and player Daniel Deitch was there to cheer them on.
(The viol in the photo was there waiting for the next performers (The Wildcat Viols).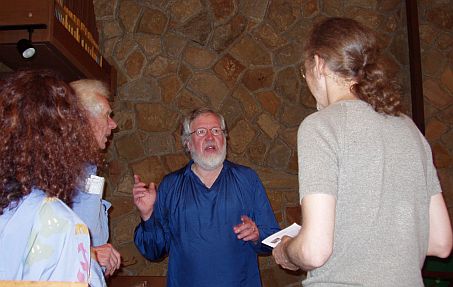 In the center is pianist Alan Bostrom, discussing his unusual piano with our friend Stephen Malinowski, also an accomplished keyboard player. (We stayed at Stephen's home in Richmond for the week.)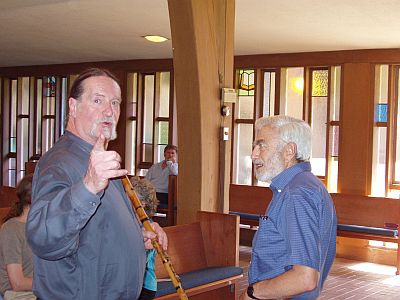 Click here to hear a sound sample from the concert recording.
Köhler's "Valse des Fleurs"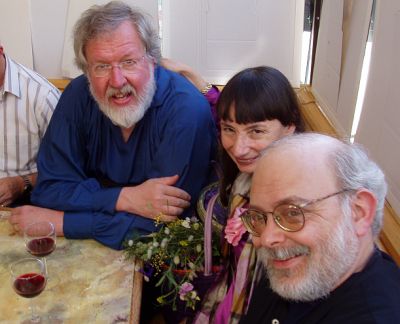 After the concert, happy people, relaxing in our favorite cafe "The Musical Offering".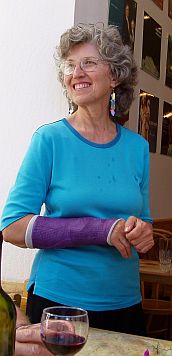 Our friend Jean Spencer, (her arm is recovering from a fall) is owner of "The Musical Offering," the most unusual of cafes. Serving gourmet meals, with excellent wines and teas, it is also, by long tradition, an excellent classical cd shop, and its counter is shaped like a harpsichord.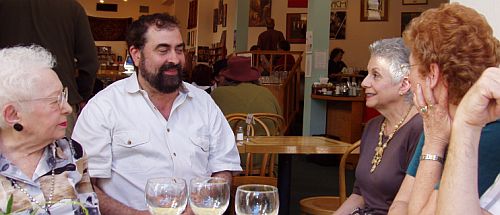 Next to Aunt Elizabeth is Michael Lynn, Associate Dean of Technology & Facilities, Professor of Recorder & Baroque Flute, and Curator of Musical Instruments at Oberlin Conservatory of Music. He attended the concert, to our delight.
Rick knows him from his days attending the Oberlin Baroque Performance Institute in the 1980's, where Michael teaches.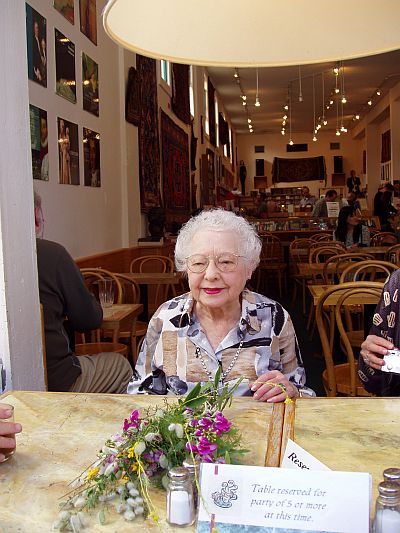 Aunt Elizabeth always makes the room glow around her.
Here she is, at the "Musical Offering" with Rick's wildflower bouquet. She made us so happy by being with us on this special occasion!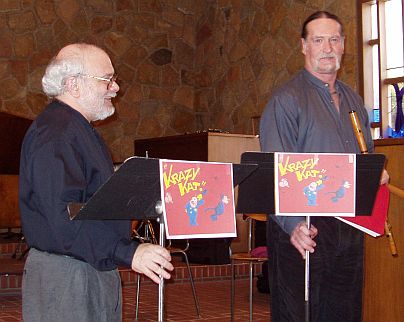 Two great KrazyKats.
Thank you Rick, Harry , and Alan for the work and friendship
that produced this great and rare concert experience.

Go to The KrazyKat web site for more information and sound samples.
Go to Rick's Historical Flutes Page
Go to Kathy&Rick Home Page