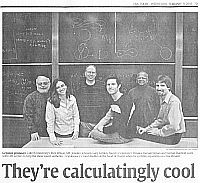 See Rick and other Caltech mathematicians
in USA Today (photo and article) consultants for the show Numb3rs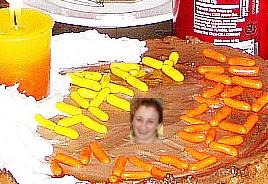 Happy Birthday Maureen
Celebrating in Santa Barbara, January 2005

Harry Bernstein, Bill Severson and Risa Freeman visit
Flute trios resound!


Rod and Kathleen Cameron visit us in Pasadena
Happy flutes featured here.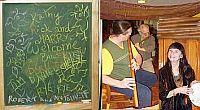 Our welcome board was full in December, during
Harry Bower's musical visit.
(Finally the end of the story!)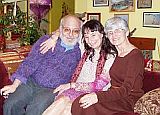 A happy "lunch date" Rick's second wife
Ellen visits us in Pasadena.


Kathy and Rick welcome Diana back to California


Rick and Kathy were married in September, 2001.
Look for new updates to our wedding concert page.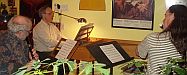 A Retrospective: December 5. 2004
Don Simons plays Trios with Harry Bower and Rick Wilson



Rick and Kathy wish you Happy New Year
To see past front page birthday pictures celebrating Dylan Kasper A(2/22); Aunt Elizabeth (age 91 on 2/19/2004) Diana Wilson (12/27); Kathy's sister Maureen (1/16); Kathy's brother Michael (1/19); the birth of grandson Ryan Thomas (1/5/2004); Kathy's daughter Colleen (1/20);and our dim sum with Georgie and Steve in San Francisco (2/03)