5. LAST DAY IN PASADENA
April 2005

Ah, it looks and feels like California! The rain had stopped, the air was warm, and Kathy had moved a table back out on the balcony. A champagne toast to our wonderful times together in Pasadena and Santa Barbara. Michael and Marjorie would leave in two days to go back to the UK after a year of travels to various universities.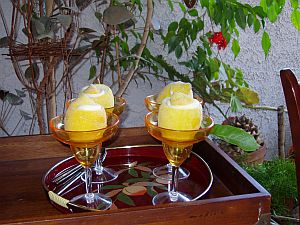 After Kathy's family traditional chicken fricassee lunch we had this delightful dessert! We found these at Trader Joes...a real lemon, already carved out and filled with lemon sorbet. A perfect celebrational lunch dessert.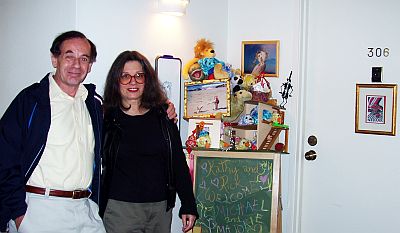 Marjorie and Michael liked their welcome board...and we put a tiny postcard version on our front door as a welcome too.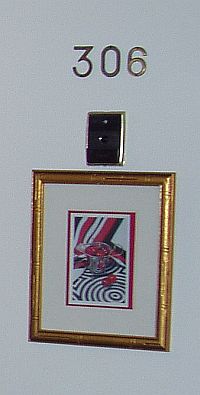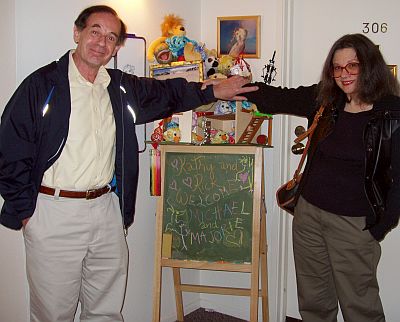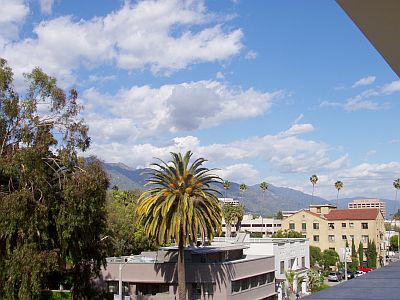 It was hard to leave our balcony lunch, but we were off to the Pasadena Museum of California Art, where another balcony gave us this view of Pasadena!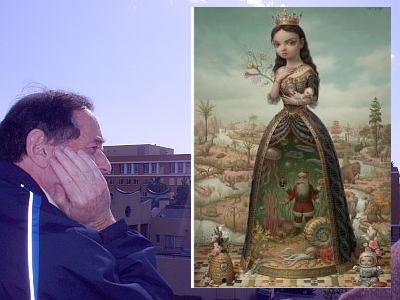 We were lured by an amazing exhibit paintings by Mark Ryden called "Wondertoonel". We were very impressed with his fine craftmanship and fantastic imagination. As well, we were surprised by the two other fascinating exhibits on view: "California Style Watercolors", the first in a series of four California Watercolor exhibits and "Urban Traces: Cultivating Pasadena" a wonderful photographic look at familiar Pasadena spots...then and now. We are very lucky to have this wonderful small museum in our neighborhood.
Mark Ryden painting on the right is from the PMCA website.

A last overlook before we say goodbye...
A surprise treat...we were ready for a relaxing tea. Kathy remembered The Rose Tree Cottage. We had never had tea there (we found one needed a reservation a week in advance) but it was a perfect stop for our British friends!
"Established more than 20 years ago by Edmund and Mary Fry, the Rose Tree Cottage is a traditional English Tea Room and shop bringing the best of Britain to America. Set in an English style court of cottages, the Rose Tree Cottage "English Village Shop and Tea Garden" is the original tearoom in Pasadena, California." -- from the Rose Tree Cottage website.
We had a wonderful time looking around, and Michael learned that Robert Fry, the proprieter had lived a block away from Michael's boyhood home! Marjorie happily added "Great Tearooms of America" to her collection to bring home.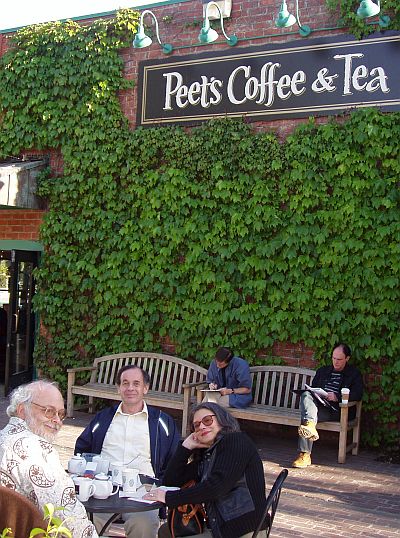 We ended our day with leisurely tea next door at Pete's. We are looking forward to more happy adventures with Michael and Marjorie here in California or there in Britain, perhaps someday.
Go to Michael and Marjorie Collins Index
Go to Kathy&Rick Home Page