PHIL WILSON VISITS PASADENA

Rick's brother Phil, arrived to do a show in Los Angeles. Phil has a health store in Columbus, Ohio, and has a wonderful web page and health product selection, Momentum98.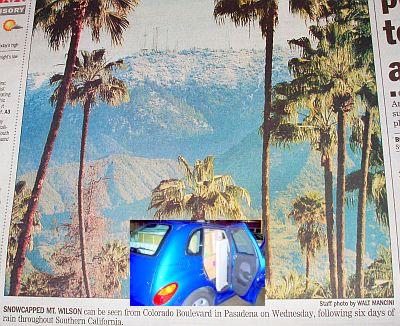 He flew to LA and rented a car, drove to Pasadena and stuffed his cheerful and accomodating little vehicle to the gills with boxes of products mailed to our address, to be sold at the show. It is hard to see, but that is Mt. Wilson still covered with snow in the background, after the cold and rain which had lessened by the weekend he visited! The scene pictured is a few blocks from our home, and the car is in our garage.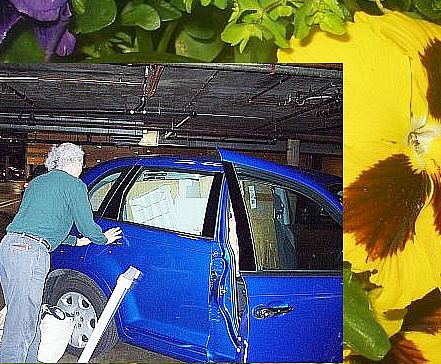 He managed to close the car door! (This all happened before he came upstairs after his drive from the airport!)
The flowers in the background were all in bloom at the time, on our block (though some look a little battered) proving we do still live in Southern California, in spite of all weather reports!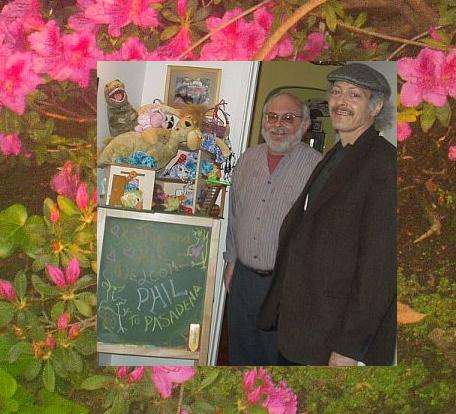 We (and all the other animals) were happy to welcome Phil to Pasadena, and it was time for him to relax, before setting up for his show the next day.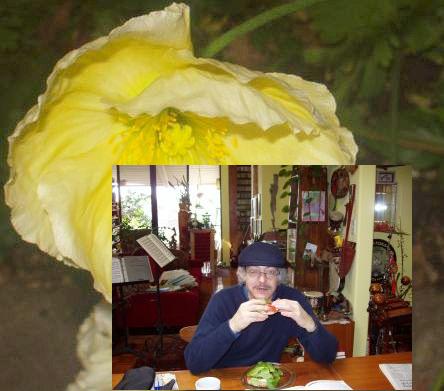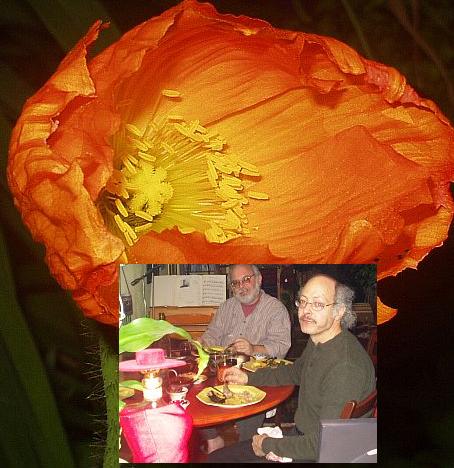 Phil and Rick look skeptical because they are about to be swallowed by a giant flower...really it was a good dinner...and Phil enjoyed his meals with us!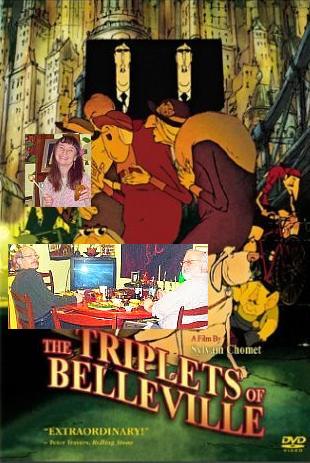 One highlight of the visit was the last night's viewing of movie The Triplets of Belleville! Phil liked it so much he is emailing all his friends.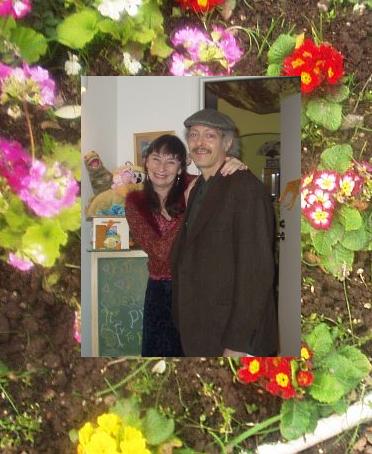 We enjoyed your visit Phil, and we will see you here next month again later this month, for a buying show.
Go to our visit with Phil and Linda in Columbus, Ohio
Go to Phil's two visits last year: visit one (our cup of tea)
and visit two (at the Huntington Gardens)
Go to Phil's Momentum98 web site
Go to Kathy&Rick Home Page