PATRICK LINDLEY IN PASADENA
Friday and Saturday, February 11 and 12, 2005

It was a treat to have Patrick visit is in Pasadena since he is usually busy being the principal musician for the dance dapartment at the University of California at Santa Barbara, and with his keyboard performances there and elsewhere. The flowers pictured above are from the bouquet Patrick brought with him as a gift.
See more below for the complete bouquet.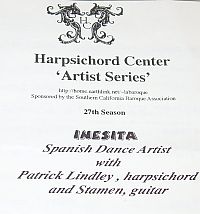 We attended his performance in nearby Eagle Rock on Friday night (more about that below) and then also enjoyed his visit to our home on Saturday evening.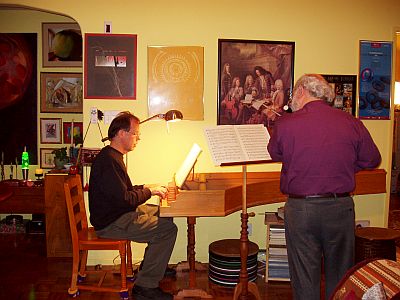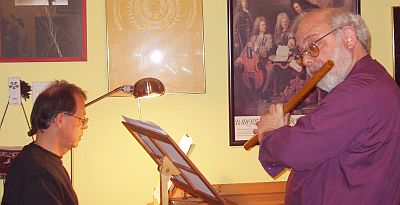 Rick and Patrick enjoy playing together, and since we have Daniel Jencka's Italian harpsichord in our home now, it makes a lot of good music making possible.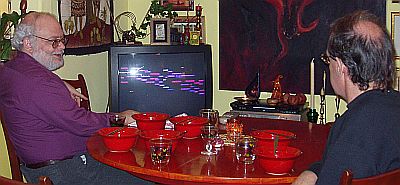 One of the highlights of the evening was our after dinner viewing of a tape of our friend Stephen Malinowski's Music Animation Machine (MAM) which displays an animated musical score with colors and shapes. Patrick was as fascinated by it as we we are. (Kathy made MaPo Tofu as a main course.)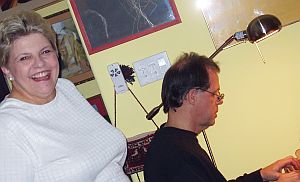 Our next door neighbor, Cynthia was lured over by the wonderful sounds. We are always happy when she joins us as she is such an appreciative listener.

The above is from the printed program of the performance we attended Friday, February 11 in Eagle Rock, a concert in the Harpsichord Center 'Artist Series'. He accompanied the Spanish Dance Artist Insesita in her performance of traditional Spanish dances which she has choreographed to the Sonatas os Dominico Scarlatti.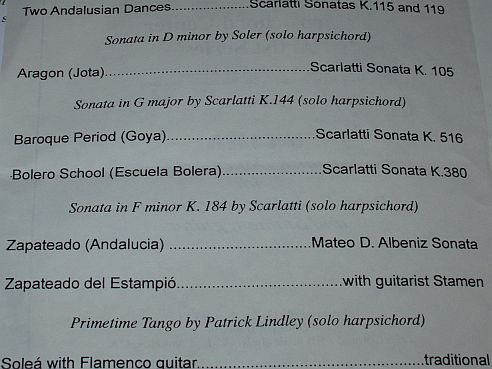 In between Sonatas, Patrick performed short solo keyboard pieces, while Inesita changed costumes for each piece. In the last few pieces "Stamen", a flamenco guitarist, accompanied as well.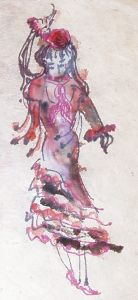 Kathy captured in quick journal sketches, the some of the dramatic costumes and intense dancing.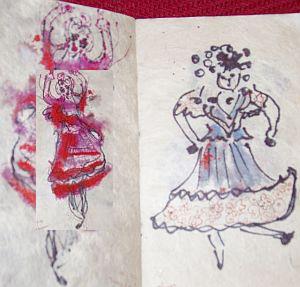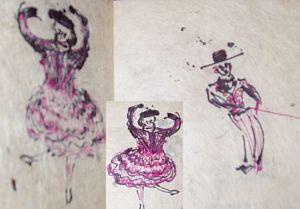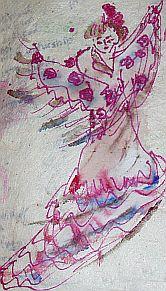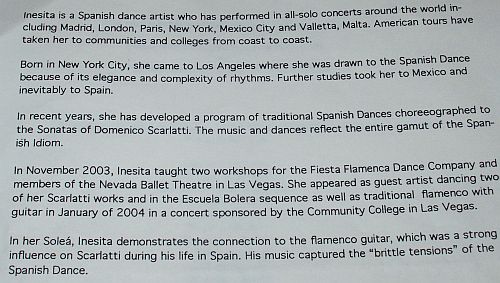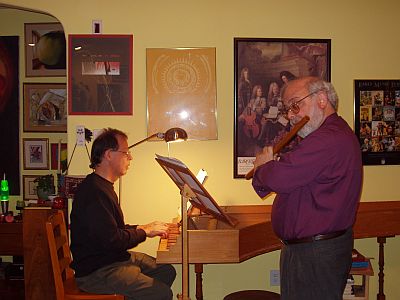 Back at home the next day, "Il flauto traverso" and "Cembalo" proceeded with more sonatas, and Kathy only danced a little in the background.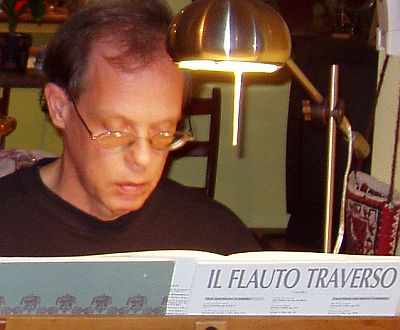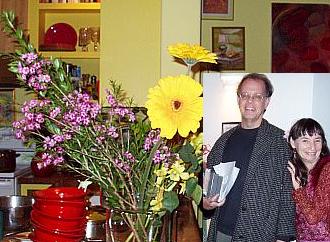 Kathy loved the giant flower bouquet Patrick brought.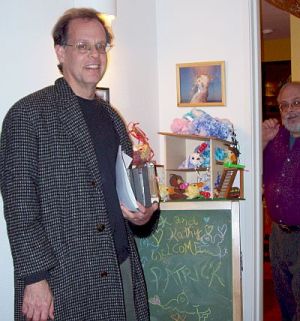 It was a great visit and we will love to welcome Patrick back to our Pasadena harpsichord home as often as possible!
Go to Patrick and Rick in Santa Barbara
Go to Patrick played Strauss waltzes for Kathy's Mom's Maltese celebration, 2003(the full Maltese birthday story)
Go to Kathy&Rick Home Page