COLLEEN'S BIRTHDAY TRIP TO SAN DIEGO
(February 5, 2005)

In the distance before us, as we (Rick, Kathy, and Colleen) left Pasadena this still snow covered peak beckoned, reminding us it was still winter. (Colleen's birthday was January 20, but this was our first chance to have a weekend together for the trip.)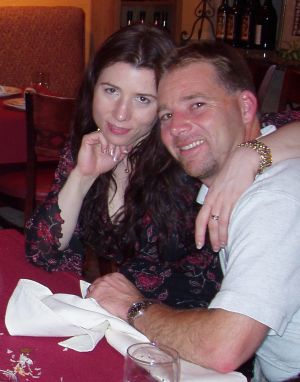 It was Colleen's birthday wish to visit Tim in San Diego, because she misses her big brother.
(They are 13 months apart.)
With both of their busy schedules, they don't see one another as much as they would like.
It was a sweet reunion.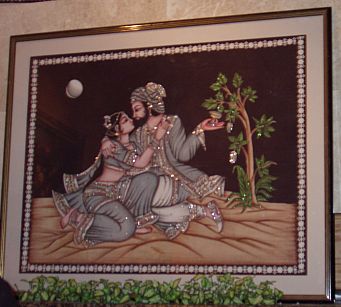 We went immediately on arrival at 7:30 p.m. to dinner an Indian restaurant downtown.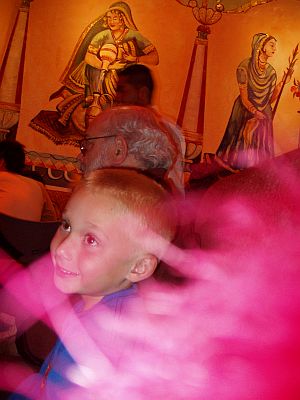 Dylan came too!

We were all so happy to be together.
We had a wonderful Indian meal, and Dylan kept Grandma busy with a project the whole time.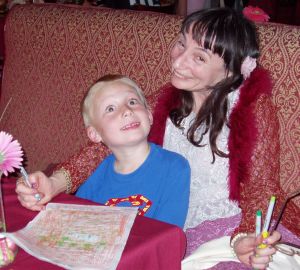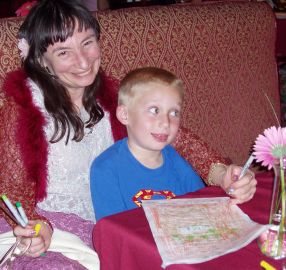 Dylan and Kathy are twins (about 50 years apart) and they are both great posers!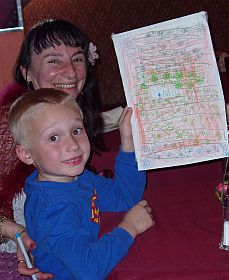 Here is our project. Dylan had prepared a page with lines on which Kathy was to draw. He kept after her the whole meal, pointing to where she had last left off, suggesting perhaps that we neeed another bird, or more flowers or the sun!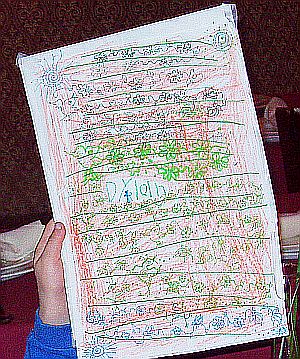 We filled every line!
Notice that "Dylan" is in the center.
After dinner we went to an ice cream place nearby in the busy, colorful downtown area, and Kathy and Dylan toasted with cones to their fun together.
Go to the next part of the trip (where we stayed)
Go to the next part of the trip (visiting Tim at home)
Go back to The trip index