HARRY BOWER'S WONDERFUL MUSICAL VISIT
TO KATHY AND RICK
IN PASADENA
A reminiscence:
the last days of the visit.
DECEMBER, 2004 We never finished our story of Harry's great visit to us in December, as two days later we were journaling our adventures with our next 10 day visitor, nephew Sean Endress from New Paltz.
While we are happily remembering those last few full musical days of our visit with Harry, we thought we would share them with you.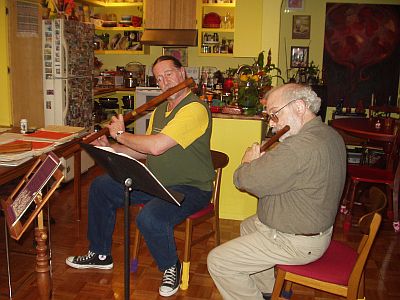 This is what our mornings looked like while Harry was here. At least six impossible duets even before breakfast! Here Harry is playing Rick's largest bass renaissance flute, made by friend Philippe Allain–Duprés.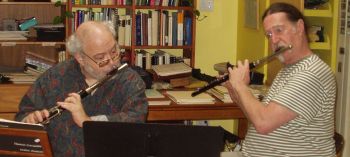 Well not really with both Rick and Harry able to play the many varieties of flutes, from Renaissance to 19th century, anything was possible!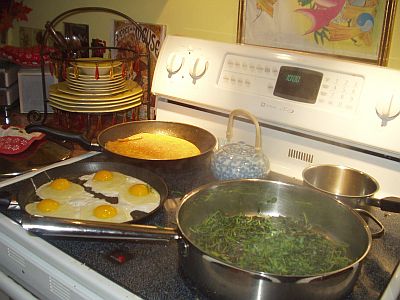 And breakfast often meant some of Harry's wonderful creations. His specialty this trip was sweet potato pancakes...served with eggs and greens.

After our relaxed mornings and great breakfasts, we were ready to welcome the world.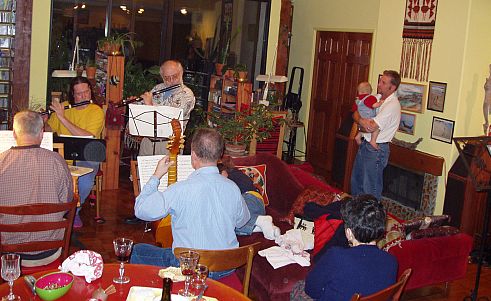 And the world came to us.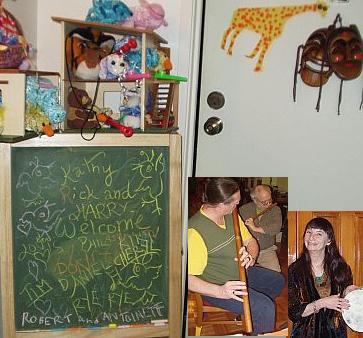 You've heard some of our stories already, of the musicians and listeners who participated in the festivities during Harry's ten day visit. Our welcome board was overflowing!
The music was so inspiring that the listeners even began playing invisible instruments! Above is Robert Allen, a friend and drama teacher at Cal Long Beach. Next to him is Kiki Schlosberg a friend and wife of Phil Schlosberg (see below). She teaches kindergaten in Los Angeles.
Robert's wife Antoinette (second from left, above) teaches computer art at UC Irvine. She is talking to our friend Phil Schlosberg at this musical gathering. Phil is a lawyer as well as an accomplished gambist. Many of our guests were meeting for the first time.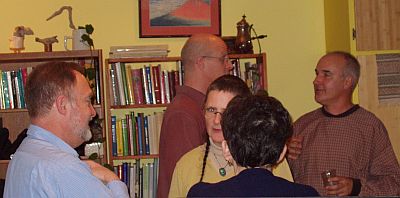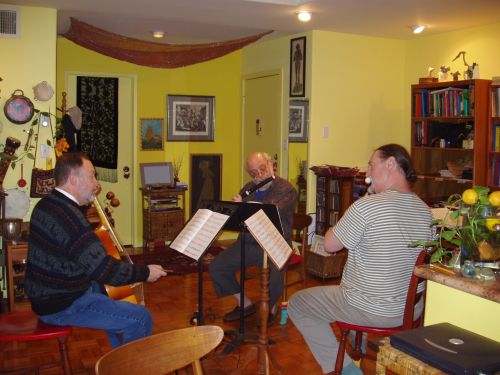 Phil came back for another session of trios a few days before Harry left.
By the last few days our tables were overflowing with flutes and sheet music.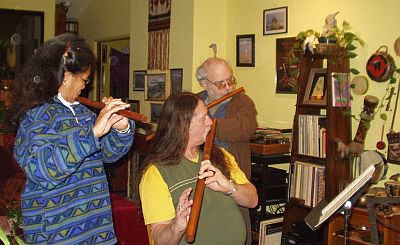 So we invited more people to play them!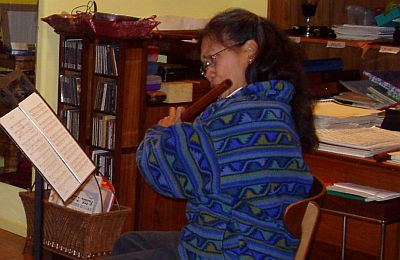 Friend flutist Asuncion joined us on Harry's last evening in town.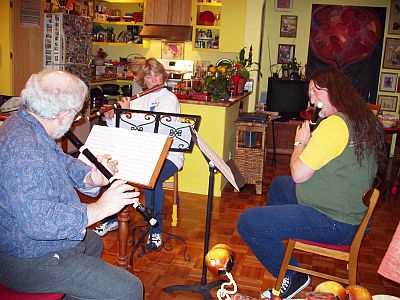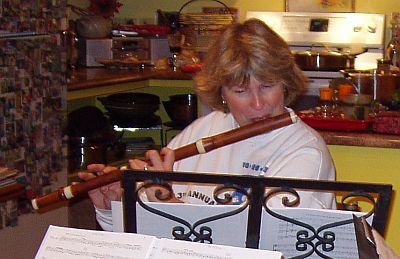 And another flutist friend, Sherril Wood, was the last musical guest to arrive.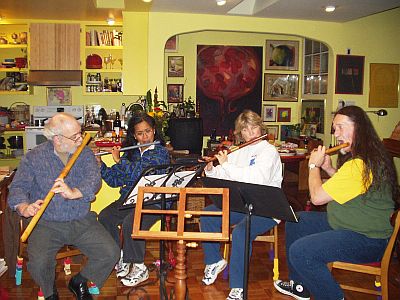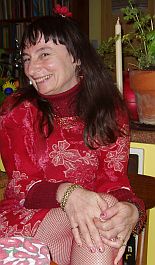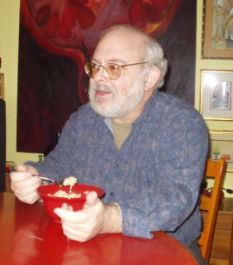 Silly Kathy and Rick relaxed and enjoyed Harry's great bouillibasse.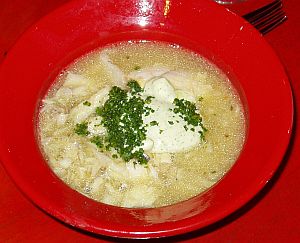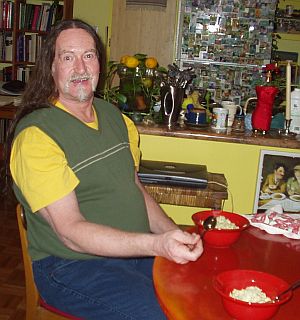 Thanks, Harry for the wonderful meals!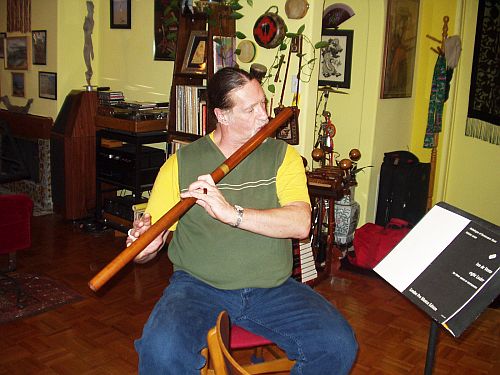 See Harry's luggage waiting while he plays a last song.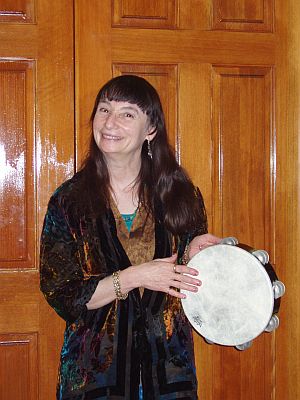 Kathy played a last farewell.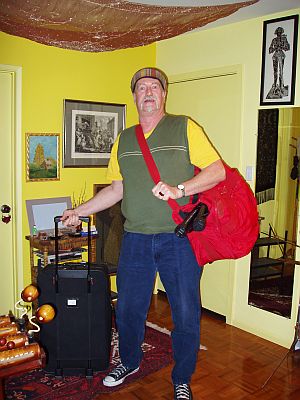 It was hard to say goodbye. Harry's visits draw musicians and listener friends to our home in Pasadena to enjoy good times, music and fun.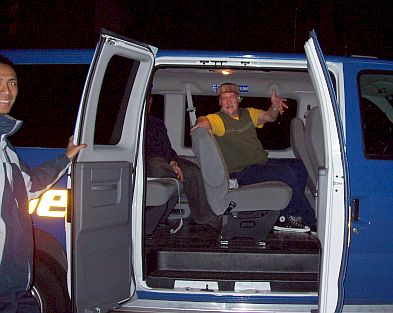 Thanks for a great time, Harry! Come back soon!
Go to The Musical Extravaganza Saturday, December 4, 2004
Go back to Renaissance in Pasadena Harry Day One
Go to children amidst the music
Go back to Renaissance in Pasadena Harry Day Two
Go back to Renaissance in Pasadena Harry Day Three and Four
Go to Kathy&Rick Home Page