RICHIE WILSON VISITS RICK AND KATHY
IN PASADENA

Saturday, February 19, 2005
Richie is in (sunny?) Southern California this weekend to visit the University of Redlands, where Diana goes to school. Being a junior in high school, he is wisely beginning to look at his options. In spite of the rainy weather, he said it was "better than where I came from," the cold and windy weather of the Chicago area.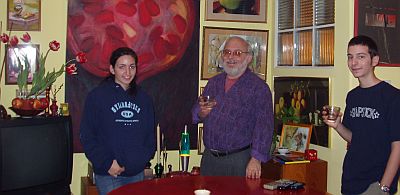 We were thrilled that Diana was able to bring him to us. It was his first visit to our renovated condo; in fact he was only here once, ten years ago.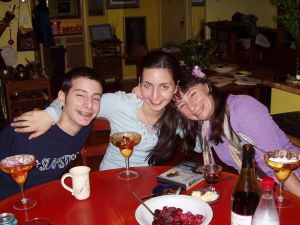 It was so sweet to be together, we were delighted!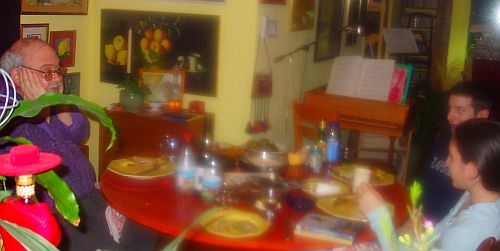 Rick never ceases to be amazed by his niece and nephew.(Kathy took these pictures from the kitchen, while cooking, so please excuse the lamb grease on the lens that created the misty effect!)
<
Kathy made some special dishes that Richie liked. His favorites were the appetizer shitake mushrooms cooked in olive oil and tamari, baby artichokes with dill dip and our favorite Marcona almonds. He also loved Kathy's almond mustard rack of lamb. We had our soy ice cream berry delight for dessert.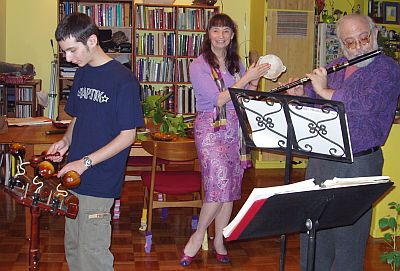 After dinner we played some klezmer pieces, including one we did at our wedding, with flute and percussion. Richie took naturally to our Vietnamese Dan Mo. He sounded great, as he has played drums for years. The instrument is appropriate to the music, we have found. It has a similar wooden quickly repeating sound that is heard on the old klezmer recordings we have. Rick is playing his 1840 Viennese flute by Stefan Koch.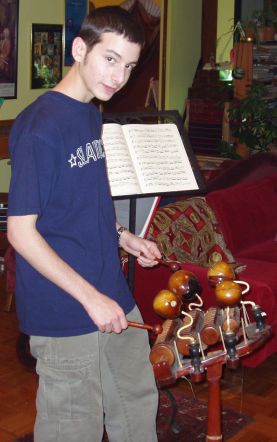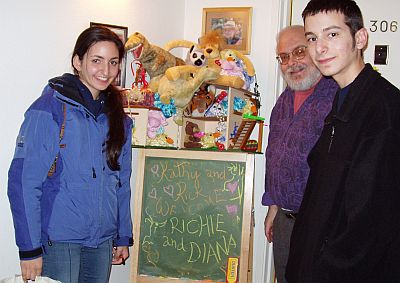 We said goodbye by our welcome board, its animal house growing ever more populated these days, with dinosaurs and a very friendly protective lion with very long arms.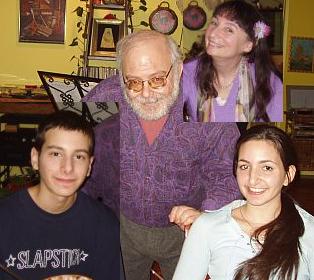 See below, the pretty thank you note that Diana left on our "zen board" by the door: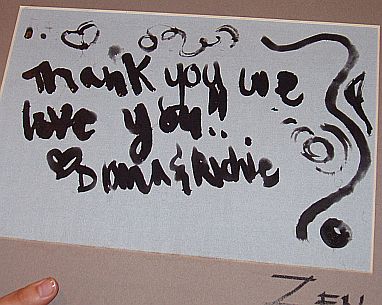 We look forward to another visit from Richie in a month or two, and feel fortunate that we have Diana already so close that frequent visits are easy!
Go back to Kathy&Rick Home Page