Colleen's Birthday Trip (Part IV)
A MUSICAL VISIT WITH DANIEL JENKA
(on the way home)
Sunday, February 6, 2005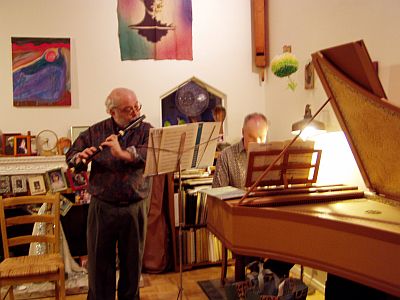 After we left Tim and Sally in San Diego, we drove onto Carlsbad to visit Daniel Jencka, and had a wonderful music session.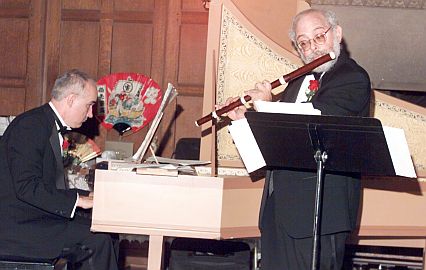 Our dear friend Daniel played keyboard for our wedding concert, and was the "Master of Ceremonies" for the marriage ceremony.
See "The Encore"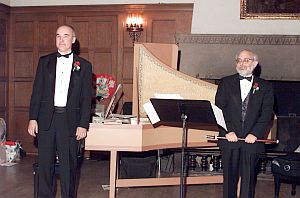 See our Wedding Concert program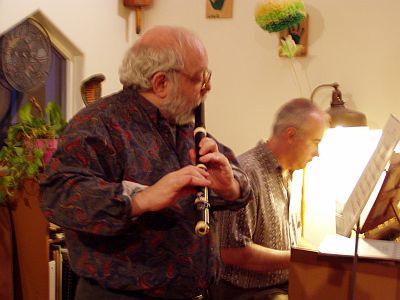 On this visit, Rick and Daniel played 18th century music for harpsichord and flute:
Platti, Bende and Kleinknecht.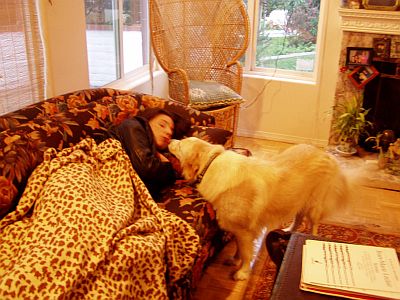 Colleen was soothed into a much needed nap.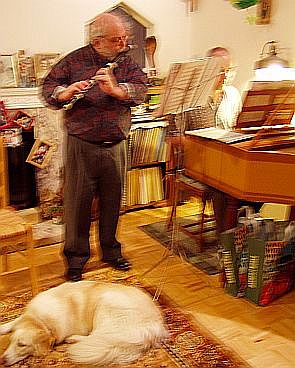 Daniel's dog was convinced she had the right idea.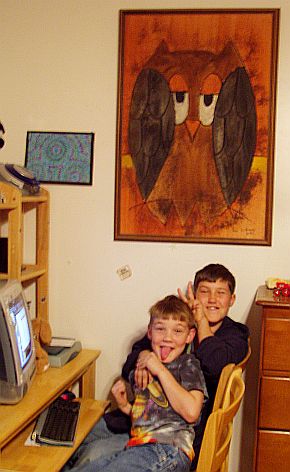 Meanwhile, in the boys' room Louis (fingers) and Marty (tongue) were playing computer games and being charmingly silly. They were being watched over by this fine giant owl! This was a decoration Rick had from Ohio 30 years ago. When we started renovating our condo 3 years ago, we asked Daniel's boys if they would like to have it. It made us happy to see them enjoying it in their room.
Before the final drive home to Pasadena, a dinner with Daniel at the Carlsbad fish house. We felt so lucky to have this special time with Daniel and Colleen, and both in the same place at the same time! A wonderful ending to a great birthday trip.
Go to Daniel Jencka's Compositions on Sibelius Music Site. Listen and print his compositions, vocal, keyboard and for flute or violin and harpsichord.
Go back to the trip, Part I
Go back to the trip, Part II
Go back to the trip, Part III
Go back to the trip index