ARRIVAL AND DAYS IN SHANGHAI
MAY 13 and 14, 2005
We have a little bear, his name is DINKY, who has accompanied us on our trip. We have employed him as an interviewer, and he will make sure you get all the important news!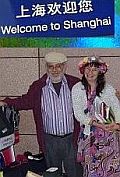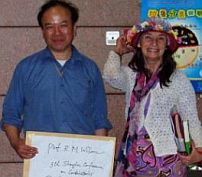 Above, our arrival in Shanghai, Friday night, 9 pm. Our Host Professor Hao Shen in center, greets us.
Dinky's first meessage from Shanghai was: "Sorry for the delay...I have been having a hard time finding internet access for them!
Frequently Asked Questions by Dinky:
1. Are we there yet? Are we there yet?
YES! We arrived (Shanghai time 8:15 pm Friday night. (CA time 7:15 am Friday morning) Our host Professor Hao Shen met us with a big smile at Pu Dong airport.
2. Tell them quick...(stop the whining) why haven't they heard from you?
You have not found us any internet access, and it is Sunday already, Dinky. It's your fault, but we still love you, and we know it's hard in a foreign place, and not eveyone speaks bearglish.
3. Tell them about those big flying buildings!! Dinky was impressed when Rick told him..."Look isn't it amazing, these buildings (the big planes) flying through the sky? A hundred years ago they couldn't do this!
The flights were perfect. First we flew to Tokyo (about 10 hours), change in the airport (2 hours) for the flight (two hours) to Shanghai.
4. Did you sleep on the plane? Did it seem like a long time? Actually, Rick worked on his talk, and Kathy was writing in her journal, drawing pictures, and reading her book, When Red is Black by Qiu Xiaolong, which is set in Shanghai! (Highly recommended. This is his third book, and we loved the other two, filled with poetry and great food descriptions, and the atmosphere of Shanghai, old and new.) The trip seemed too short! We needed more time. (We'll have to go farther away!) We took some naps, and we did sleep on the flight from Tokyo to Shanghai.
5. Can't you show them some pictures? The ones from the plane!!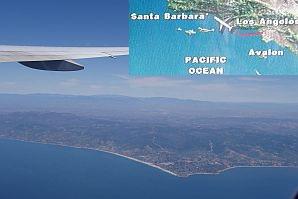 Last sight of Santa Barbara area. (Dinky says look there's Grandma! Wave goodbye everybody!!) We flew all the way up the coast of California, and then North America, before heading west over the ocean. Each seat had it's own monitor, so we could watch the progress all the way.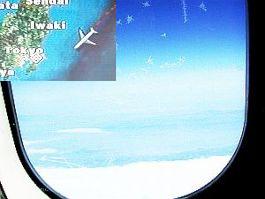 First sight of land, 11 1/2 hours later!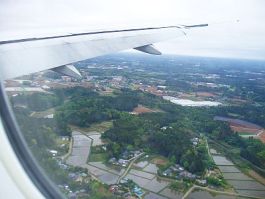 Just before our arrival at Narita airport, Tokyo.

6. What about all those security checks? Did they think you were crazy to bring me?
No, Dinky, they were not interested in you. In Japan they were interested in Rick's laser pointer that he uses for his talks, though. Next time it's going in the checked luggage. (Changing planes in Tokyo, they put everyone through two security checks, with long lines (looking especially for laser pointers?) which was probably the most tiring part of the trip.)

7.Tell them about the yummy plane food!
Well, mostly it was not yummy, Dinky. So let's not talk about that! Luckily, we had our snacks. Except for our last flight, fom Tokyo to Shanghai (Air Nippon), the food was fantastic! It included little bottles of a nice Cabernet, Teryaki chicken and rice, soba and green tea noodles, little bits of salmon and a pickled vegetable assortment, and delicious green tea.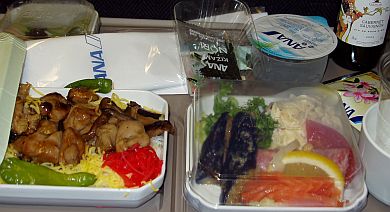 8. Why don't you tell them about Shanghai? Isn't that where you are?
Yes, Dinky, be patient, it took a long time to get here. First we landed in Tokyo, Japan, and few from there to Shanghai.

9. What's the weather like there? Dont't they get a weather report?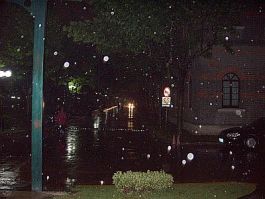 Oh, Shanghai is just like California...rainy and cool. (Three years ago we were here in May, and it was 93 degrees. Now it is in the 60's.) We arrived in the dark, and it was windy and raining. Our host took us by taxi to the Faculty Club where we are staying, and it looked like this when we arrived.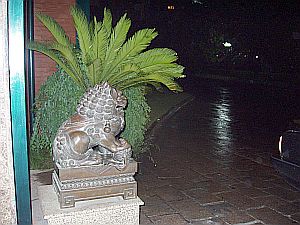 10. Any disappointments? Didn't I hear you whining and complaining?
Except for a bad case of LOIA (loss of Internet access) we really have had only minor (poetic) complaints...like last time we were here we had a little refrigerator in our room, stocked with Tsing Tao beer. Three years later, no refrigerator. Our host sent up some beer...but we had no opener. This makes writing poetry very difficult. Oh, and the worst thing was that there is much less honking of horns here now! You read about them in Kathy's Shanghaiku on our last trip. Oh it's still done, that friendly honk when passing, but not always. One of our fond memories is falling asleep to that wonderful cacaphony that seemed to still only for a few hours before dawn three years ago. But we should not complain. We are all in praise of this amazing city and the friendly care and generousity of our hosts!

11. So you still haven't told us anything about Shanghai!
We will, you have to remember we fell asleep (for six hours) when we got there. Then we got up at 6 am and had to be at the breakfast and the conference started at 8 am.

12. Ah, now we're talking! What did you have for breakfast?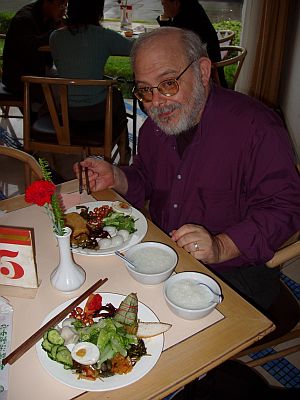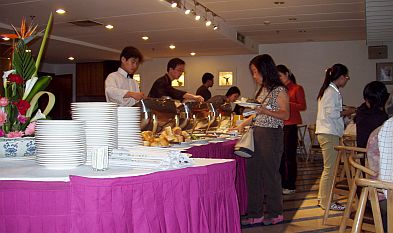 A colorful buffet in the faculty club, downstairs from our room. We try everything, except the toast and buns that are more familiar... We love the pickled vegetables, and unusual things that we can't identify. The bowls of warm watery rice porridge is always served in a little bowl on the side, (you can see them in the picture with Rick) and is a nice complement to the rest.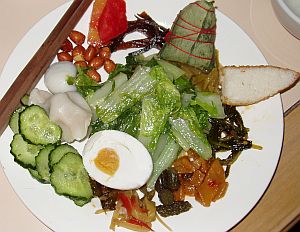 The leaf wrapped with red thread, we later discovered, is a bamboo leaf, and is a delicious sweet rice dumpling which has more than 2000 years of tradition. It is in memory of one of the greatest poets in Chinese history,QU YUAN See this dumpling later unwrapped in Kathy's 5 Shanghai Dumplings, 2005, poems written during our travels. (Ah yes, says Dinky, she did find a little Tsing Tao on this trip, and voila...poems!)
We loved the steamed bok-choy, and toasted peanuts. There are always many pickled vegetables, our favorite, reminds us of broccoli stems.

13. Hey, don't you do anything but eat and sleep? We still haven't seen Shanghai!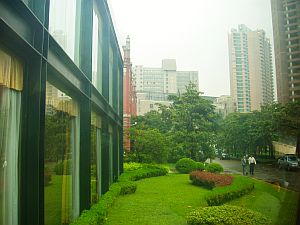 Well, this is what it looks like right outside that breakfast room. We took this photo this morning right before we got on the bus! (They were taking us to the other Shanghai new campus, where the lectures will be given.)

14.What about out the bus windows...what did you see? Are you going to keep it all to yourself? Where's Shanghai?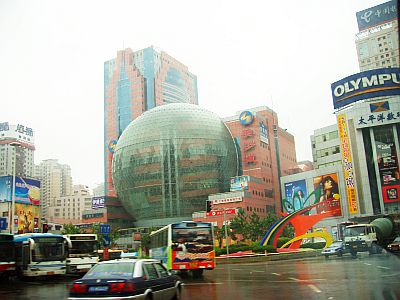 This is Shanghai, just a few blocks from the Faculty Club.

15. Finally! Is that it? Didn't you see anything else?
Remember, it was raining...and we were on a freeway...so we did our best.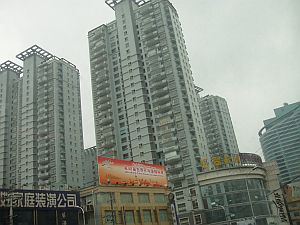 The billboard read 48th World Table Tennis Championaships, Shanghai, 2005.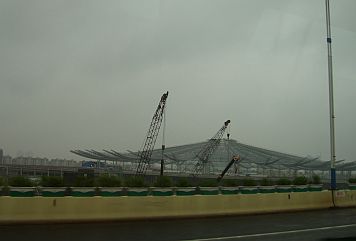 Under construction: this is a raised super-fast train terminal. We are told that a magnetic train has is already in operation from the Shanghai airport, that travels over 400 miles per hour! The train does not actually touch the ground, but flies above the tracks, not touching, kept strongly "on track" by magnetism! This changes, for instance the time from Shanghai to Beijing (a planned route) from 15 hours by train, to 2 or 3 hours!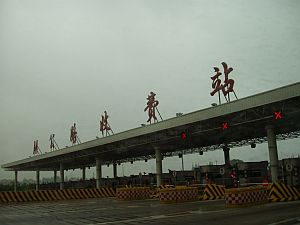 Toll booths.
Kathy wrote down some street signs, just to give you an idea of where we were. Freeway signs are each in two languages, Chinese and English: Hongmei Road, Humin Road, To Xupu Bridge, To Fenfu Bridge, To Jinsan, Shanghai Zizhu Science Industrial Park.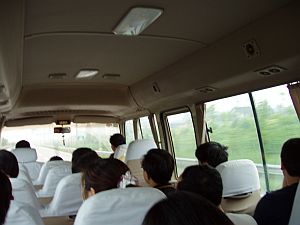 Well, Dinky, if we're not in a flying building, we're in a rolling one! See you at the conference...
MORE ON CHINA