THE NATIONAL PALACE MUSEUM
Taipei, Taiwan
Sunday, May 22, 2005
The National Palace Museum in Tapei, Taiwan is the repository of a huge collection of 650,000 pieces representing China's last four dynasties. The treasures were moved from Beijing, and were in storage from 1948 to 1965, until finally they were installed for public display in this beautiful museum. We feel very lucky to have been able to visit The National Palace Museum in Taipei. Our hosts made this the first stop on our half day tour before the tour bus dropped us off to the Taipei airport at 4 pm. A massive renovation is now underway, to protect against earthquakes, but many beautiful exhibitions had just opened and we were given an English speaking tour of several galleries, comprising the exhibit: Astonishing Heaven? Ceramics, Jades, Ivory, Carving, and Curio Boxes. Photography was allowed without flash, and Rick was able to take these beautiful photos.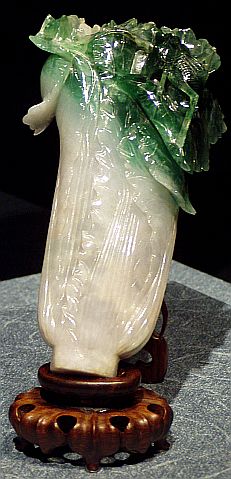 Amidst the vast collection, this jadeite carving is prized above all; our guide called it "our Mona Lisa".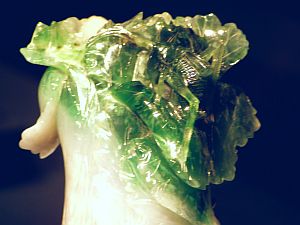 The carving follows the raw form of the jade. This jadeite cabbage with it's insect inhabitants is "the consumate example of jade carving, attaining its greatest achievement: the harmony of the natural and man-made".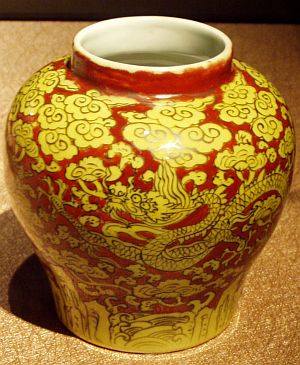 We loved this one...red glaze, ceramic with yellow dragon, circa 1550. This would be perfect for our home back in Pasadena ! (We have yellow walls, and red furniture!)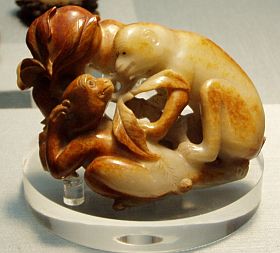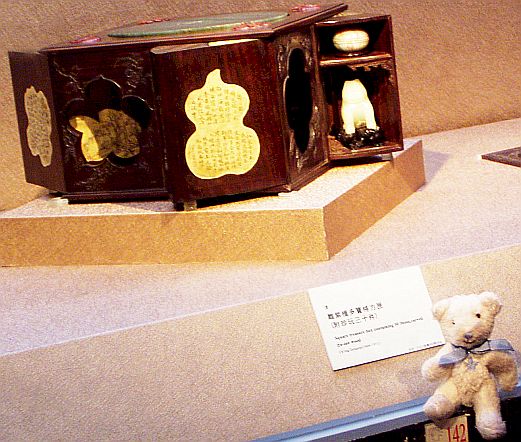 This sandlewood "treasure box"containing 30 objects fascinated both Kathy and Dinky. (He was ready to move in!)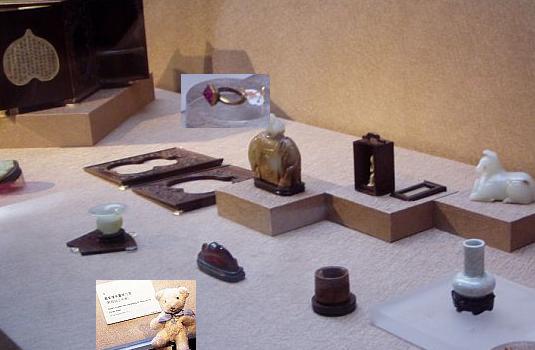 Some of the treasure objects usually set within the beautiful box.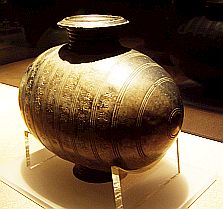 Dramatic, black, cocoon shape pottery, Han Dynasty (206 B.C. –220 A.D.)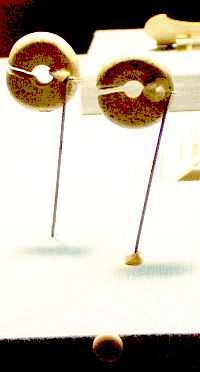 Earrings (Chueh) from 6000 B.C. are the oldest pieces in the collection.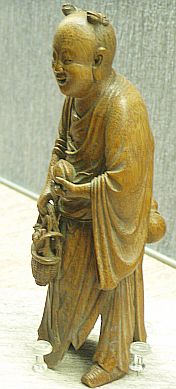 This is Han Shiang, the patron of musicians. We were told that he usually portrayed with a flute, but in this case he is holding the Peach of Long Life. We like that relationship!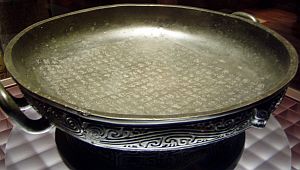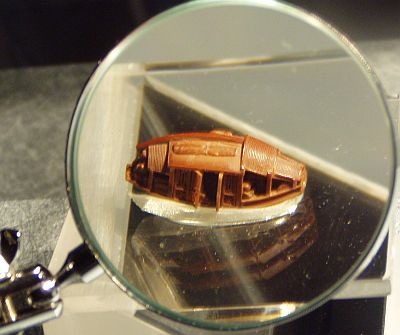 This amazing tiny 18th century carved boat contains 300 characters, telling the story of the artist's boat journey with his friend. Seen here through a magnifying glass in the display. The tiny doors open and there are many figures depicted doing various tasks.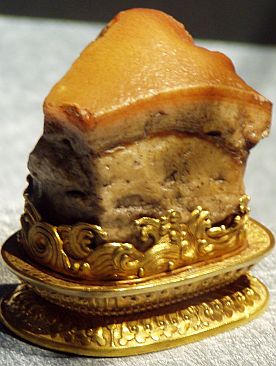 This interesting carving, depicts a piece of meat. It is another following of the natural form of the stone, and it is presented in the case with the jade cabbage shown at the beginning of this page.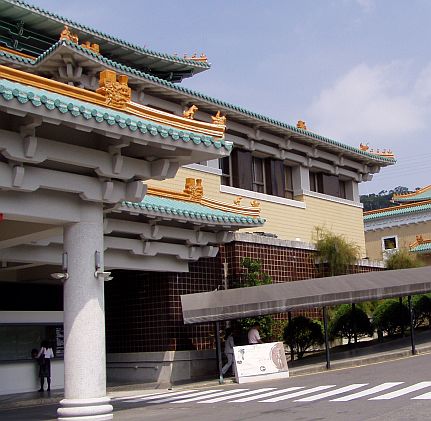 A view of The National Palace Museum entrance.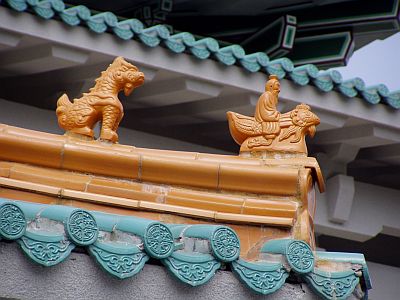 Ornate decor near the roof.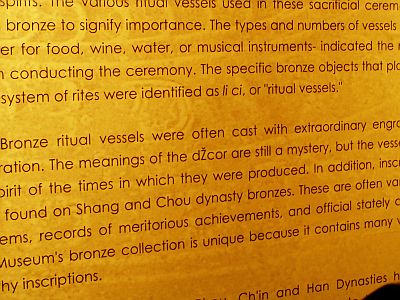 We too are mystified by the "dZcor".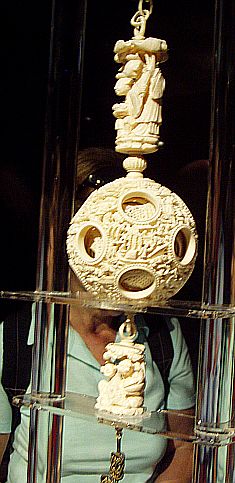 Incredibly carved, seven ivory spheres within...
Dinky says...How do you remember all that stuff?
If we didn't do these page, Dinky, it might all be a blur! So much happened in such a short time! Here's one of the ways we remember... we check Kathy's journal. (The pen and ink variety, which accompanies us everywhere!) Kathy has a different one for every trip, for "on site recording..."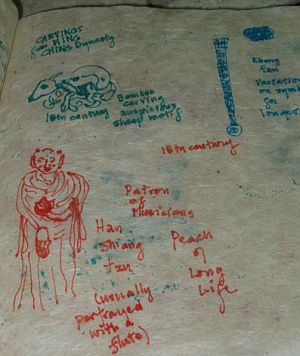 Look for us soon in the (page in progress) "Food Court" in Tapei 101!

Go to