WHAT DINKY SAYS ABOUT
TAIWAN
1. Taiwan has the best fruit anywhere! Those Californians I am traveling with can't stop eating it!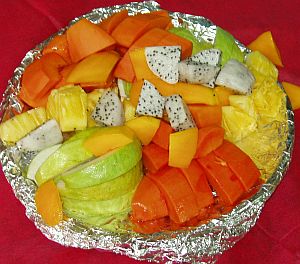 Did you know Taiwan is tropical? It is much hotter here than anywhere else on the trip. Every day at "tea time" a wonderful display of home grown tropical fruit is set out for us. We had local pineapple, mango, red and yellow watermelon, large guavas, honeydew type melon, cantelope, dragonfruit, an unusual local pear, and papaya. (I think we even saw a "dinkyfruit"!) We were told..."Taiwan has the best fruit anywhere...that's why we live here. And we understand!!
2. Taiwan has the most motorcycles in the world!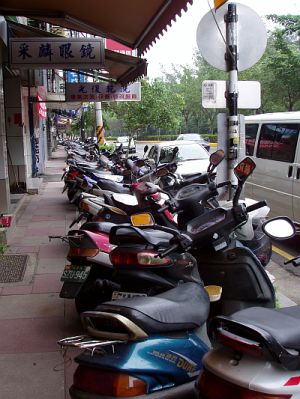 We think you are right, Dinky. They are parked in endless rows in every conceivable place. We were told that some people here do not drive at all, because the mororcycles are too aggressive and interfering. (We even think we saw a Dinkycycle!)
3. Taiwan has the best toilet in the world!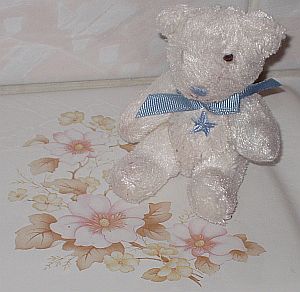 What? Dinky, what are you talking about? Those are flowers you are sitting on!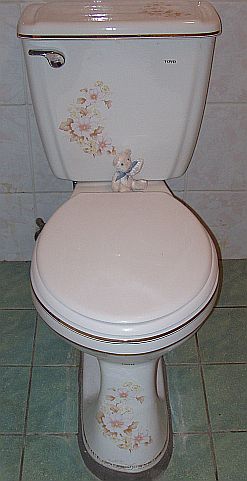 Oh, we remember now! In our charming Berkeley hotel room in Hsin Chu, there certainly was the prettiest toilet we have ever seen in a hotel. You remember the important things, Dinky!
4. People here are so happy they dance in the streets!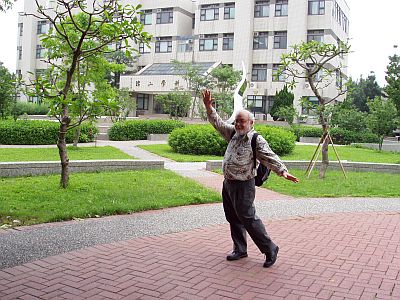 Well, Dinky, at least around campus they do. Did you do a Dinkydance?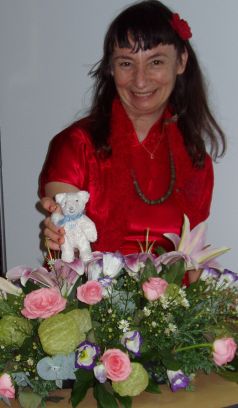 RICK AND KATHY IN CHINA
AND TAIWAN
INDEX
Go to NEWEST UPDATE: 5 Shanghai Dumplings, 2005
Poems written during the 5th Shanghai Conference on Combinatorics Go to: THE PALACE MUSEUM IN TAIPEI, TAIWAN
See Newly Expanded Shanghai conference speakers portrait gallery
(Saturday, May 14, 2005)
Go to ARRIVAL AND DAYS IN SHANGHAI (May 13 – 15)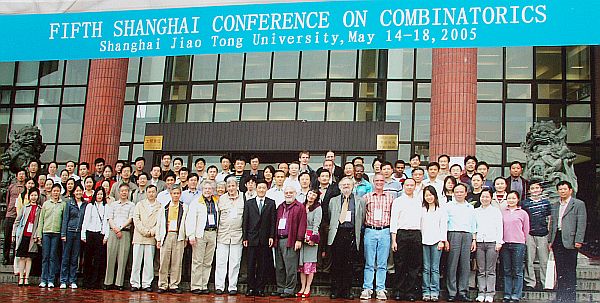 Go to THE FIFTH SHANGHAI CONFERENCE on COMBINATORICS begins in SHANGHAI
Go to VIEWS from the BUS (Shanghai to the Lake Taihu)
Go to CONFERENCE continures ON TAIHU LAKE NEAR SUZHOU (May 15 – 18)
*************************
Go to (part 1) ARRIVAL IN TAIWAN(May 18);
(above includes a ride on the fastest train in the world!)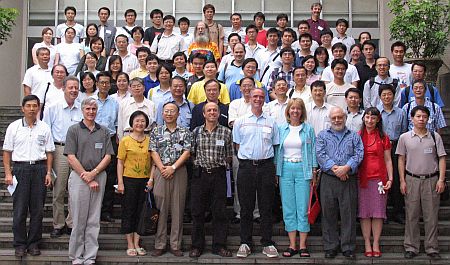 THE CTS Conference on Combinatorics and Its Applications
at National Chiao Tung University IN HSINCHU, TAIWAN (May 19-21)
Go to TAIWAN CONFERENCE CELEBRATIONS PHOTO ALBUM
Go to TAIWAN BANQUET FOOD ALBUM
Go to RICK'S TAIWAN LECTURE(other conference photos to come)
Go to A WALK IN THE GARDENS OF HSINCHU(May 21)
Go to TAPEI 101 (visiting the world's tallest building)
See Read Dinky's Best of Taiwan Reviews
Go to (May 22)OUR FLIGHT HOME