OUR TOURIST BOAT RIDE
ON TAIHU LAKE
May 17, 2005
During the Fifth Shanghai Conference on Combinatorics
On Tuesday, during the conference, our hosts arranged for us to leave the Taihu Lake Mandarin hotel after the morning session of talks and lunch for a bus trip... across the bridge and away, to another island, and another part of the lake. There we would go out on a boat...into the lake.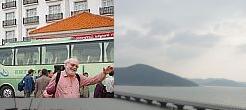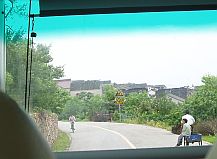 After almost an hour of freeway driving (!) we began to realize how big this lake was! Finally we found ourselves on smaller roads, and finally, winding Suzhou country lanes, our big bus honking as it drove along behind small carts, bicycles, motorbikes, and wagons of every kind.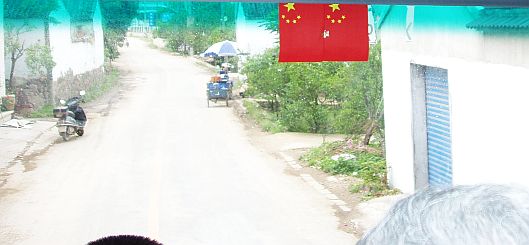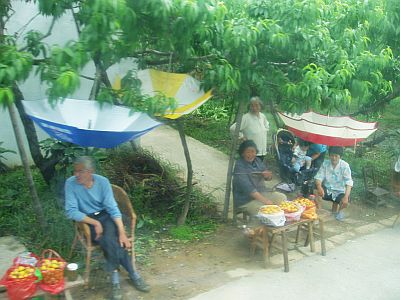 "on every turn, in front of their houses..."
(p.s. are those specially made upside-down loquat-catching umbrellas??)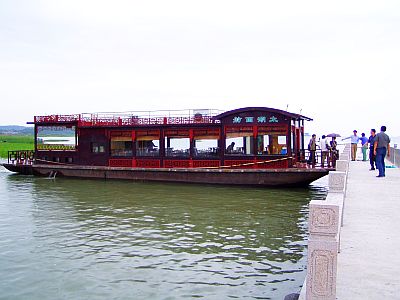 Finally we came at last to the shore again, and we were welcomed on board our own reserved "tourist boat".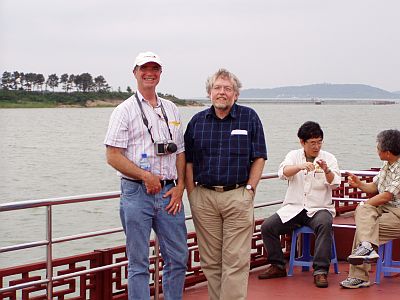 Mathematicians on board: our friends in foreground: on the left Charlie Colburn, Arizona State University and Johannes Siemons, University of East Anglia, UK.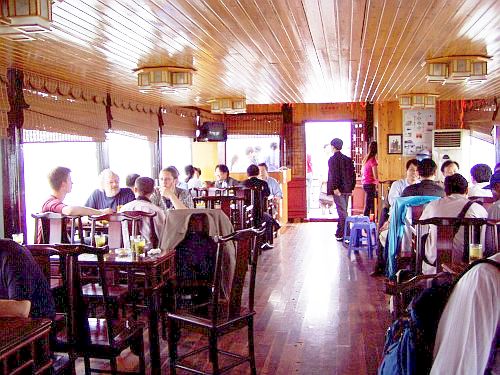 Looking within the boat...in the unique atmosphere of the inner deck, our group engaged relaxed conversations, gazing out at the lake.
Notice in the far left, back, smiling, with glasses, is Ying Miao, from Tsukuba University, Japan. At the table on left, facing us, are Jeff Thas and his son Koen, from Ghent University, Belgium. On the right, facing us, behind the ble chair is Chaoping Xing, from National University of Singapore. To his right, facing us, is Cunsen Ding, Honk Kong University of Science and Technology.

A look toward shore.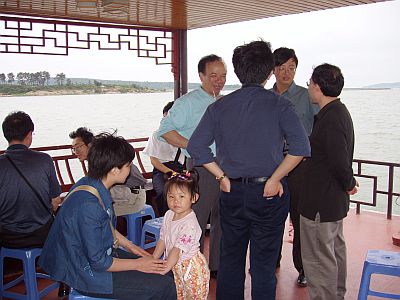 The group on deck. Just right of center, in light blue, is Hao Shen, organizer, at Shanghai Jiao Tong University. With his back toward us is Yuan Luo, from Shanghai Jiao Tong University, who is important because that is his beautiful wife and daughter in the foreground.
>
A windy crossing!In the center is our friend Lihua Liu (see below). To her right in dark green is "Mrs. Liqun Pu. The girl in white(back to camera) is Miss Weixia Li. The boy with a black bag on the left is Shanghai Li! We are all Pro. Shen's students!"

Thanks to our friend Lihua Liu, who helped us by identifying participants in the photos!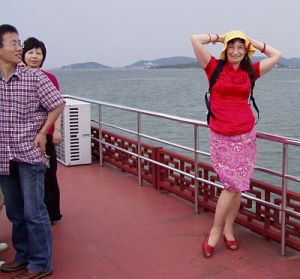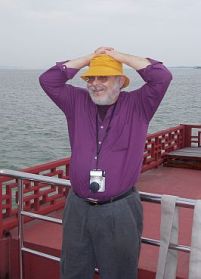 Kathy and Rick hold onto their hats! (Remember Rick lost his in the East China sea last year, on a tourist boat off of Korea!) The hat he is wearing was bought in Korea after his Caltech hat blew off.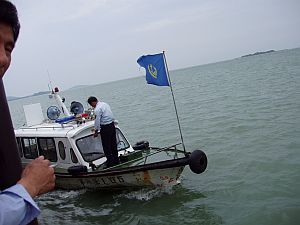 A coast guard police boat comes out to check our boat's license.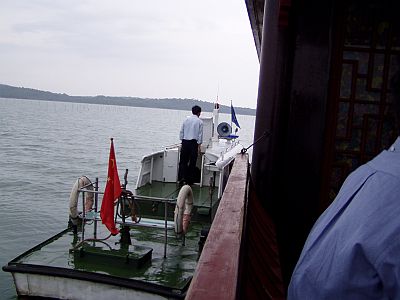 Evidently, the problem was that the wind was high enough that they had closed the lake to tourist traffic, so our boat's license wasn't valid for travelling in the "severe" weather conditions. (We knew it was windy...but it did not feel "that" windy!)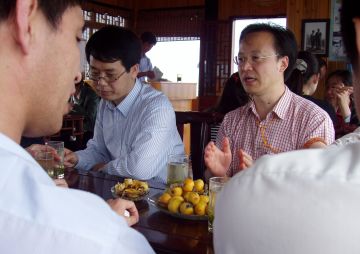 We relaxed and ate loquats. On the left is "Chaoping Xing, from Singapore, also a professor in University of Science and Technology of China." On the right, "who is clapping hands, is Pro. Cunsen Ding from Hong Kong".

And drank Taihu Lake tea. This tea, (identified by name for us by our friend Chun Liu) is one of the ten famous teas of China, called called BI LUO CHUN. Luckily, we bought some, and it is delicious. It translates as "green spring snail" "suggesting both the tiny spirals of its delicately hand rolled leaves and the arrival of the Spring. One of the most highly prized of the world's teas". See a further description of Bi Luo Chun available for ordering. (We highly recommend it!) Thanks to our friend Harry Bower for providing this link after he tasted some of the tea!)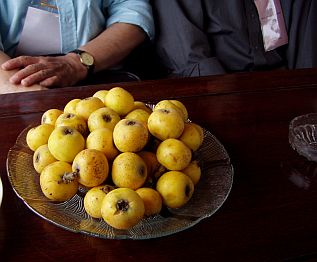 It was time to sail back anyway...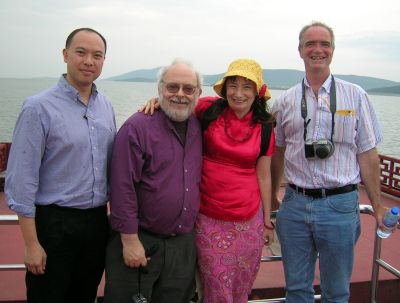 and everyone was in good spirits. This nice group photo was sent to us by Charlie Colburn on the right. On left is Yeow Meng Chee, from Singapore...(No, Rick did not lose his hat on this trip, he's just hiding it behind Kathy's back since he could not hold it on for this photo!)
Coming soon: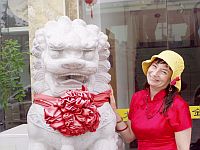 The conference banquet!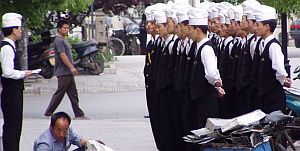 INDEX
5 Shanghai Dumplings, 2005
poems written during the 5th Shanghai Conference on Combinatorics
NEW UPDATE:
Our Karaoke Bus Ride (to Tapei) May 22, 2005
See Portrait Gallery of Speakers:
NEW: Thursday Speakers, May 19, 2005 Taiwan Conference
Tuesday and Wednesday, Speakers Shanghai Conference May 17 & 18, 2005
Monday Speakers , May 16, 2005
Saturday and Sunday Speakers , May 14&15
THE PALACE MUSEUM IN TAIPEI, TAIWAN
(Saturday, May 14, 2005)
Go to ARRIVAL AND DAYS IN SHANGHAI (May 13 – 15)
Go to THE FIFTH SHANGHAI CONFERENCE on COMBINATORICS begins in SHANGHAI
Go to VIEWS from the BUS (Shanghai to the Lake Taihu)
Go to CONFERENCE continues ON TAIHU LAKE NEAR SUZHOU (May 15 – 18)
*************************
Go to (part 1) ARRIVAL IN TAIWAN(May 18);
(above includes a ride on the fastest train in the world!)
Go to THE CTS Conference on Combinatorics and Its Applications
at National Chiao Tung University IN HSINCHU, TAIWAN (May 19-21)
Go to TAIWAN CONFERENCE CELEBRATIONS PHOTO ALBUM
Go to TAIWAN BANQUET FOOD ALBUM
Go to RICK'S TAIWAN LECTURE(other conference photos to come)
Go to A WALK IN THE GARDENS OF HSINCHU(May 21)
Go to TAPEI 101 (visiting the world's tallest building)
See Read Dinky's Best of Taiwan Reviews
Go to (May 22)OUR FLIGHT HOME