KATHY AND RICK
ON TAIHU LAKE, NEAR SUZHOU
The drive to Taihu Lake was about two hours long.The bridge out to the island hotel is very long and this is a dramatic, peaceful, isolated setting. There is almost nothing on the island except for this large, mostly modern hotel. There is only one computer for the entire hotel, and no laptop hook-up. However, we hope that in the next few days of our journey, our fortune will improve, and we will be able to delight you with these stories.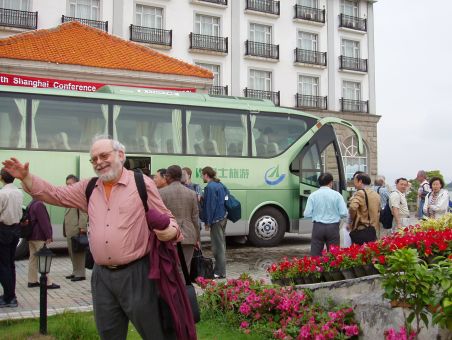 Arrival at Lake Taihu.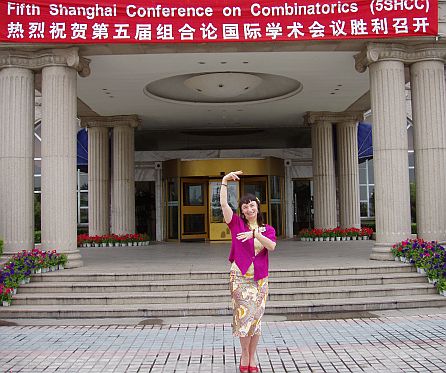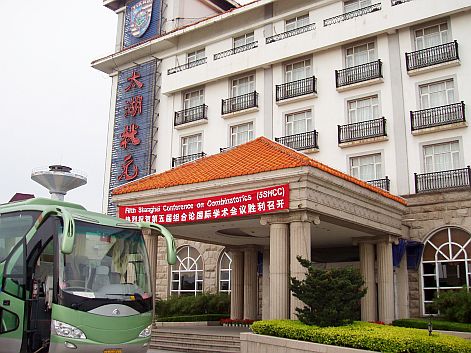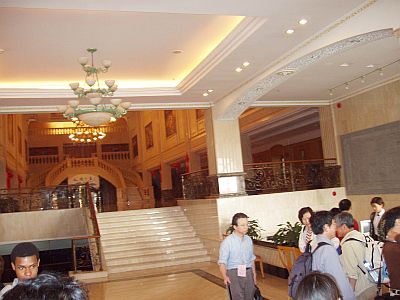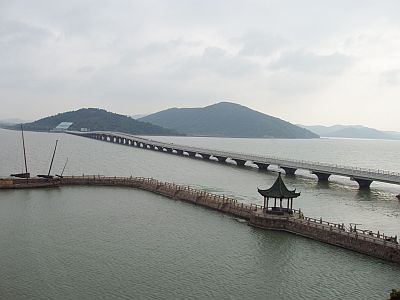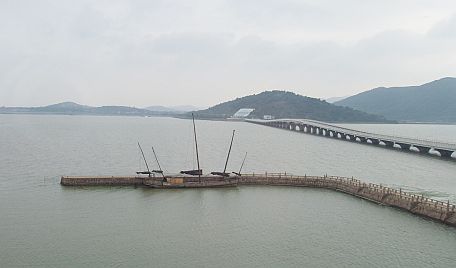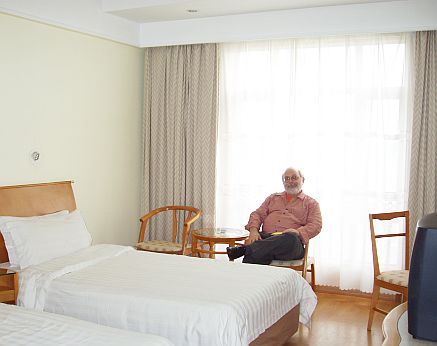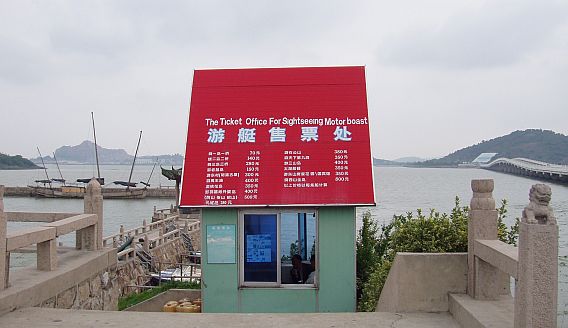 Read the sign closely.
Taihu Lake, known as Zhenze in ancient times, extends across Jiangsu and Zhejiang provinces . As the third largest fresh water lake in China formed from a gulf dammed with the silt from the lower reaches of the Yangtze and Qiantang rivers, Taihu Lake sits in the center of the river network in areas south of the lower reaches of the Yangtze, facilitating irrigation and shipping . The areas around the lake abound with rice, wheat, mulberry and tea, as well as other local specialties such as whitebait, hence the name of "a land of plenty". The beautiful scenery of Taihu Lake is well known both at home and abroad. Scattered in the lake are dozens of isles which, along with the surrounding mountain peaks and peninsulas, form the scenery of 72 peaks. Famous scenic spots around the lake include hills and waters of Wuxi, gardens of Suzhou, cave paradise of Yixing and the historical sites of the Kingdom of Wu (222-280). The Dongting West Mountain in Wuxian County, Jiangsu Province, is the largest island mountain in Taihu Lake, with the beautiful main peak more than 300 meters above sea level. Opposite it is the Dongting East Mountain where flowers bloom all the year round and is known as a "mountain of flowers and fruits". Yuantouzhu (like a turtle's head into the lake) in the like-side Wuxi City of Jiangsu Province is one of the best places to enjoy the beauty of Taihu Lake. The gardens there are built against the hills and by the water, constituting a peculiar style. "Yuan Zhu Chun Tao" (spring waves around Yuantouzhu) is one of those landscapes. In the natural stone wall of Yuantouzhu beside the lake, there is a stone inscription read as "Breeding rich lands", which is believe as the key comment of Taihu Lake. Lihu Lake is the inner lake of Taihu Lake. According to legend, it is named after Fan Li, a senior official of Yue, a state in the later Spring and Autumn Period (770-476 B.C.), who resigned after success and carried Xi Shi, a famed beauty at that time, to go boating on Taihu Lake. Liyuan Garden by the side of the lake is one of the best known gardens in Jiangnan (the areas south of the lower reaches of the Yangtze River). Jichang garden is a classic one with unique style in the Taihu Lake scenic spots. A key cultural relic under state protection, it is featured with water corridors in the east and rockeries and plants in the west. Xiequ Garden (Garden of Harmonious Interest) in the Summer Palace of Beijing is built after the architectural style of it. Plum Garden, also in Wuxi City, is known for the thousands of plum that, when in full bloom in early spring, gladdens the heart and refreshes the mind of visitors. The top of Nianqu Tower gives visitors a view of the beautiful scenery of Taihu Lake in the distance. (The above describes the area, and is from a web page depicting commemorative Chinese stamps, 1995: Chinese stamps in honor of Taihu Lake
INDEX
Go to NEWEST UPDATE: 5 Shanghai Dumplings, 2005
Poems written during the 5th Shanghai Conference on Combinatorics Go to: THE PALACE MUSEUM IN TAIPEI, TAIWAN
See Newly Expanded Shanghai conference speakers portrait gallery
(Saturday, May 14, 2005)
Go to ARRIVAL AND DAYS IN SHANGHAI (May 13 – 15)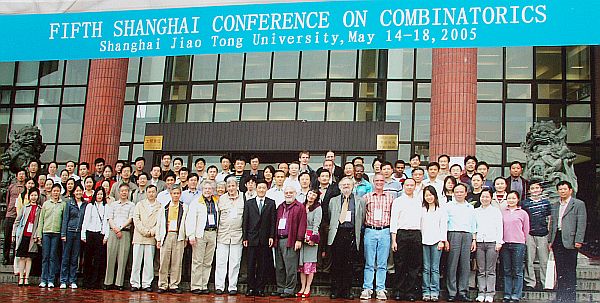 Go to THE FIFTH SHANGHAI CONFERENCE on COMBINATORICS begins in SHANGHAI
Go to VIEWS from the BUS (Shanghai to the Lake Taihu)
Go to CONFERENCE continures ON TAIHU LAKE NEAR SUZHOU (May 15 – 18)
*************************
Go to (part 1) ARRIVAL IN TAIWAN(May 18);
(above includes a ride on the fastest train in the world!)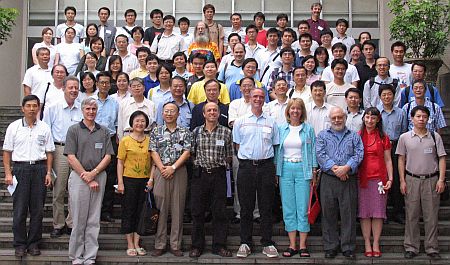 THE CTS Conference on Combinatorics and Its Applications
at National Chiao Tung University IN HSINCHU, TAIWAN (May 19-21)
Go to TAIWAN CONFERENCE CELEBRATIONS PHOTO ALBUM
Go to TAIWAN BANQUET FOOD ALBUM
Go to RICK'S TAIWAN LECTURE(other conference photos to come)
Go to A WALK IN THE GARDENS OF HSINCHU(May 21)
Go to TAPEI 101 (visiting the world's tallest building)
See Read Dinky's Best of Taiwan Reviews
Go to (May 22)OUR FLIGHT HOME