A WALK IN THE PARK IN HSINCHU, TAIWAN
May 21, 2005
Hsinchi (population 350,000) is where we really stayed in Taiwan, the home of National Chiao Tung University. It is about an hour and a half drive from Tapei (population 2,63 million).
Saturday afternoon Professor Frank Hwang invited us on one of his favorite walks, a two and a half hour hike from the the University and back again. Unfortunately Dinky got left back in the office at the University with our computers, so we had to bring these photos back for him to see.
Why are these mathematicians looking so cheerfully quizzical? It's because Kathy had all them all dazzled with her ridiculous countdown to taking this photo: "seven, eight, fourteen" (snap). Whether this can possibly make any sense at all as a sequence is definitely an open question.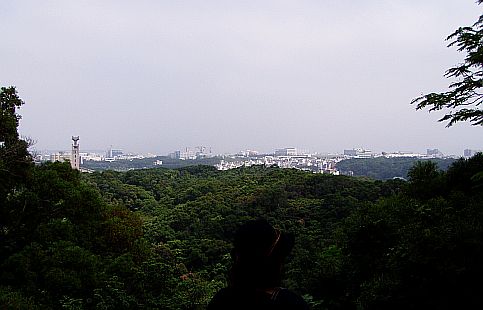 Looking back toward the university...we had come a long way...but what a strangely charming inhabited world we saw in this municipal park, along its maze of winding trails: surprising sights. (See below!)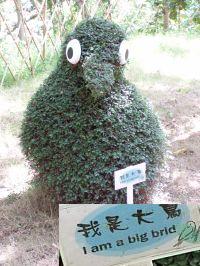 I am a big "brid".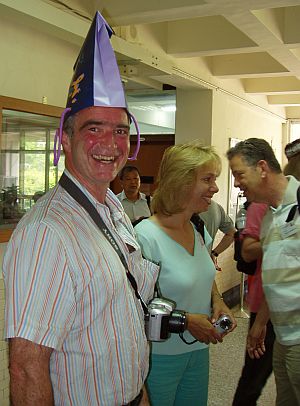 I am a visiting Professor
(Actually Charlie was just getting in the mood for the tour before we left.)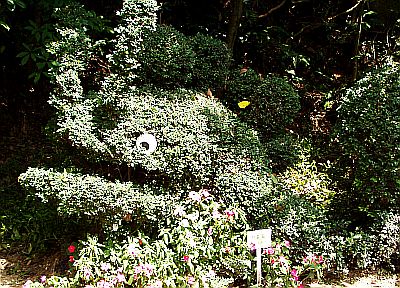 I am a dragon.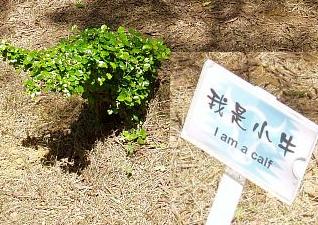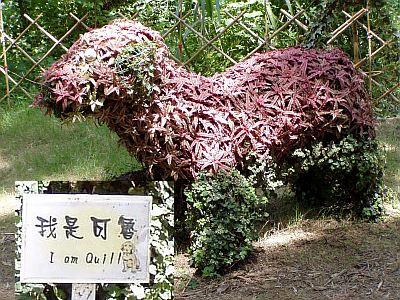 Doing a little research at home, we've discovered that "Quill" is an endearing guidedog for the blind, featured in a recent Japanese film by director Yoichi Sai, popular in Japan and Taiwan.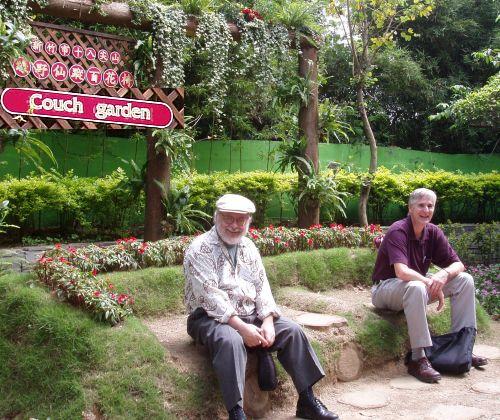 I am a couch garden! Professors Rick Wilson and Chris Rodger from Auburn University make good use of (perhaps) the world's only known couch garden.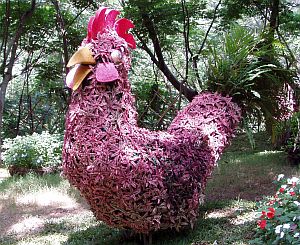 I come from the farm.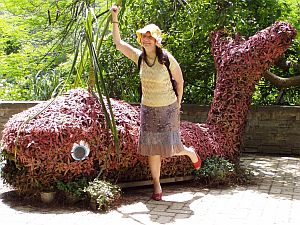 We come from California.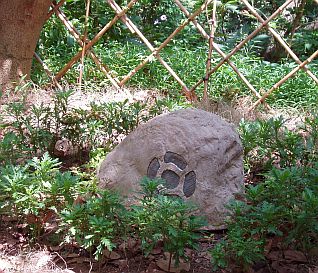 We are (audio) rocks that fill the air with cheerful music along the trails.

I am a Hsinchu lizard. (Rick managed to capture his camouflaged image, displaying his beautiful "lightning bolt" markings, just before he disappeared into his surroundings.)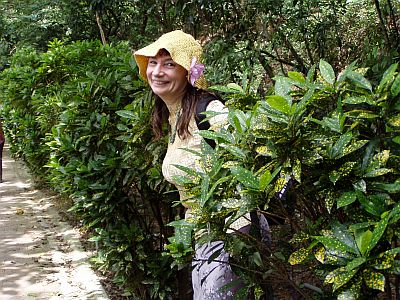 I am a camouflaged creature about to disappear from Hsinchu. (Rick captured her too, with his camera and his charm!)
Some Background on the Parks and Hiking Trails in this area:
read about nature and trails in Hsinchu on this Sinorama Magazine website
The trails around the mountains stretch for eight kilometers. Just nearby are Tsing Hua and Chiao Tung universities, so there is a lot of space. It has become a major recreation area for Hsinchu residents.
"Besides walks, every morning teachers lead people in calisthenics, taijiquan, or qigong free of charge," says Lin, who has lost five kilos by often coming here for a workout. "Every day there are morning calisthenics, after which the teacher puts on a tape and we all join in singing 'When We Are All Together' and 'Wishing You Well.' I really feel a great sense of well-being. "Mountain trails are dotted with temples and shrines, with the most common being those dedicated to the Earth Deity, overseer of forests and land.
"When you talk about trails, Taipei people are really lucky!" says Huang Jui-hsiang, director of the Third Department in the Taipei City Bureau of Business Management, which takes care of the paths. Taipei is in a basin, surrounded by mountains on all sides, and mountain and forest reserves established by the city government cover more than half of the municipality's jurisdiction. The autonomously managed Yangmingshan National Park is also within city limits. "You can go to a national park by vehicle in less than 30 minutes, and there are numerous trails in the mountains on all sides."
According to Taipei City statistics, there are over 70 officially registered trails managed by the city, and there are another 20-plus in Yangmingshan National Park. These are open to the public 24 hours a day, free of charge.

RICK AND KATHY IN CHINA
AND TAIWAN
INDEX
Go to NEWEST UPDATE: 5 Shanghai Dumplings, 2005
Poems written during the 5th Shanghai Conference on Combinatorics Go to: THE PALACE MUSEUM IN TAIPEI, TAIWAN
See Newly Expanded Shanghai conference speakers portrait gallery
(Saturday, May 14, 2005)
Go to ARRIVAL AND DAYS IN SHANGHAI (May 13 – 15)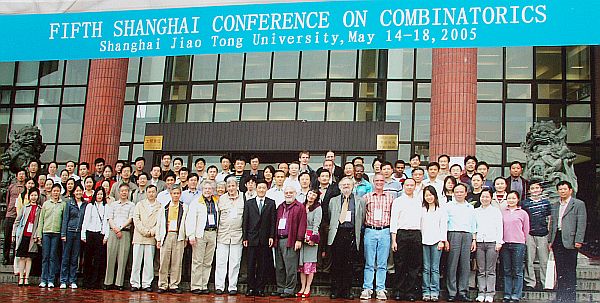 Go to THE FIFTH SHANGHAI CONFERENCE on COMBINATORICS begins in SHANGHAI
Go to VIEWS from the BUS (Shanghai to the Lake Taihu)
Go to CONFERENCE continures ON TAIHU LAKE NEAR SUZHOU (May 15 – 18)
*************************
Go to (part 1) ARRIVAL IN TAIWAN(May 18);
(above includes a ride on the fastest train in the world!)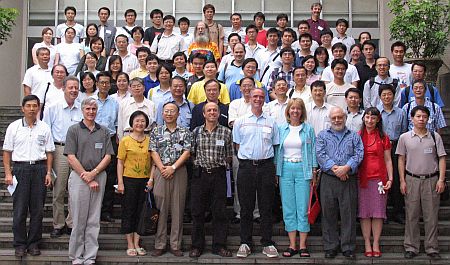 THE CTS Conference on Combinatorics and Its Applications
at National Chiao Tung University IN HSINCHU, TAIWAN (May 19-21)
Go to TAIWAN CONFERENCE CELEBRATIONS PHOTO ALBUM
Go to TAIWAN BANQUET FOOD ALBUM
Go to RICK'S TAIWAN LECTURE(other conference photos to come)
Go to A WALK IN THE GARDENS OF HSINCHU(May 21)
Go to TAPEI 101 (visiting the world's tallest building)
See Read Dinky's Best of Taiwan Reviews
Go to (May 22)OUR FLIGHT HOME