PART III
KATHY AND RICK ARE IN IN TAIWAN!
MAY 18 to 22, 2005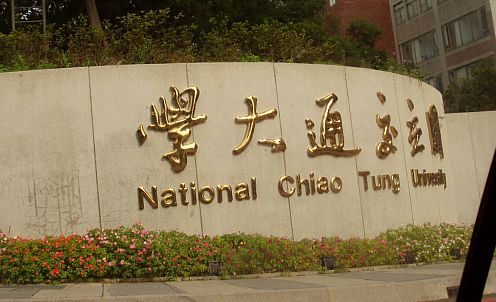 for CTS Conference on Combinatorics and its Applications
(In honor of Frank K Hwang's 65th Birthday)
Dates : May 19-21, 2005.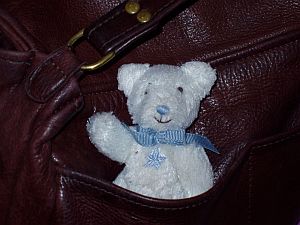 GREETINGS FROM TAIWAN!
Dinky's looking pretty important here on arrival in Taiwan, with a special outside pouch in Kathy's purse as his observation deck. He appreciates all your encouragement and appreciation of his good work.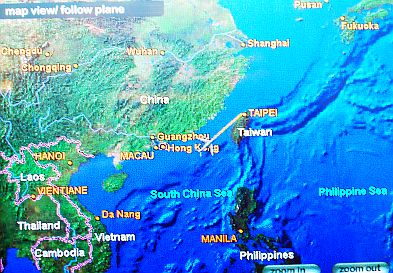 1. So where are we! We keep moving so fast I can hardly keep up with myself, never mind you two.
Well Dinky look at this map, you can see that Taiwan is directly south of Shanghai, an island of the coast in the South China Sea. Tapei is its capital city. However, to get there, we first had to fly to Hong Kong, you can see it is a little out of the way, and then change planes for Tapei.

2. Sorry to change the subject at this crucial point, but weren't we going awfully fast on the ground before we got on that plane?


You're right, Dinky, we don't want to forget to tell them about that! Yesterday was such a long traveling day. After a long bus trip, we took a wondrous "short cut". See our page about the Maglev train to the Pudong Airport.

3. Okay, go on with the story, you were looking down, about to land in Taiwan!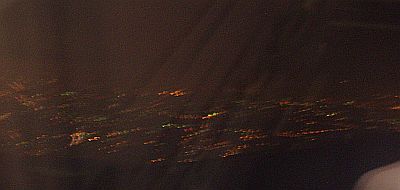 Taken from the plane, just before landing. If this looks like a land of lights, you are right. Taiwan, which measures about 400 by 150 km has a population of about 23 million.
4. Whoops, whoops, one more step backwards please, for the Dinky gallery... you forgot to tell them how you thought Hong Kong was Santa Barbara!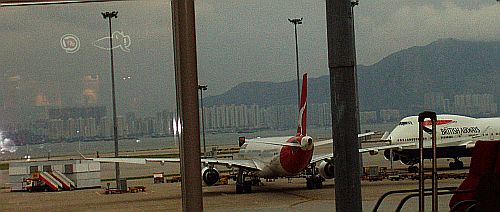 Okay, now you are trying to embarass us Dinky...but look out this window at the Hong Kong airport. It was our stopover before Taiwan. See those serene mountains! (Also, in the other direction, not shown was the sea.) However, all those stacks of blocks in the picture? Those are really tall buildings, close together, very dramatic, and not Santa Barbara, for sure. It was a rather startling sight!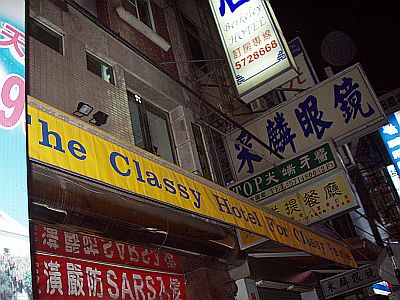 We were met at the airport, and taken by car to the Berkeley Hotel, actually in Hsinchu, just outside of Taipei. It is a "The Classy Hotel for Classy People". It really has a Berkeley (as we know it back home) feel...older, with character, and it has what you need...high speed internet access in our room being one of those things!

5. Now show them us in the airport, they want to see where I am!
Okay, Dinky, I'm sure they can use their imaginations...but here we are, we just got off the plane in Tapei, at 9 pm after a long day of traveling!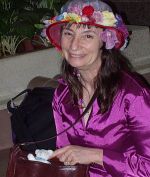 AFTER 5 1/2 HOURS OF SLEEP, C'mon DINKY, LET'S GO TO THE CONFERENCE!
Our flights were:
CHINA EASTERN FLIGHT# 503 departs Shanghai (pu Dong airport): Wednesday, May 18, 2 pm
arrives Hong Kong (Narita airport): Wednesday, May 18, 4:35 pm
EVA FLIGHT# 872 departs Hong Kong: Wednesday, May 18, 7:25 pm
arrives Taipei (Pu Dong airport)Wednesday, May 18, 9:05 pm
(Arrival in Taipei should be CA time Wednesday morning, May 18, 6:05 am; NY time, 9:05 am.)

SEE CONFERENCE WEB SITE
(Rick talks May 20, 8 am local time Taipei)

We are staying at
BERKELEY BUSINESS HOTEL
(Below description from the Hotel web site)
The Berkeley Business Hotel In 1999 voted: "Best Boutique Hotel located in Taiwan Hsinchu . We are a Charming American-style landmark in Hsinchu . Best Business Hotel for you by Business Traveler UK. In the word. Berkeley Hotel (Science Park) in the Hsinchu kuang- fu road of high technology and academic center . Is only ten minutes away from The Science Industry Park , The National Tsing Hua university ,The National Chiao Tung university and The Industrial Technology Research Institute around the hear . Ten minutes walk to bus station . Five minutes walk to NOVA computer mega stores . Fifty- minutes by car from the CKS international airport . The Tsing Hua night-supermarket have hakka dumpling , to-fu pudding ,traditional spicy tofu , local fire chicken , rice ball , pear tea with milk ,corn cake, cora cake and many kind local snack from hotel just walk about ten minutes . Surrounded by Hsinchu` s most exclusive academic district, and is only ten minutes. Car ride from Hsinchu` s shopping circle go to the Windly sopping mail And free enjoy night life. Fully equipped 24 hr. business center, including telex, fax, secretarial services, To accommodation personal computers and meeting rooms at business center. Gymnasium featuring workout equipment . Health center (contracted and nearby Berkeley Hotel), Massage, and various sports facilities. 69rooms including 40 suites All rooms have large size color television, 2 international direct-dial telephones and Internet port , refrigerator , personal wet bar, individually controlled air conditioning, Electronic personal safe. Most rooms with balconies offering magnificent cathedral or city views Ideal facilities for high-level executive conferences of up to 40 delegates Airport arrival and departure service, All major credit cards accepted, Car hire, Conference facilities and specialist conference team, Daily international newspapers on forndesk. Delicatessen and confectionery near hotel,Flower and gift shop, Foreign exchange. NO 272,Kuang Fu ,Rd Sestion 2, Hsinchu ,Taiwan(Science Park) TEL:886-3-5728660 FAX:886-3-5728035 http://98.to/bbhotel/

INDEX

Go to NEWEST UPDATE: 5 Shanghai Dumplings, 2005
Poems written during the 5th Shanghai Conference on Combinatorics Go to: THE PALACE MUSEUM IN TAIPEI, TAIWAN
See Newly Expanded Shanghai conference speakers portrait gallery
(Saturday, May 14, 2005)

Go to ARRIVAL AND DAYS IN SHANGHAI (May 13 – 15)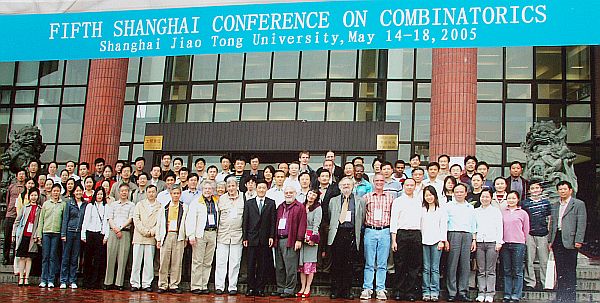 Go to THE FIFTH SHANGHAI CONFERENCE on COMBINATORICS begins in SHANGHAI
Go to VIEWS from the BUS (Shanghai to the Lake Taihu)
Go to CONFERENCE continures ON TAIHU LAKE NEAR SUZHOU (May 15 – 18)
*************************
Go to (part 1) ARRIVAL IN TAIWAN(May 18);
(above includes a ride on the fastest train in the world!)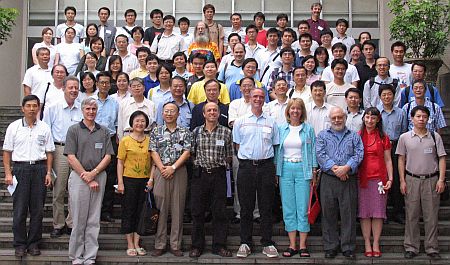 THE CTS Conference on Combinatorics and Its Applications
at National Chiao Tung University IN HSINCHU, TAIWAN (May 19-21)
Go to TAIWAN CONFERENCE CELEBRATIONS PHOTO ALBUM
Go to TAIWAN BANQUET FOOD ALBUM
Go to RICK'S TAIWAN LECTURE(other conference photos to come)
Go to A WALK IN THE GARDENS OF HSINCHU(May 21)
Go to TAPEI 101 (visiting the world's tallest building)
See Read Dinky's Best of Taiwan Reviews
Go to (May 22)OUR FLIGHT HOME