KARAOKE ON THE BUS
May 22, 2005
(Singing our way to Taipei)

One of the most unexpected parts of our journey was our karaoke bus ride (about 2 hours) from the site of the conference in Hsinchun, Taiwan to Taipei. Our hosts greeted us after we all sat down and said... "This is what we do in Taiwan. In the beginning everyone is shy, but by the end everyone wants a turn! But if it is too noisy, or you want to do something else, let us know." Synthesized instrumental music started up...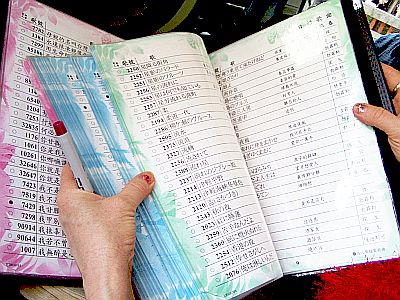 They passed around this gigantic book of songs, most in Chinese, but several pages were in English!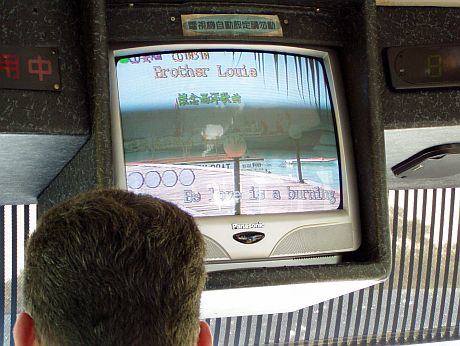 In the front of the bus was a large screen which continually displayed colorful (mostly watery) scenes of (mostly Europeans) vacationing on beaches, riding motorboats, lounging by pools.etc. Underneath were quickly changing song lyrics to whichever song was chosen.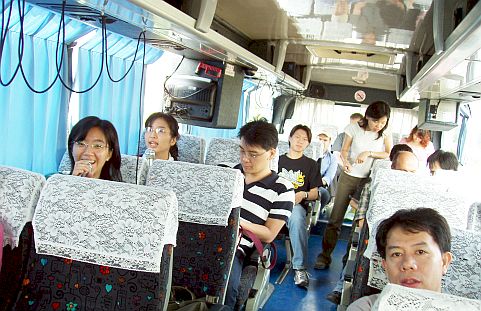 The Chinese graduate students had beautiful voicers and set the sweet tone for the ride. Those loops hanging down are not to hold onto. That is the microphone cord. This bus was equipped! The two microphones were passed along as soon as anyone was willing to sing. Notice the lace like covers on all the seat backs. This is standard for all buses and taxis in Asian countries. We have begun to expect this, but we are still impressed. Sometimes they are real lace, and sometimes a lace-like plastic, but they are all easily removed and changed for cleaning.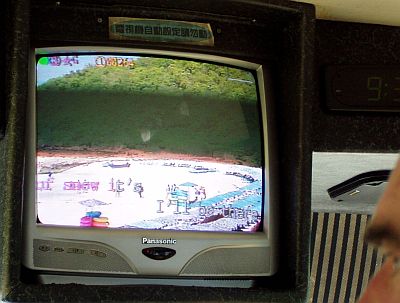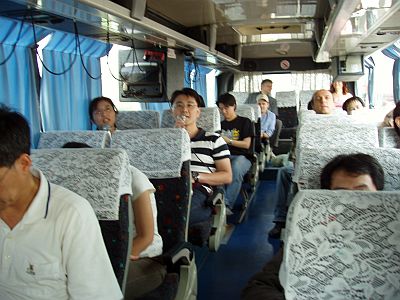 Gradually more and more people were singing!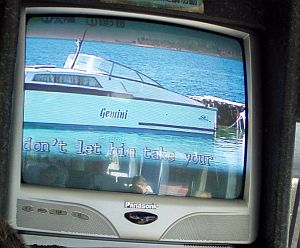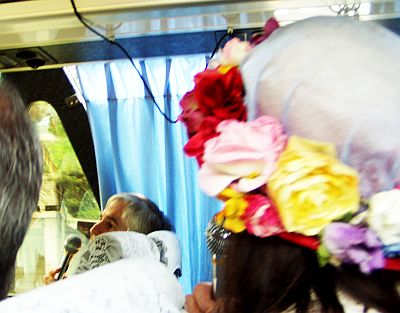 Our friend Professor Chris Rodger (Auburn University) was the first non-Asian participant. Chris sings in choirs and choruses back home, as well as playing the violin in symphony concerts. We were proud of him. Kathy joined him in singing "Danny Boy".

Another friend of ours, Professor Vladimir Tonchev (Michigan Technological University), expressively sang "Hey Jude". (You can't see it, but Kathy could not resist grabbing a mike and joining him too).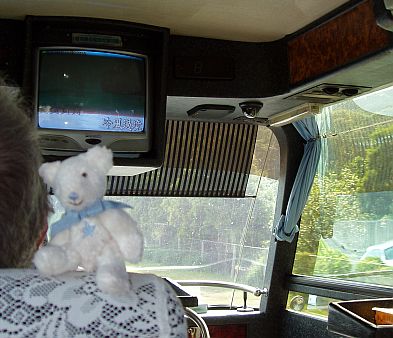 Even Dinky got into the act and thought "now this is the way to travel."
We sang all the way to Taipei!
INDEX
We were on our way to
THE PALACE MUSEUM IN TAIPEI, TAIWAN
and TAPEI 101 (the world's tallest building)
after which we were ready for (May 22)OUR FLIGHT HOME
(All on the same day!)
See also (part 1) ARRIVAL IN TAIWAN(May 18);
(above includes a ride on the fastest train in the world!)
Go to THE CTS Conference on Combinatorics and Its Applications
at National Chiao Tung University IN HSINCHU, TAIWAN (May 19-21)
Go to TAIWAN CONFERENCE CELEBRATIONS PHOTO ALBUM
Go to TAIWAN BANQUET FOOD ALBUM
Go to RICK'S TAIWAN LECTURE(other conference photos to come)
Go to A WALK IN THE GARDENS OF HSINCHU(May 21)
See Read Dinky's Best of Taiwan Reviews
***************************************
SHANGHAI CONFERENCE
Go to update (June 1):
The Conference Tourist Boat on Taihu Lake
May 17, 2005
5 Shanghai Dumplings, 2005
poems written during the 5th Shanghai Conference on Combinatorics
Portrait Gallery of Speakers:
Speakers Tuesday and Wednesday, May 17 & 18, 2005
Speakers Monday, May 16, 2005
Speakers Saturday and Sunday, May 14&15
(Saturday, May 14, 2005)
See also ARRIVAL AND DAYS IN SHANGHAI (May 13 – 15)
Go to THE FIFTH SHANGHAI CONFERENCE on COMBINATORICS begins in SHANGHAI
Go to VIEWS from the BUS (Shanghai to the Lake Taihu)
Go to CONFERENCE continures ON TAIHU LAKE NEAR SUZHOU (May 15 – 18)
*************************