SHANGHAI (CONTINUED)
AT THE CONFERENCE SATURDAY to SUNDAY MORNING,
MAY 13 AND 14, 2005
AT JIAO TONG UNIVERSITY

On Saturday morning we went by bus from the Jiao Tong University campus where we were staying (see above banner) for a day of lectures at the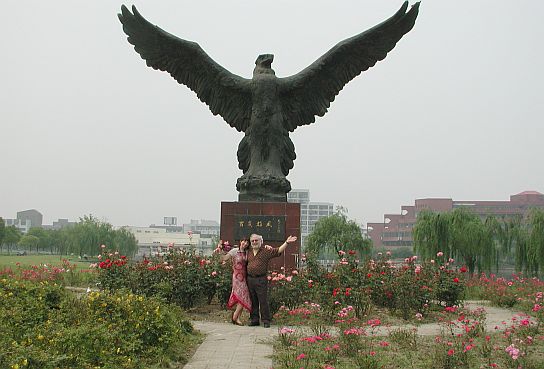 NEW MINGHANG CAMPUS, a half hour bus ride from the Faculty Club.

Since we still have California weather here, we borrowed the previous photo from our file of our visit 3 years ago! It was too rainy to do that this year!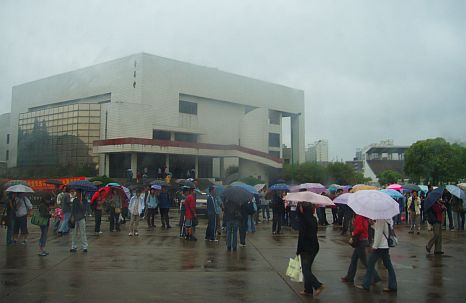 This is a very large campus, full of umbrellas.
1. Okay, says Dinky,

, introduce all the important talking people. (They think Dinky didn't understand a thing...) Oh yes I did, I understood the ones that said "Welcome to Jiao Tong University and to the Fifth Shanghai Conference on Combinatorics!"
EVERY TALK IN THIS CONFERENCE WAS PRESENTED IN ENGLISH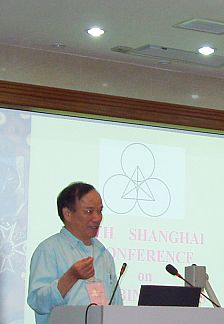 Professor Hao Shen our host, introduces the conference, and welcomes the participants.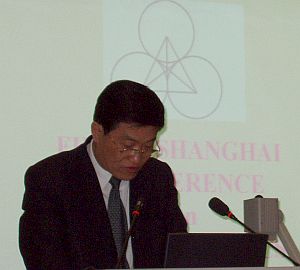 A welcome from Jiao Tong University.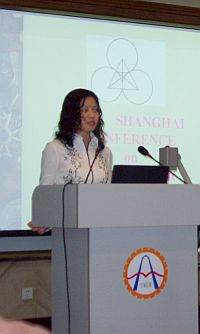 Vice-chair of Mathematics at Jiao Tong University.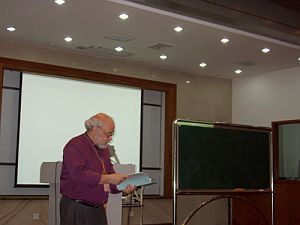 Rick was the chair of the first session, and introduced the speakers.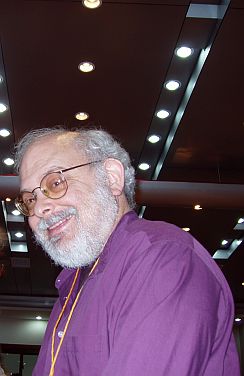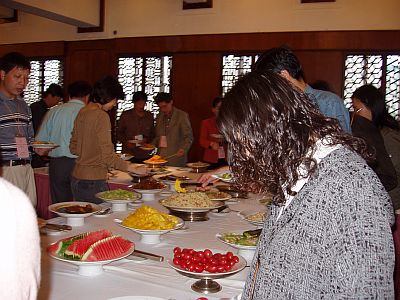 A delicious buffet lunch at a restaurant on campus. A beautiful meal with many choices is always provided. We try everything, even if we can't identify them. The tastes are wonderful and there are quite a range from sweet to spicy dishes.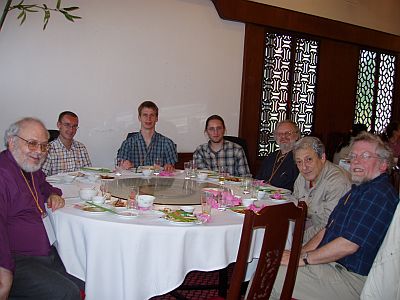 Our friendly, animated group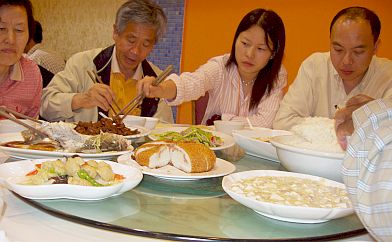 After the ride back to the old campus, dinner at the faculty club.

2. Well, what did you eat? Tell us something, you're just skimming the surface!
Okay, Dinky, it's not easy, because we go from one thing to another, a very busy schedule, with hardly a break...but I did make a list of the food at dinner, you're lucky!... So, on the round table, many dishes are placed on a "lazy susan" and the guests take turns turning it to get their favorite things. The meals vary in complexity and this would be considered a rather informal level meal. The dishes are served gradually, until they are all on the circle, and a serving of fruit indicates the last dish.Included were:
A delicious bakes, whole (white) fish
a light dish of tofu cubes with a clear sauce and pea pods
a round loaf soft bread
steamed rice with egg
a spicy vegetable dish
a spicy chicken and celery plate;
a light tomato-tofu soup
"knots" of tofu in a dark brown sauce
a large dish of luscious boy choy, and a bacon with bean and Chinese sausage dish
The fruit was apple slices. (It is often watermelon slices, our favorite.)

3.