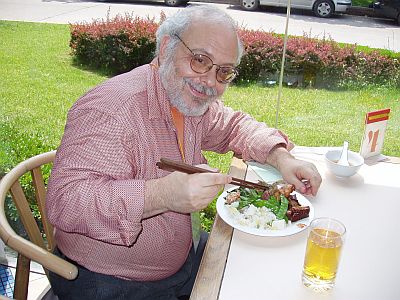 First we had lunch, at the Faculty Club with Professor Frank Bennett, from Canada and his son who is traveling with him. His son is studying at a university in Tokyo, and then we all got on the bus!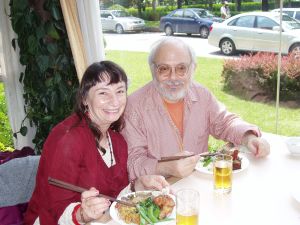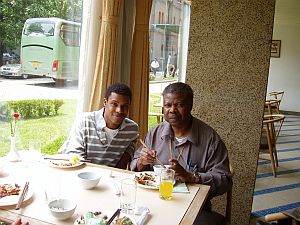 This bus trip provided a fascinating overview, a panorama of changing place and time, from the city through the developing countryside, to the lake area 125 km from Shanghai. There is an enormous amount of construction, of residential housing. We passed fields with crops being cared for, and industries with small crumbling community housing where everyday life of washing, cooking and selling were going on. Sometimes, simultaneously, new housing is being built nearby. The landscape changed from city to country, and them we took a very long bridge out into the lake..."but no sea lions" Rick said! See the glimpses we were able to record: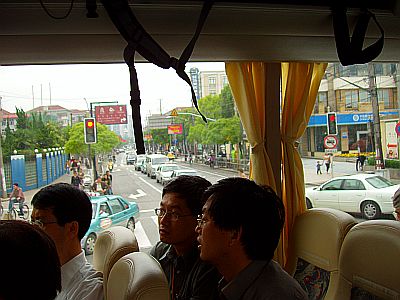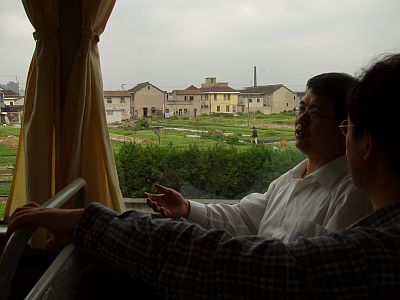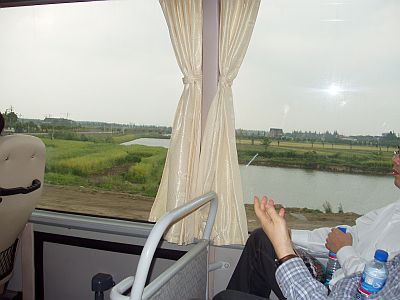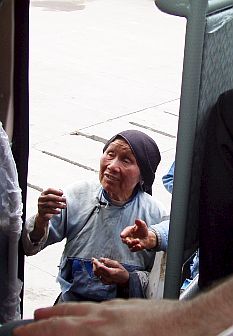 This woman was part of a group, similarly dressed, collecting rycyclable bottles and cans! They greeted our bus with smiles and shaking crushed water bottles. Ir took a while to figure out what they were asking.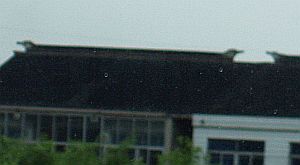 There rooftop decorations are very common. Often this old style ornamentation, and other more ornate gargoyle type figures are incorporated into new housing.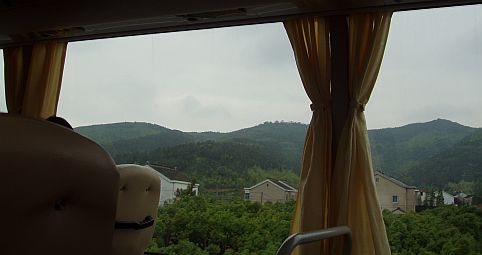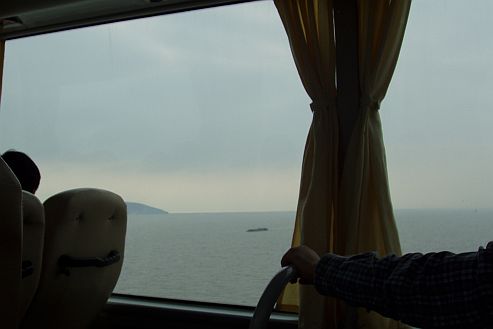 INDEX
Go to NEWEST UPDATE: 5 Shanghai Dumplings, 2005
Poems written during the 5th Shanghai Conference on Combinatorics Go to: THE PALACE MUSEUM IN TAIPEI, TAIWAN
See Newly Expanded Shanghai conference speakers portrait gallery
(Saturday, May 14, 2005)
Go to ARRIVAL AND DAYS IN SHANGHAI (May 13 – 15)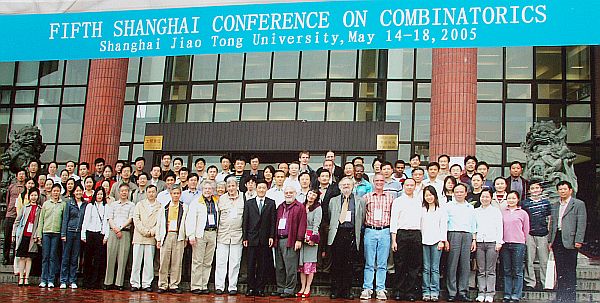 Go to THE FIFTH SHANGHAI CONFERENCE on COMBINATORICS begins in SHANGHAI
Go to VIEWS from the BUS (Shanghai to the Lake Taihu)
Go to CONFERENCE continures ON TAIHU LAKE NEAR SUZHOU (May 15 – 18)
*************************
Go to (part 1) ARRIVAL IN TAIWAN(May 18);
(above includes a ride on the fastest train in the world!)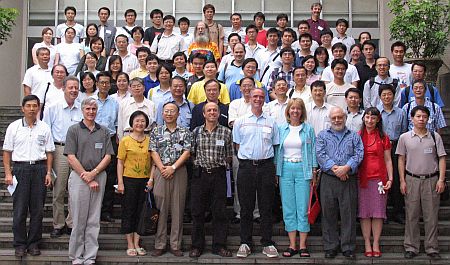 THE CTS Conference on Combinatorics and Its Applications
at National Chiao Tung University IN HSINCHU, TAIWAN (May 19-21)
Go to TAIWAN CONFERENCE CELEBRATIONS PHOTO ALBUM
Go to TAIWAN BANQUET FOOD ALBUM
Go to RICK'S TAIWAN LECTURE(other conference photos to come)
Go to A WALK IN THE GARDENS OF HSINCHU(May 21)
Go to TAPEI 101 (visiting the world's tallest building)
See Read Dinky's Best of Taiwan Reviews
Go to (May 22)OUR FLIGHT HOME