KATHY AND RICK ARE HOME IN PASADENA!

Above: (left)departing Taiwan Sunday, 5/22/05, 6:40 pm;
(right) first sight of the California coast, nearing Los Angeles, Sunday 2/22/05, 3:20 pm
(We are home in Pasadena before we left Taipei!)
Our flight back to Los Angeles was a perfect flight, non-stop,
and left directly from Taipei, Taiwan.
AMERICAN AIRLINES FLIGHT# 7966
(operated by EVA Air)
departs Taipei: Sunday, May 22, 6:40 pm
arrives Los Angeles (LAX): Sunday, May 22, 3:20 pm
RICK AND KATHY IN CHINA
AND TAIWAN

Go to A WALK IN THE PARK IN TAIWAN
See Read Dinky's Best of Taiwan Reviews
Go to PART I (May 13 – 15) ARRIVAL AND DAYS IN SHANGHAI
Go to PART I (continued) THE CONFERENCE in SHANGHAI
See mathematician portrait gallery
Go to prelude to PART II VIEWS from the BUS to the LAKE
Go to PART II (May 15 – 18) ON TAIHU LAKE NEAR SUZHOU
*************************
INDEX
Go to NEWEST UPDATE: 5 Shanghai Dumplings, 2005
Poems written during the 5th Shanghai Conference on Combinatorics Go to: THE PALACE MUSEUM IN TAIPEI, TAIWAN
See Newly Expanded Shanghai conference speakers portrait gallery
(Saturday, May 14, 2005)
Go to ARRIVAL AND DAYS IN SHANGHAI (May 13 – 15)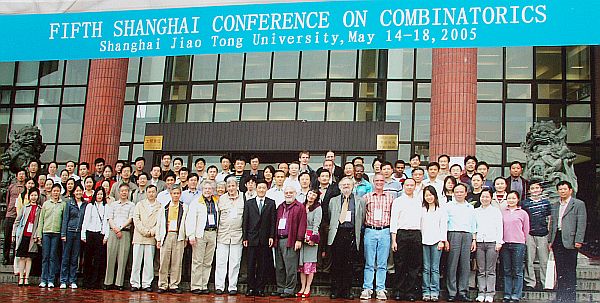 Go to THE FIFTH SHANGHAI CONFERENCE on COMBINATORICS begins in SHANGHAI
Go to VIEWS from the BUS (Shanghai to the Lake Taihu)
Go to CONFERENCE continures ON TAIHU LAKE NEAR SUZHOU (May 15 – 18)
*************************
Go to (part 1) ARRIVAL IN TAIWAN(May 18);
(above includes a ride on the fastest train in the world!)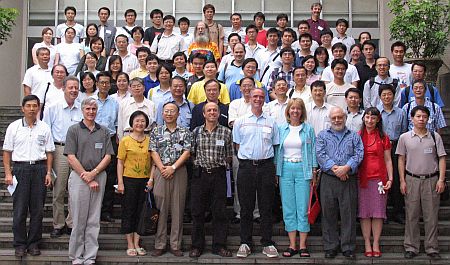 THE CTS Conference on Combinatorics and Its Applications
at National Chiao Tung University IN HSINCHU, TAIWAN (May 19-21)
Go to TAIWAN CONFERENCE CELEBRATIONS PHOTO ALBUM
Go to TAIWAN BANQUET FOOD ALBUM
Go to RICK'S TAIWAN LECTURE(other conference photos to come)
Go to A WALK IN THE GARDENS OF HSINCHU(May 21)
Go to TAPEI 101 (visiting the world's tallest building)
See Read Dinky's Best of Taiwan Reviews
Go to (May 22)OUR FLIGHT HOME