AT THE CONFERENCE IN TAIWAN
RICK'S LECTURE
1. Look who's got the best seat at the conference! Everyone looks happy I'm here, says Dinky, your little reporting polar bear. (Dinky, we don't think anyone noticed you!) Oh yes they did, just look at them. That's Hao Shen, our host from our conference in Shanghai, who was chair of today's morning session, and he's introducing us. (Don't pay any attention to Dinky, he just thnks he's important.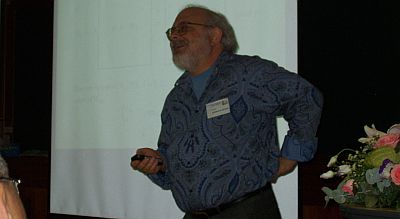 Rick gave his talk Friday morning 8 am
Revisiting the (t,k) -subset inclusion matrices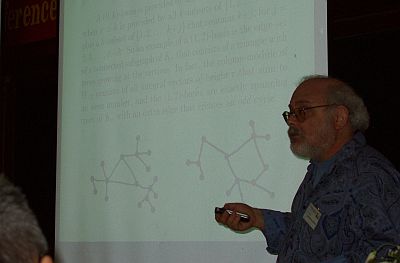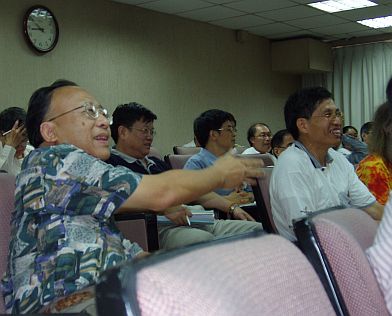 Lively discussioin afterwards. Frank Hwang with a question for Rick.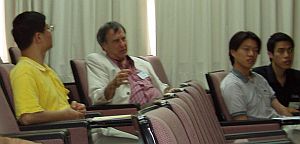 Joel Spencer, an old friend of Rick's from Courant University, New York, asks a question. We were happy to see Joel, and Rick was able to introduce him to Kathy for the first time.
INDEX
Go to NEWEST UPDATE: 5 Shanghai Dumplings, 2005
Poems written during the 5th Shanghai Conference on Combinatorics Go to: THE PALACE MUSEUM IN TAIPEI, TAIWAN
See Newly Expanded Shanghai conference speakers portrait gallery
(Saturday, May 14, 2005)
Go to ARRIVAL AND DAYS IN SHANGHAI (May 13 – 15)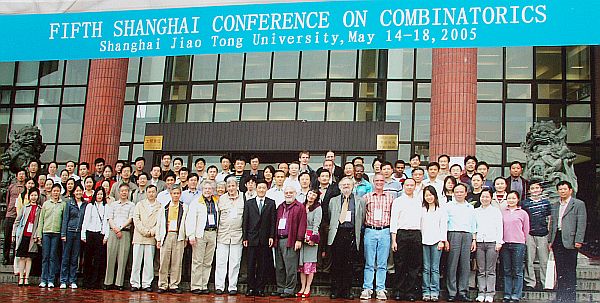 Go to THE FIFTH SHANGHAI CONFERENCE on COMBINATORICS begins in SHANGHAI
Go to VIEWS from the BUS (Shanghai to the Lake Taihu)
Go to CONFERENCE continures ON TAIHU LAKE NEAR SUZHOU (May 15 – 18)
*************************
Go to (part 1) ARRIVAL IN TAIWAN(May 18);
(above includes a ride on the fastest train in the world!)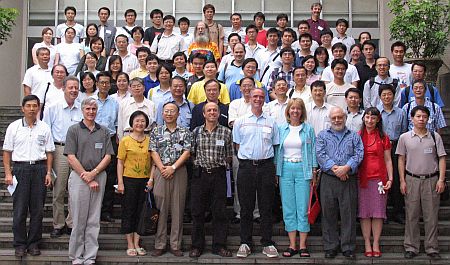 THE CTS Conference on Combinatorics and Its Applications
at National Chiao Tung University IN HSINCHU, TAIWAN (May 19-21)
Go to TAIWAN CONFERENCE CELEBRATIONS PHOTO ALBUM
Go to TAIWAN BANQUET FOOD ALBUM
Go to RICK'S TAIWAN LECTURE(other conference photos to come)
Go to A WALK IN THE GARDENS OF HSINCHU(May 21)
Go to TAPEI 101 (visiting the world's tallest building)
See Read Dinky's Best of Taiwan Reviews
Go to (May 22)OUR FLIGHT HOME