1/17/05 TEHRAN, IRAN
In the summer of 2003 we spent ten days in Iran. We were the guests of The Institute for Theoretical Physics and Mathematics, in Tehran, Iran. We were served wonderful meals, and the best bread in the world was delivered fresh to our guest house every morning at 6 a.m. One day when it was raining hard in Southern California a few weeks ago, I wanted to cook something special, and not go out shopping. I had a half a can of tomato paste, some flour, some mushrooms, olives, pepperoni, some cheese. What did they do in Iran when we came home late from the museums and there was no time to go out to a restaurant? They had pizza delivered. I would guess they made the crust in ovens similar to those they made the great bread in! Well here's a picture of what they served us in Tehran. (The pizza I made looked a lot like it!)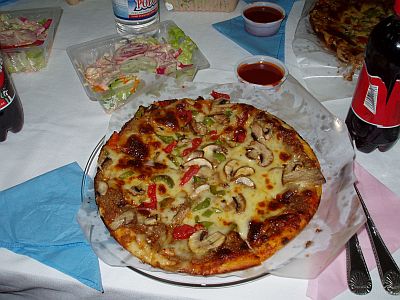 Here's how to make the crust: (this makes two pizzas. You can save half to make another tomorrow!) Use ONE PACKET OF DRY YEAST, mix with a cup of warm water, ONE TSP OF SUGAR and ONE TSP OF SALT. THEN ADD about TWO TBS of OLIVE OIL Add 2 cups of flour.
We have decided to avoid wheat, as Rick seems allergic to it.
We have made the BEST CRUST with:
1/2 oat flour
1/3 brown rice flour
1/3 potato starch!
Form it into a ball, then cut off half, or 1/3 of the dough (we like a thin crust, oil a baking sheet, and press it, with some olive oil on your fingers, into a flat circle. (It looked like a pizza already...it is amazing.) This crust holds together and is delicious!

TOPPINGS are up to you. I spread some tomato paste on the circle...you could make a sauce, but it works fine to do this, and sprinkled oregano, olive oil, onion slices, pepperoni, grated cheeses, some rice cheese... we like this because it is creamy but mozzarella would do, sliced mushrooms, crushed red pepper, salt, and put it in a preheated oven at 425 degrees for about 15 minute...maybe less. Result, a thin crust, the way we like it, as good as any pizza we ever tasted! The crust reminded us a little of our favorite Iranian bread, Sangak! You can now see Rick's film of our pizza cooking! Go to Pizza in the Oven
are cities Rick has visited in years past, and Kathy hopes to come along someday. Our friends from both cities recently visited us in Pasadena a week apart, and we served them all Kathy's new invention (Maybe because it sounds like teacakes?)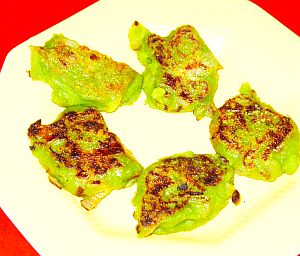 PEACAKES
They really are this stunning green!

But we didn't have them for tea (although it is not a bad idea...we will have to try it)!
We served them as appetizers, and they delicious, unusual, and are simple to make.
Cook lightly, one package of petite frozen peas.
Put in blender with a little water and about 1/4 cup of potato starch until smooth.
Brown 3 salted chopped onions until golden.
Add to above mixture, drop in appetizer size spoonfuls on olive oiled pan.
Cook till lightly browned on both sides and serve buttered. (We use Earth Balance buttery spread.) Everyone has loved these!

8/6/05 SAN FRANCISCO, CA

San Francisco is one of our favorite places to visit, and we drive there as often as we can to visit good friends and visit the "Paris of the U.S". Our great friend Harry Bower lives there, and he is our culinary muse.


Frittatas and photos by Harry Bower, our inspiration
He has "converted" us to frittatas. We are not sure why anyone would make an omelet after knowing about this. It is all made in the same pan, so someone half awake can make one easily. What we do is:
Put anything you like, leftovers are good, chopped up in a pan (I use non-stick) and a little oil or whatever you like. In the first frittata pictures harry used leftover spagetti!
Try chopped onions, garlic, leftover potato or rice, vegetable, spinach, etc. then beat two eggs or three with a little water, salt and any seasoning you like. Pour this over the mixture in the pan. Grate a little cheese on top, or sprinkle with anything, turn the heat down and cover. After a few minutes it will solidify, and when it looks done, you can serve it in "wedges" like a pizza. You can play with this recipe, and make it so many ways, and it's all in one pan! A wonderful breakfast, lunch or dinner, as elegant, complex or simple as you like. Looks pretty too! Thanks, Harry. Note: If you don't put cheese on top, you can flip it, to cook on both sides, as Harry did above. He made a large one, in a large pan with 8 eggs. Then you can serve a dinner party or have leftovers for a day or two.
2/9/06 KNOXVILLE, TENNESSE is where poet Nikki Giovanni was born, in 1943. She came to Caltech today to talk and read her poetry to a large audience of appreciative listeners, including the poets of Pasadena. It was for this occasion that Kathy made these two "Poets Soups" for the a lively group of local poets who gathered at our home before and after her reading: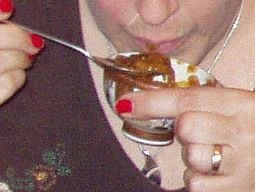 1. Spicy Poets Soup

Chop at least 2 onions and mince 2 cloves of garlic and cook slowly in some olive oil. Add lots of thinly chopped cabbage, and continue cooking till the onions start to brown. Add one can of pureed pumpkin, and mix in. Add a can of small black beans. Add two large baked chopped yams, (you could substitute raw if you cook long enough, or steamed, or even white potatoes, and some cauliflower. (Any vegetables you have can be added at this point.) Add water, or vegetable broth and season with some Indian curry powder, soy sauce, or crushed red pepper, oregano, and/or any favorite seasonings.

2. Plain Poets Soup

Steam or boil as many zucchini as fit in your pot, about 2 cups of water. Put in blender or mash when cooked, with water. Add olive oil and salt and stir. Some oregano is good, or any herb, plain is a good contrast to the other soup.

Serve in tiny bowls, seperately, and refill often, or serve in a larger bowl, yin-yang style. Both of these soups are basically improvisations, so you can alter, improve and edit to your own poetic taste!

11/11/2006
Eat your flowers in: GUATEMALA! in a "Squash Blossom Omelette"

One of my favorite yoga teachers comes from Guatemala. We call him "smiling elf man" because he transmits a smiling energy, and is a small, dynamic person who works magic with his encouraging cheerful classes. After you are done you feel like a golden squash blossom!

He loves to go to the South Pasadena Farmers market on Thursdays, and we met him there once buying squash blossoms. My friend asked--what do you do with them? "Make a Squash Blossom Omelette" he said! I have made it twice now, and improvised the recipe to taste. You can serve this for breakfast or lunch, or as a side dish with dinner.

Buy or grow *squash blossoms*. These are the big golden flowers you'll find on pumpkin or winter squash vines. Pick them or buy them fresh.

Chop and fry a *red onion* in a frying or omelette pan.

While it is browning, chop the stems and firm bottom of the flowers. (I use about ten flowers.) Stir together and add salt, thyme, and a little red pepper. The herbs are optional. Add your own favorites, but don't you don't want to overpower the delicate blossom taste.

After a few minutes, and the onions are how you like them, chop the tender blossoms and add to the mix.

Swirl * 3 eggs * (for 2 people) with a little water and salt and pour over the onions and flowers. Sprinkle a little handful of toasted sunflower seeds on top. (This is optional. I tried this and we loved it.) Cook till firm and serve.

For our favorite world recipe site see The Foreign Foods Project

Go back to Kathy&Rick Home Page