SMALL HOME GARDENS IN BUSAN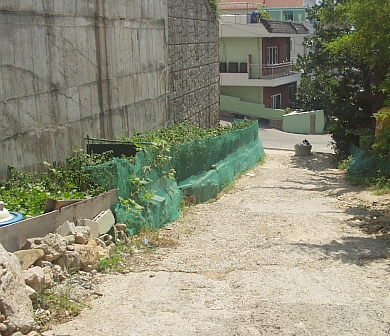 After walking to the University for a week the long way, we found this shortcut, a hill-street, rarely used, that cut our walk in half. A home vegetable garden was squeezed along the side of the road.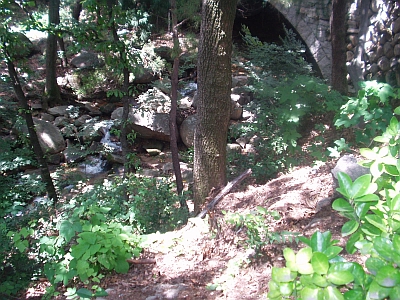 The campus itself contained lots of wild little informal gardens in surprising places. Here is one, with a little waterfall we noticed on our walk to the campus bank.

Sometimes we saw people working on their roof gardens. It is hard to see, but the poles and trellises are for bean runners, and other crops.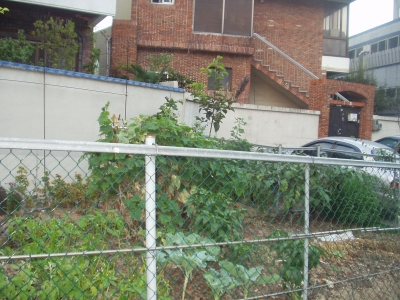 Above, another small family garden.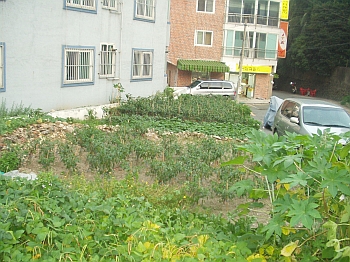 More extensive vegetable gardens by the side of the road.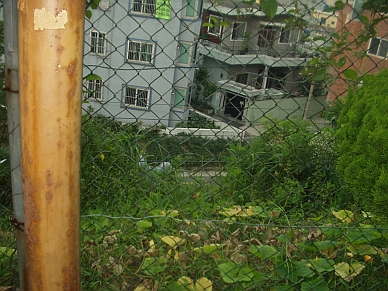 Above, another vegetable garden squeezed in...we saw this through the fence from the University campus.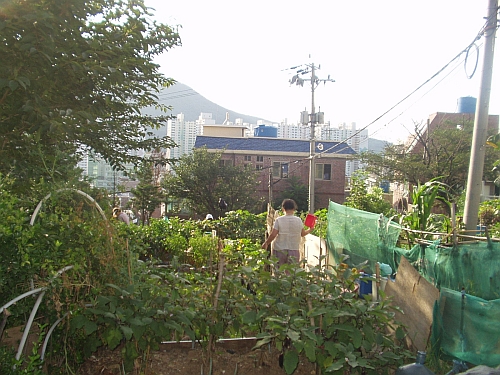 Above is the fascinating garden right next doot to our hotel, already pictured in our main page, but this is a larger photo. It was very active garden, very simple and a very unlikely sight, as convenience stores, and the hotel were its next door neighbors. There was a makeshift stand on the street that sometimes would open at night to sell produce.It was the largest garden we saw.
Our main impression of gardens in Busan is that they were highly valued, even considered indespensible, since the people seemed to farm every scrap of land that they possibly could, with greens of all kinds.The vegetables in Busan were delicious, by the way.
Go back to flashbacks from Busan