A MALTESE BIRTHDAY
in Santa Barbara, Sunday December 14, 2003
Kathy's beautiful mom Mary had her 83rd birthday in Santa Barbara, and we celebrated by making a Maltese meal. Mary's mother and father were both Maltese. Her dad worked for the British Consulate in Port Said, Egypt, and it was there that she was born and lived until she was seventeen. She spoke Maltese at home, and lived in an international community in Egypt, studying, as a child, in French and Italian schools. She is a truly multicultural person, sympathetic and sensitive to the traditions and beauty of all countries, absorbing many riches from her exposure to different nationalities and languages, and wishing always for peace. She sailed with her mother to the United States, her older half-brother had already moved here. She and her mother traveled alone, since her father had died, and they settled in Brooklyn, New York, later moving to Staten Island, where she lived until about fifteen years ago, when she moved to Santa Barbara, where Kathy and family were living. Now Maureen, Kathy's sister and her two children Sara and Julian live in Santa Barbara too, and are always helpful, and Colleen, Kathy's daughter, gives her wonderful treatments at her skin care spa whenever possible! Mary is the mother of five children, Kathy being the oldest. She is patient and sweet, and enjoyed this gathering of family and friends, celebrating her childhood and Maltese family roots. Kathy did research and surprised her mom with an especially Maltese celebration.
Here are a few notes on Malta and Maltese food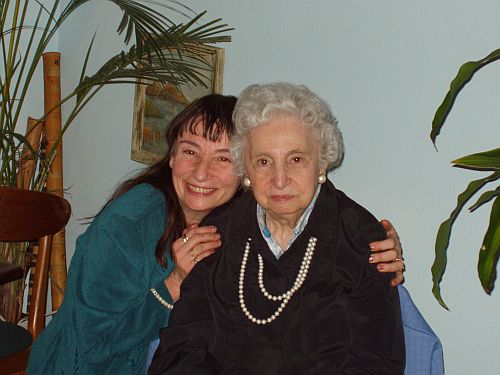 More surprises! Kathy's wonderful son Timothy brought his son Dylan from San Diego, for the celebration, and drove back the same day. He did it for his Grandma's birthday, to see her happy smile. As usual Dylan charmed everyone...
Cousin Bob Moffatt and his wife Jenny were delighted to be able to surprise Mary by arriving from Los Angeles to celebrate. Bob's grandmother was Mary's mother's sister.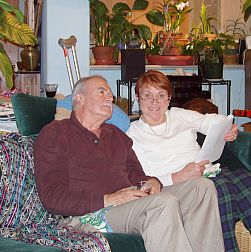 Mary's Santa Barbara family happily celebrated her special day.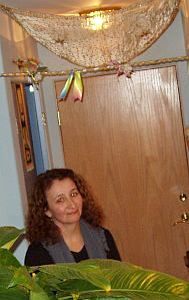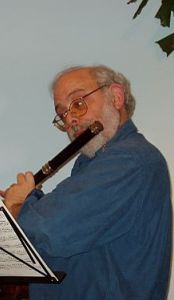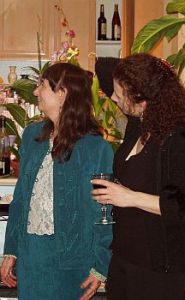 We were thrilled that our friend Patrick Lindley was able to join us for this happy occasion. We have left the virginal we rented from Curtis Berak in Santa Barbara. Rick, who has known Patrick for years, has been wanting to call him when we are in Santa Barbara, and arrange to play together, but we have been so busy. So we made contact and he and Rick finally had a chance to play music together. Patrick generously agreed to join the party and play sonatas with Rick to our appreciative audience, and even some solo Strauss waltzes especially for Mary, who has always loved them!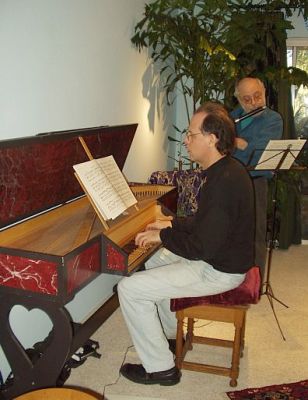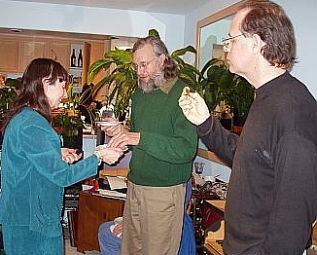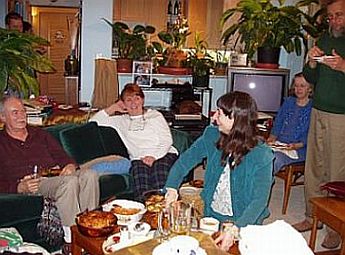 Kathy created a tasty appetizer based on the traditional 'pastissi' with ground chicken and cheese in sliced pastry roll forming individual biscuits.
In designing the meal, Kathy used her childhood memories as a base. 'Nana' (Mary's mom) used to make 'minestra' a thick vegetable stew. The recipe she created resembled the distinctive taste she and her mom remembered.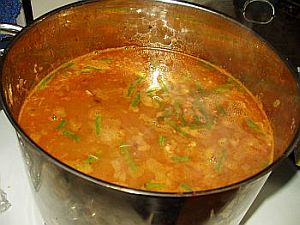 Maltese cooking includes many stuffed vegetable dishes. Kathy remembers her mom making stuffed eggplant, and her version came out amazingly similar in taste to her memory. It made Mary smile and eat happily!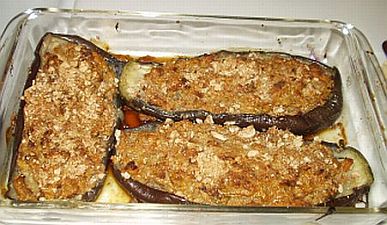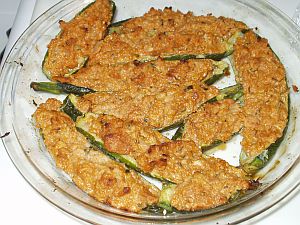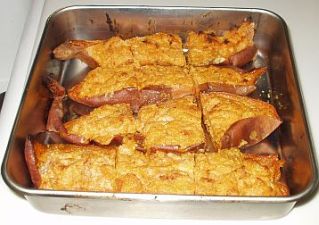 So Kathy tried improvising stuffed zucchini, zucchini being a favorite vegetable of her mom's, The stuffed yams, a Kathy recipe, (mom loves this vegetable too) was very successful.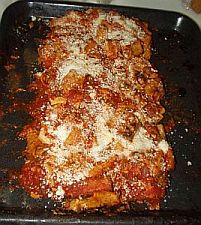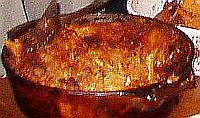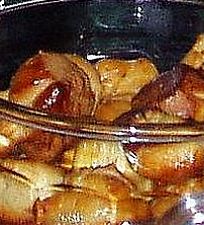 Above, baked macaroni,on the left, crispy, in the middle, a deep-dish version, and on the right Maltese bread (Hobz) See hobz recipe
Colleen created this beautiful dessert presentation on a giant leaf. Mango (mom loves it), tiny almond pasties Kathy made, improvising on some recipes for Maltese sweets, and dates (mom loves them, and ate them often in Egypt).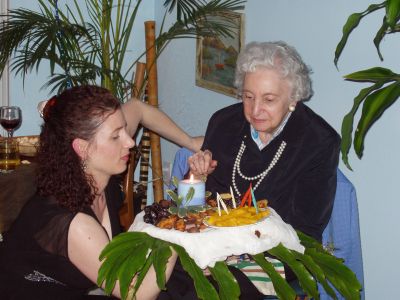 Kathy did lots of research about Malta, and Port Said, and some of Mary's gifts were books, music, and print outs, and a lavender plant, her favorite fragrance.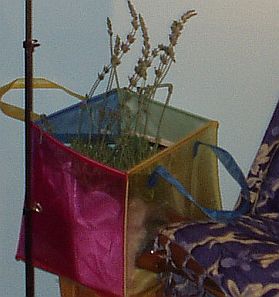 Mary loves blue, so we hung the stramers of blue lights in her honor. (Not to mention our home is painted blue...)
Mary was beautiful when she was younger, too.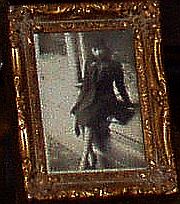 Colleen went out to a salsa class, then returned to the party, and gave Rick a lesson.
She says'Rick kept me up late salsa dancing!'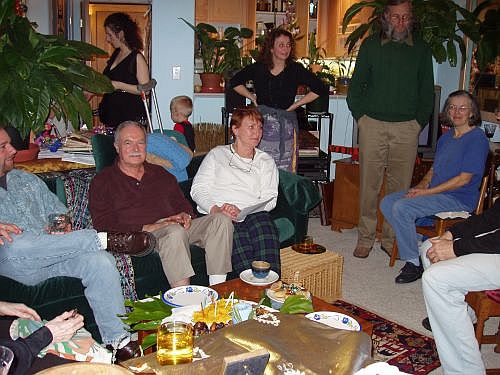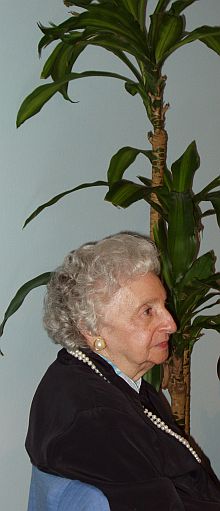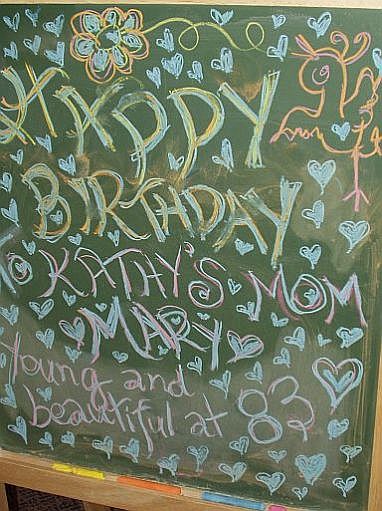 THE GATT FAMILY
Mary's mother's maiden name was "Gatt"
BOB POWER
grandson of Mary's mother's sister Tessie Gatt, finds us from Canada