THE GATT FAMILY Bob Power, from Canada, found our web page and family photos last summer (2004) and realized that there was a very close relationship between our families, on Mary's mother's side, THE GATT FAMILY.
Above: Teresa Gatt, Bob Power's Great-Grandmother, Mary Abela's Mother's Sister!
THE THREE GATT SISTERS

Tessie, Dolores, and Guisseppina, with Mary, Guiseppina's daughter in the front.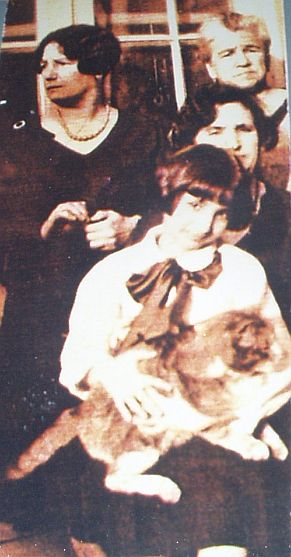 Mary Abela, (daughter of the youngest of the Gatt sisters) is in the foreground holding the cat. Behind her, is her mother, Giuseppina (Gatt) Abela. To her left is Bob Power's great grandmother, Theresa (Gatt) Mackey. On the right is their older sister, Dolores (Gatt) Micallef.
ORIGINAL CONTACT LETTER (June 26, 2004):
Kathy,
Let me first say hello long lost cousin (this I am positive of). I accidentally happened onto your web site this morning when looking for something else and boy am I glad that I did. There in full Black and White was my Great-Grandmother Tessie Mackey, her daughter Agnes, and her Gatt family for whom I have been searching for photos and connections since about 1993. All the pictures I have of this trip to Egypt are a single photo of Tessie, her daughter Agnes and some of the family on camels in front of the Pyramids. Your photo of the family is a little mind-blowing right now since it puts faces to the names and photos that I have collected for years. In fact I paid a private researcher in Malta several hundred dollars to research my Gatt family tree for me a few years ago. He traced the line with marriage records back to Domenico Gatt who married in 1604.
I'll keep this e-mail short but tell you who I am. My name is Bob Power. I have a wife and two little girls Kate (almost 4) and Grace (almost 2). We live in Whitby, Ontario, Canada. My mother is Ann Theresa Mackey. Her parents were Robert Alfred Mackey (deceased 1986) and Blanche Mackey still living in St. John's, Newfoundland at age 90. Robert's parents were Robert Augustus Mackey (2nd husband of Teresa Gatt) and Teresa Gatt. Teresa's children were:
Percy Mackey (formerly Hogger)
Edith Mackey (formerly Hogger)
Robert Mackey (my grandfather)
Agnes Mackey (deceased 1998)
Growing up I always heard of the wealthy Gatt family in Egypt. In 1998 I was to make a trip to NY to visit my Great-Aunt Agnes only to find out she had passed away the month before. Sadly I was left with only the details of some of her writings on a visit to Newfoundland several years before. I would love to hear more and see more of any Gatt family photos that you may have.
I have attached scans of a couple of younger photos of Teresa Gatt and Robert Mackey for you have a look at.
I look forward to hearing from you.
Sincerely,
Bob Power
Above: Teresa Gatt and Robert Mackey
Update, July 12, 2004

On the far left in the photo above is John Gatt. To his right is Emma Gatt, and in front of her is Sydney Gatt, John Gatt's son. To Emma's right is John Jr. To his right in the center of the photo is "Nana Zeza" the Gatt sister's mother. To her right and in the back roe is Uncle Tancred's son,Michael Gatt. Front row on the right is Uncle Tancred's wife, Irene Gatt. In the back, on the right is Mary's father, Michael Abela.

THE GATT FAMILY
This photo, taken at Uncle Alfred's villa in Ein El Shams, near Cairo, was taken on the occasion of Tessie Gatt and her daughter Agnes' visit from America to Egypt. Teresa (Tessie) Gatt is in the back row, far right, in a beautiful dress. Her married name was Mackey. Her daughter Agnes, is in the back center, with the large bead necklace. Tessie was a sister of Kathy's Grandmother, Josephine Gatt. Josephine is in the row behind the children, second from right, also in a beautiful dress. Josephine's first married name was Grech, she was widowed, and her second married name, that of Mary's dad, was Abela. Josephine, about ten years later, sailed to America with her daughter Mary, Kathy's mom. See Mary in the front center, with the bow on her head. When they came to America, Josephine moved to Brooklyn, New York, near her sister Tessie. We were surprised and delighted when we got an email from Bob Power

See correspondence below. The first email is on the bottom. None of us had ever been in touch before.
NEW LETTER from Bob: July 13, 2004
Kathy,
Thanks so much. These are great shots. I have not seen these pictures before. Thanks for posting them on the net. Some questions...Where was the first picture taken of your Mom and Grandmother and my g-grandmother. Your mother is significantly older in this photo from that of the big family shot in Egypt. Also, why was the Nana known as Nana Zeza? Does this mean something or was it just the way one of the children said it and it stuck? Or did it have to do with the Sapienza maiden name?
All the best.
Bob
Below is Kathy's response to the above (July 13, 2004):
Hello again Bob,
My mom says that the name Zeza came from "Theresa." In Maltese the "s" is pronouced like a "z".
She cannot remember where the first photo was taken. But she will try to figure it out.
Glad you like the photos, Warm greetings from Kathy and Mary
July 4, 2004
Kathy,
Attached are a few recent (proof photos) we had done when vacationing in Sarasota Florida. I haven't had a chance to scan the originals in yet. Go to Bob's family photos
Once I get some of the old photos scanned I will send them along. I have many of Tessie in Yap, Azores, and NY with different members of the family. I also have my grandparents wedding photo. I also have a class photo of Percy, Tessie's son, in Yap (early 1900's) with the majority of kids in loin cloths. They were pigmy native children.
I would be ecstatic to see a picture of Michael Gatt, your g-grandfather, if your mom can find one. Any other photos of Theresa Sapienza Gatt and the rest of the Maltese clan would be fantastic as well.
Keep in touch when you can. Bob
July 3, 2004
Kathy,
I am just now getting a chance to respond to your e-mails after a very fun-filled weekend with the family and my parents. We spent this afternoon at the beach and it was a sunny 90 degrees. Anyway, I am glad that your mother is excited by the prospect of finding long lost relatives. I saw the changes on your web site.
I was aware of some of the names you mention below but not their locations and vocations. The family as I have them are:
Michael & Theresa Gatt (Parents) - Married June 27, 1841 in Vittoriosa, Malta
Alfred Gatt (1st wife Virginia - 2nd Wife Emma?)
Mary Delores (Gatt) Micallef - Husband Timileone Micallef (Does your mother have any connections to the Micallef side of the family?)
Tancred Gatt wife Sophia ?
Teresa (Gatt) 1st husband William Hogger - 2nd Husband Robert Mackey
Josephine (Gatt) 1st Husband ? Grech - 2nd Husband ? Abela
John Gatt
By the way, my mother says that your grandmother was known as Auntie Guisa (pronounced Jew-sa). Does this ring a bell with your mother?
As for my family I have 3 brothers; David (older), John and Keith (younger). Keith is a musician. He did vocal Jazz at University of Toronto. He and his wife will be heading out to California to live in early August. He is going to be doing a music program at UCLA with the hopes of getting into the Movie/TV Show Score/Soundtrack business. All of the boys are married except for David. I am the only one with Children as of yet, Kate & Grace. My wife is Lisa. My parents are Ann and Lou. We all grew up in Newfoundland and came to Ontario after completing our University degrees David (Engineering), John and I (Commerce). I have a lot of old pictures since, as you might have guessed, I am the family historian on our side of the family. I will scan some of them in and send them along when I get the chance. I used to have them on my own web site, but the site has been removed by Yahoo. In fact I stumbled onto your site when I was searching for my free web site that disappeared from geocities over the past few months. I am travelling on business next week in Newfoundland, Montreal, and Ottawa then I am in Lexington, Ky for a couple of days the following week. It's a little crazy right now. So if you don't hear from me quickly you will understand why.
Do you have any old pictures of your grandfather Michael Gatt or any of the other Gatt family members from Malta?
I am sure my 90 year old grandmother will be amazed by the picture of the Gatt family when I show her this week. Let's keep in touch.
Your extended, extended family in Canada
Bob
June 29, 2004
Kathy,
Thanks for your e-mail. That's definitely the connection to your mom. In fact, in the 80's while vacationing in Florida with my family and my Mackey grandparents I met your mom's sister-in-law, Helen Grech. There's probably a picture of her around somewhere in my parents' albums. Very interesting about your mom's family moving to Brooklyn near her aunt Teresa. She probably new my grandmother (Blanche O'Shea) or her family since Teresa and Robert Mackey were very good friends of John & Edith O'Shea in Brooklyn.
My grandfather Robert Mackey was actually born on the island of Yap, in the south pacific, where Teresa and her husband Robert were stationed with cable business. My grandfather spent his childhood in Brooklyn and then went to work in the Azores with the Atlantic Cable business. Lots of stories to exchange I am sure. My e-mail being on the web is probably fine short term.
I look forward to learning more about the Gatt family on which I have limited info except for names, dates and some stories which you may find interesting. I have your g-grandmother's name as Theresa (Sapienza) Gatt. Can you validate this? Talk soon.
Bob
KATHY's RESPONSE (June 28, 2004):
Dear Bob,
I spoke to my mom for a little while and realized our connection. My grandmother Josephine Gatt, was Teresa Gatt's younger sister. Also, when she came to America, she went to live near her sister Teresa's in Brooklyn. I have made a page for your letter and pictures so that my mom can examine them closely. It is the best way for her to see them. She was so delighted to hear your letter. http://www.oldflutes.com/Kathy&Rick/gatt.htm I'll write more to you soon, let me know if you mind having the letter on the page. I will add more to the page, but it was all I could do while traveling!! Thanks so much for writing,
Kathy
Go to Bob Power Family Photos
Go to Kathy&Rick Home Page