MALTESE MINESTRA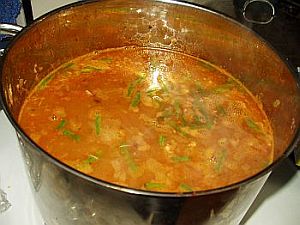 This minestra resembles Kathy's childhood
memories of how it tasted when her Maltese grandmother
Josephine Abela, used to make it after she
came to America and lived in Staten Island, New York the 1950's.
Mary Abela Endress, her daughter, and our mother, made it too, and she
advised Kathy on some of the ingredients,
and approved the finished product as
"authentic" and delicious!)

It does not need any pasta or rice,
as it is very rich when prepared as follows. There is a lot of variation and improvisation
in this recipe, and Kathy makes it a little different every time.
Recently we discovered that we like the taste better with NO TOMATOES or tomato paste!
Saute in a large pot: two large ONIONS,
till golden. * It is important to
the flavor that you cook the onions
in olive oil to a golden brown...five to ten minutes,
stirring and cheering them on.
This rich flavor substitutes well for a tomato broth.
Also add several cloves of minced GARLIC toward the end
of the browning if desired.
OPTIONAL: Add a can of tomato paste, SALT,
Cook together, add water or
vegetable broth and add some HAM with bone.
You can use cubes of SMOKED HAM instead, which gives a wonderful flavor
Cook at a low heat, gradually adding VEGETABLES.
Lots of chopped green CABBAGE is important to the flavor.
Add chopped PUMPKIN, YAMS OR WINTER SQUASH,
carrots, CAULIFLOWER,
and/or any vegetables on hand.
Add oregano, thyme, parsley.
Add several kinds of BEANS:
large white beans, kidney beans, fava beans (Kathy used organic canned beans).
Keep adding vegetables on hand
during the cooking process.
Before finally serving, add and cook for ten minutes in the soup:
cut fresh green beens for color,
flavor, and a different texture.
Cut ham from bone in bite size chunks and return to soup.
Mix some (to taste) PARMESAN and/or romano cheese to taste into the soup.
Taste for the right flavor.
Serve sprinkled with parmesan.
Ricotta cheese is good served
with it too, a spoonful on top.
This soup can be prepared the day
before and refrigerated to add to the flavor.
Go to Kathy and Rick's traveling recipe page
Go back to the Maltese birthday dinner