ABELA-GATT-GRECH FAMILY PORTRAIT IN EGYPT, 1927

This photo was taken at Uncle Alfred Gatt's Villa, (Mary's mother's brother) on the occasion of a visit from Tessie (Gatt) Mackey and her daughter, Agnes, who had traveled from America to see the family.
Mary Abela, Kathy's mom, is in the front row, center, with the bow on her head. Her mother, Josephine (Giusippina)Gatt Abela, is behind her, to the right, with the beautiful embroidered dress. Mary's grandmother, Theresa Gatt, is behind her to the left.

*Theresa (Sapienza) Gatt (second row, center) had five children: Alfred, Tancred, Giusippina (Josephine) (Mary's mother), Dolores, Tessie and John. All of them are pictured in this portrait. See description below.

*Left to right: Front row children: Michael Gatt (son of Tancred Gatt); Mary Abela (daughter of Michael Abela and Giusippina Gatt Abela); Stelio Gatt (son of Tancred Gatt and his first wife (deceased)). Second row: Dolores Gatt (wife of Alfred Gatt), Alfred Gatt (this photo was taken at their villa); Theresa Sapienza Gatt (mother of Alfred, Tancred, Giusippina, Dolores, and Theresa (Tessie) Gatt); Giusippina (Josephine) Abela ; Cuca (Emma Gatt's mother, holding the daughter (second born) of Emma and John Gatt. This child did not survive infancy.) (The mother, Emma Gatt, is directly behind her). Back row:Irene Gatt, Tancred Gatt's second wife, Tancred Gatt; Agnes Gatt (Tessie Gatt's daughter who traveled with her from Brooklyn); John Grech (Mary's half-brother, son of Giusippina (Josephine) Gatt and her first hushand John Grech); Nini Gatt (Alfed Gatt's son); his sister, Zuza Gatt (Afred and Dolores Gatt's daughter), ; John Gatt (Mary's Mom), holding John Gatt, his son; his wife Emma Gatt; and Theresa (Tessie) (Gatt) Mackey.

Below is the family of John Gatt, the youngest brother.COMPARE TO ABOVE: In the family portrait above, John is back row, third from the right. His wife, Emma, is back row, second from the right, next to his sister, Tessie Gatt. The photo below was taken quite a few years later.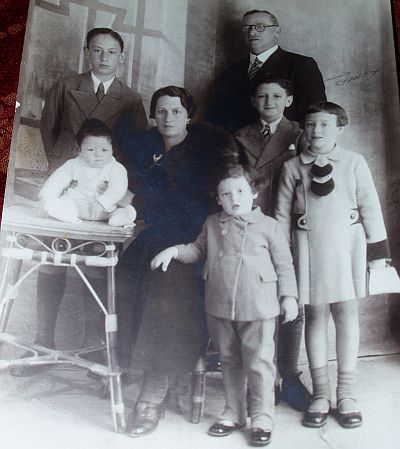 Here, John Gatt is in the back right, and his wife Emma near center, next to the baby, Edwin. On the far right, front is Lea, front center is Louis. Back left in the oldest son John. Behind Lea, and in front of his father, smiling, is Sydney.
***********************
A PORT SAID Childhood



Kathy's mom, Mary Abela
was born of Maltese parents, in Port Said, Egypt. in 1920.
An ABELA Port Said Album 1920 to 1937
Go to Newest Update
THE GRECH FAMILY
Mary's Mom, Jopephine Gatt, had two children. Her first son John Grech was the child of her first marriage. The other was Kathy's mom, the daughter of Michael Abela and Josephine Gatt, Mary Abela Endress. Recently (May, 2005) John's daughter and her family have found our website, and made contact with Mary. We been ourt of touch for about 50 years!
Go to Letters from Betty Jane and Family

THE GATT FAMILY
Mary's mother's maiden name was "Gatt"
BOB POWER
grandson of Mary's mother's sister Tessie Gatt, finds us from Canada