THE LAST SEVEN QUESTIONS YOU'LL HAVE
ABOUT KATH AND RICK'S TRIP TO PUERTO RICO UNTIL AUGUST
WE'RE HAPPILY HOME AND MUSING ON THE LAST TWO WEEKS, SORTING OUT OUR IMPRESSIONS BEFORE WE GO ON TO OUR ADVENTURES HERE:

1. Is there anything different about the general look of Puerto Rico?
We'd say that the most noticeable distinction aside from the natural overgrown foliage is the use of color on houses, buildings, streets and public spaces.


There's a bold use of color that is taken for granted. Bright yellow, orange, green and blue are common colors of buildings and homes, and a cheerful mix is what is usually seen. Also there are lots of colorful



hand-painted murals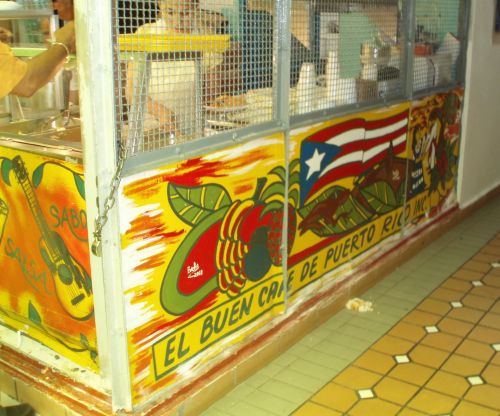 and signs, many more than we are used to,
and even the widespread graffitti is more colorful and creative.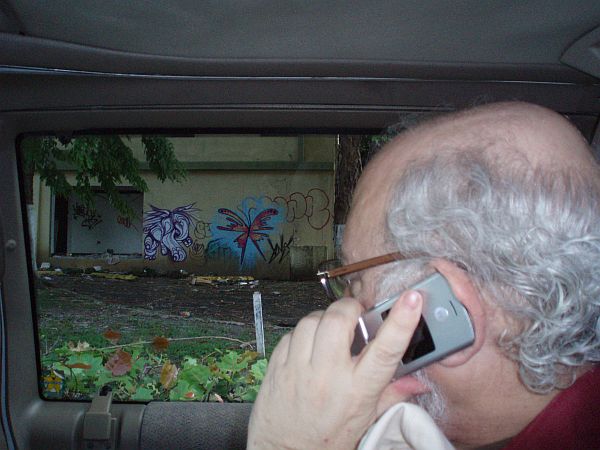 2. Mmmm... we see you're using your cell phone...how did that work?
It worked fine. We were able to call Kath's mom and give her updates, get messages, including text messages, and our niece Diana called us there, while we were deep into at the Botanical Gardens. It does not cost extra since Puerto Rico is a territory of the U.S. It made calling our host, the cab, and each other very easy.
2. Where do they keep the fruit?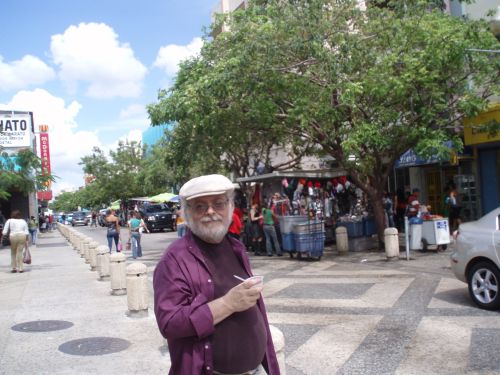 We were complaining for a while that we could not find all the unusual and varied fruits everyone was talking about. We were lucky to get ordinary mango at our hotel's "boat bar" and other restaurants don't seem to be any better in that way.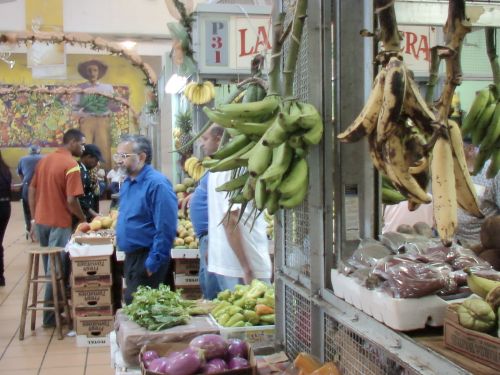 The day before we left we went with our host, Herealal Janwa, to the large ongoing farmer's market area, not far from the University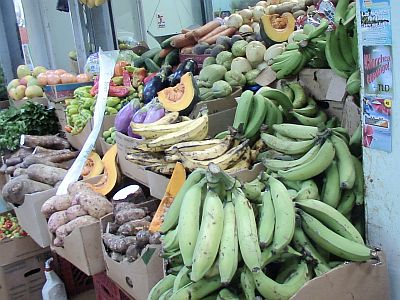 with both indoor and outdoor stalls and found many vendors with a full display of fruits and vegetables. Mostly locals would buy for their homes. We bought some few small mangos and some starfruit, but it was too late to eat them. We had one of the pretty starfruit cut for us by our boat bar servers and we gave the rest as gifts before we left.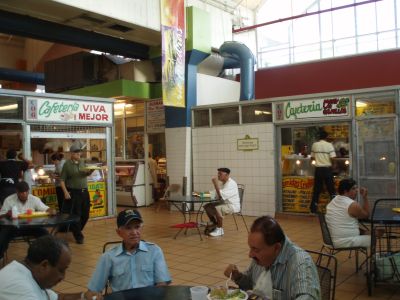 One of our favorite meals of the trip was an outdoor meal at the market.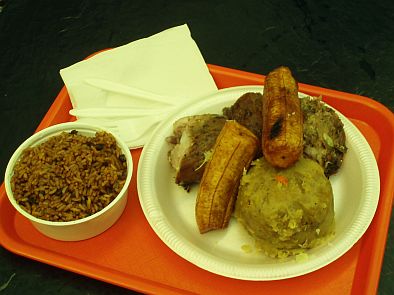 Kath especially loved the plantains here, one served whole and the other as a delicious mofongo (mashed plantain)

See "Cafeteria Junior".
3. What is the best way to get around in San Juan?
Call "Tony". The traffic is thick and aggresive. We had no inclination to rent a car. There are some buses and trains, but the most common and easiest is taxi. For the last three days of our stay we had found our "dream taxi driver", Tony, who is fully bi-lingual, lived in New York for 5 years, and also is an official guide for tours to the rain forest, Ponce area (to the south) Canuy Cave, and the Astronomical Observatory (we plan to go there in August). He's friendly and very knowledgeable, was able to take us to all the right places for our special interests, such as music stores, which were nowhere in our area, and answered lots of questions we had about how and where things were there. His prices were better than anyone else's too!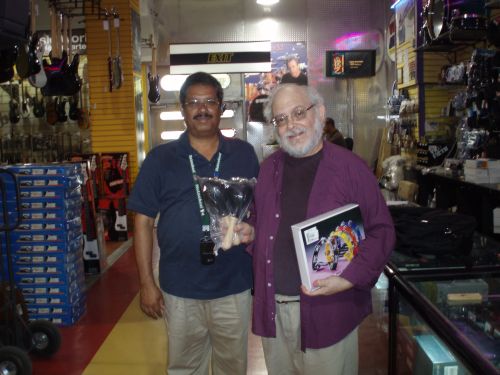 If you need a ride or a tour in Puerto Rico call Tony at 787-391-9050 and tell him Kathy and Rick sent you!
4. So now we are really curious. What musical instruments did you find??
We were fascinated by the look and sound of this instrument: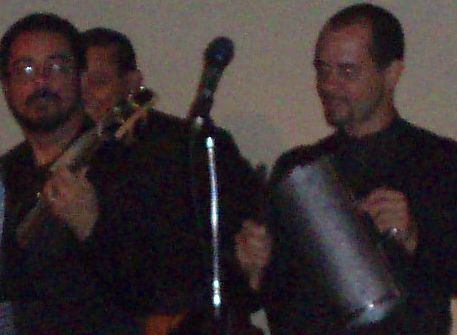 a guiro
We were able to find a couple of these large metal versions of the traditional gourd with notches (we got some of those too. They were locally handmade and have little bumps all over them. One is for Kath's percussion guru, Lynn Vartan! What do you think, Lynn???
We also got some maracas, not the small original traditional ones, but the larger ones we saw played in Latin bands: Here's an interesting history: "Maracas were created and first used by the native indians of Puerto Rico: the Tainos [Kath remembers seeing some of these in pictures depicting early Taino rituals at the museum), as a percussion musical instrument. A pair of these are used to create the unique sound so common in Latin American and Puerto Rican music. Maracas are made from the fruit of the higuera tree so common throughout Puerto Rico. The fruit must be round and small. After taking out the pulp of the fruit through two holes that are bored through the dried shell, small pebbles are introduced into it. Then a handle is fitted to the dry fruit shell. Unequal amount of pebbles are used in a pair that make up the maracas, to produce their distinctive sound. In salsa music the maracas have become one of the most important percussion instruments because they add a driving pulse in the high frequency spectrum. Maracas are now often made of new materials, such as plastic, but are used the in same way, fulfill the same musical role in Latin bands, and retain the same distinctive sound". So we got some ot the large plastic ones we saw used, but maybe we'll see if we can find some fruity ones next time.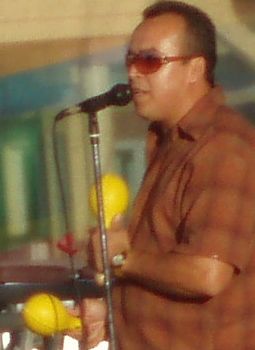 Maracas being played while people danced on Old San Juan last week.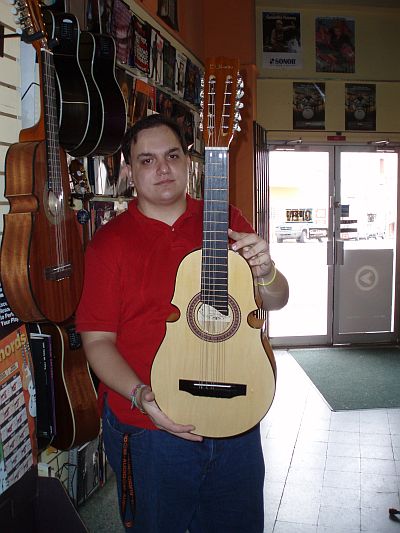 What's that???
We're proud to have found this. It is a quatro, revered for decades as the national instrument of Puerto Rico. We carried it home on the plane for our friend Steven Radice who did so much to keep our poets happy while we were gone. We hope he will like it, it has a beautiful sound... and our effort should at least make him smile and know we love him! Usually carved from solid blocks of laurel wood and known for resonances and pitches different from those produced by its Spanish counterpart, and the light color of the wood is traditional, we were told. The bridge is a classic guitar type, but the instrument is steel strung. "It is played with a flatpick and sounds like a cross between a 12-string guitar and a mandolin."
5. How do you dress for Puerto Rico?
While we did not go in the hottest season, we think this would hold true in most seasons: it's a little complicated but definitely informal. Dress for hot and cold. It is very warm outdoors and very cold indoors. Air conditioning everywhere. So be prepared for quick changes. For instance Rick brought lots of short sleeve tropical button down shirts. He did not wear one of them. They were too cool for indoors, and a sweater too bulky to carry around outdoors. So he wore colorful tee shirts, with button down shirts open over. Kath had to be careful becauses dresses and skirts with bare legs were too cold indoors, so pants, long dresses or once, stockings with a shorter dress works better.
6.How about everyday life? What language is spoken? Are people friendly?
Mostly Spanish, but some people are bi-lingual, and many signs are in both languages. The money used is U.S. The people are friendly!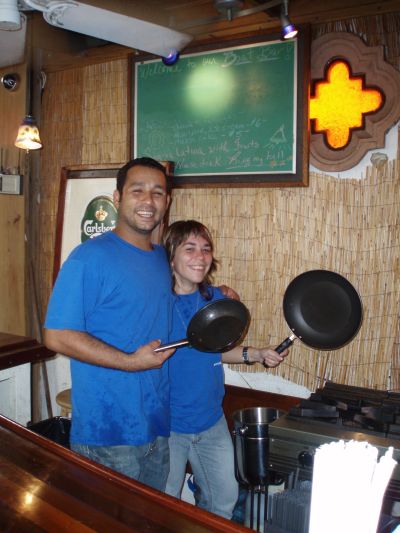 Smiles from our cooks at the "boat bar" at our hotel "At the Wind Chimes Inn".
7. Where do they keep the orchids?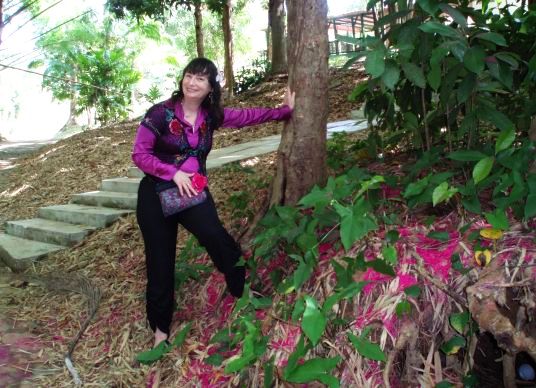 We don't know!
We had read of the Botanical Garden of the University of Puerto Rico: "This lush 75 acre urban garden can fill you with hours of delight. Hundreds of species of tropical and subtropical vegetation line the paths, ponds and bridges of the Garden. One area boasts 30,000 orchids". So we reserved the last afternoon for a another visit to the garden to so as not to miss the orchids. After a long walk in, we located a map and followed the trails for almost two hours only to find that the orchids were not there. Even the people in the office at the garden pointed out the way, and assumed we would find them. Our host found out by cell phone from a colleague at the university that they had been removed and relocated somewhere else, not in the area. Hopefully we will solve this mystery during our next visit in August.
Some places where the orchids aren't: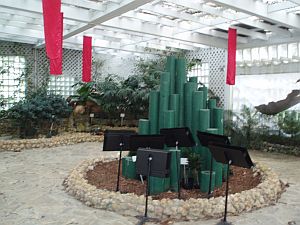 Uh, we saw this behind bars in a locked nursery... perhaps a Haydn's farewell to the orchids was here?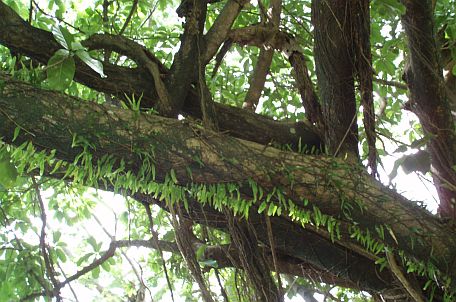 Lovely, but no.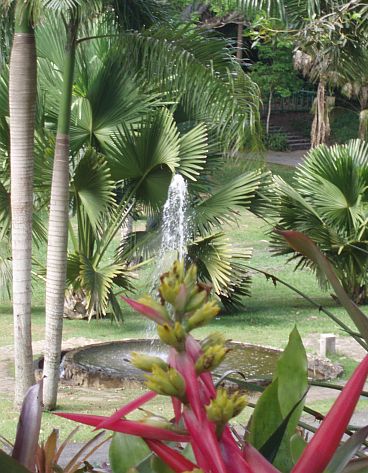 Nope, it's a bromeliad.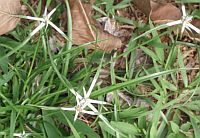 Small grasses growing close to the ground...sort of reminds you of orchids...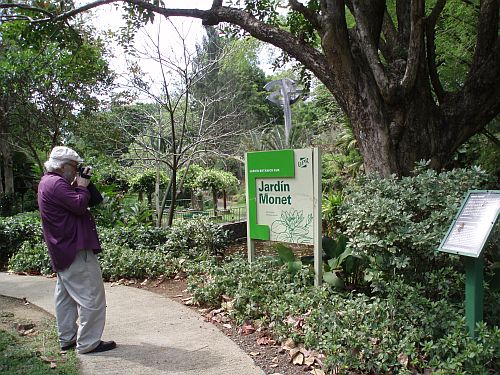 Again, lovely, but no.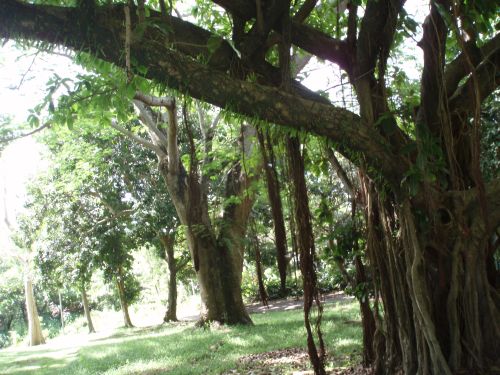 A lovely spot without orchids.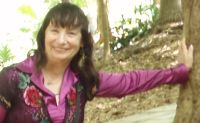 See you in orchids...I mean August!— thanks for sharing our trip, Kath and Rick
Go to Puerto Rico Travel Index
Go to Ten Frequently asked questions about our trip to Puerto Rico

Go to Into the Rainforest
Go to Wonderful homemade Indian meal
Go to First Day at the University and the Botanic Gardens (includes sounds of coquis)
Go to Crazy Travel to and Happy Arrival in Puerto Rico
Go to Kathy&Rick Home Page