ANSWERS TO TEN REQUENTLY ASKED QUESTIONS
ABOUT OUR TRIP TO PUERTO RICO
1. Where are we?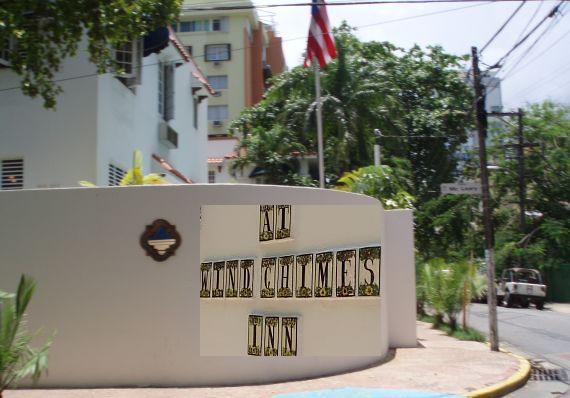 Our hotel "At the Windchimes Inn" is on the northeast coast of Puerto Rico, in the Condado district, the north edge of the city of San Juan. Where do the keep the wind chimes...we don't know...we haven't seen any. It would be hard to keep wind chimes here because the wind comes up so strongly and so often.
Which leads us to the second question...
2. How's the weather?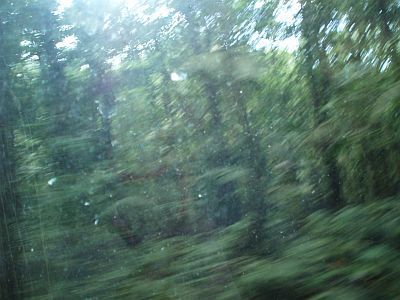 The weather is interesting here. On most of the days we've been here it has rained hard about six times a day. However it lasts for about fifteen minutes, and then it is over. Everything gets drenched. We have seen few umbrellas, however. People generally are so used to the rain, and they know it will be over soon. They usually wait for a few minutes in a covered place, and then continue, or just walk and expect to dry off naturally. This happens quickly, because it is very warm, and the sun usually comes out soon after.
3.Have you been to the beach?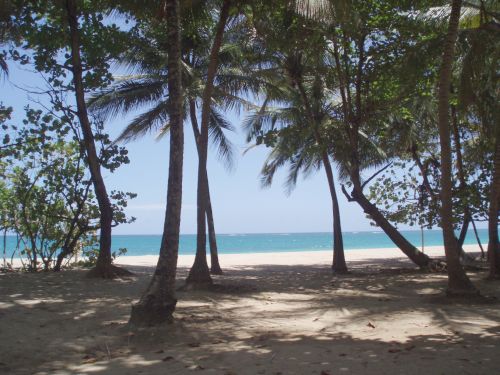 The beaches are very accessible, we've only been to the one that is a half-block from our hotel. It is quite simple, a few palm trees, clean, beige sand (with tiny shells) and the Atlantic Ocean right there. You can walk a long way on the beach, all public access. There is almost no driftwood, though, so Kath has not made a "creature" here. Signs warn of strong currents, so maybe that is why we have seen only one person and two pelicans in the water.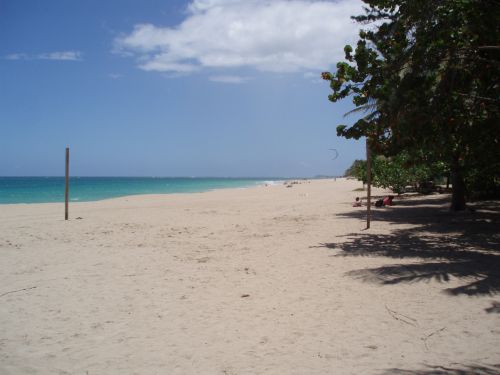 We've collected these tiny shells and you can pick your favorite.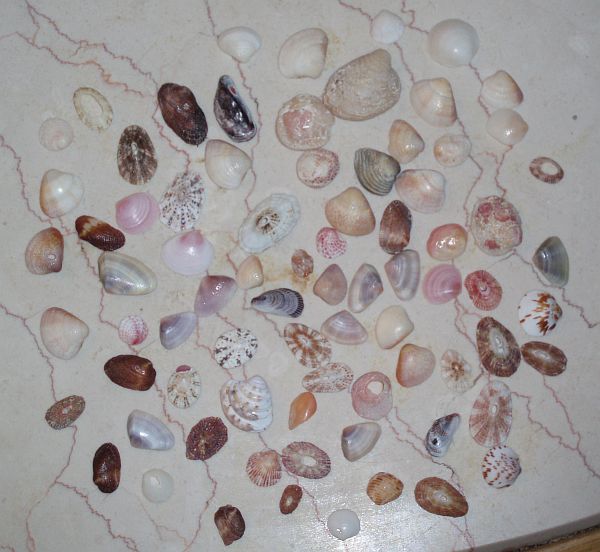 Friends, please email or IM your choice... the one second from the bottom on the right belongs to Jian Yuan. Kath wants to keep the one to the left and above the silvery one above hers... the one with irregular little splotches. The pink ones are a really pretty color.
4. How about the University?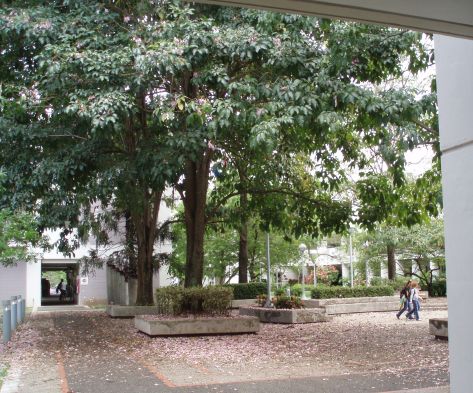 The University is about a fifteen minute cab ride from the hotel. That is what we do every day. We get ready, which takes a while, including going for breakfast, and then take a cab to the University. Our hosts put us in this hotel because it is close to the beach, and equi-distant to the University and the Old San Juan district, which has the interesting old buildings...we showed you a glimpse of it on Saturday. The University is the largest in Puerto Rico, is very inexpensive for its huge population of students. The campus is overgrown with vegetation as is the rest of San Juan, thanks to the interesting weather. My poem "Textual Ecosystem Preserve" (see our index page) was inspired by the rainforest, but really that entangled growing together of things, "vine to branch" is a characteristic of this place right down to the city street trees. It is rare to see a tree growing on its own, without "enraptured" vines or ferns attached. This is a common sight on the street or on campus.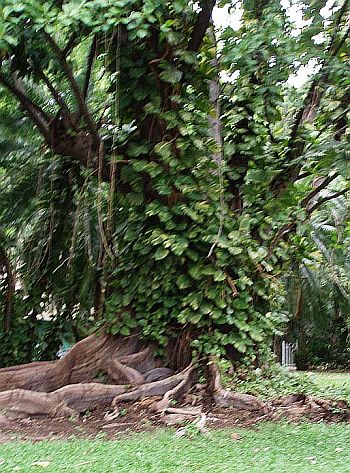 Lunch at a local bookstore near the campus
5. Are we on vacation?
Not really.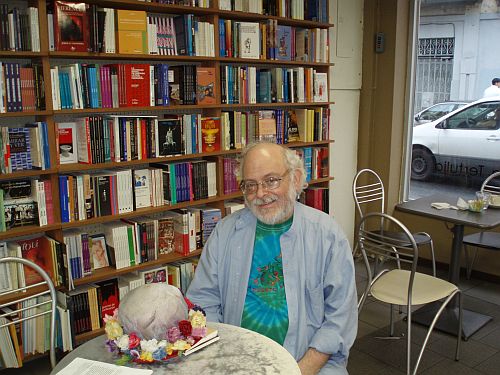 This is a working trip, Rick has been discussing math with our host, and working on student papers from his class at Caltech. The time change adjustment plus the time at the University make the days seem shorter and we have all we can do to make sure we do a few "touristic" things. Certainly no "lolling on the beach"! (We don't really enjoy that anyway.) Kath has been writing poetry, keeping up with rehearsing her dancing and singing, and working on the web pages like this one!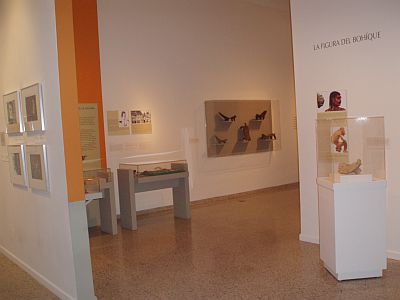 Yesterday she walked to the University Art Museum
and saw artifacts of the Taino culture, the Indians who populated this land before the Spanish arrived,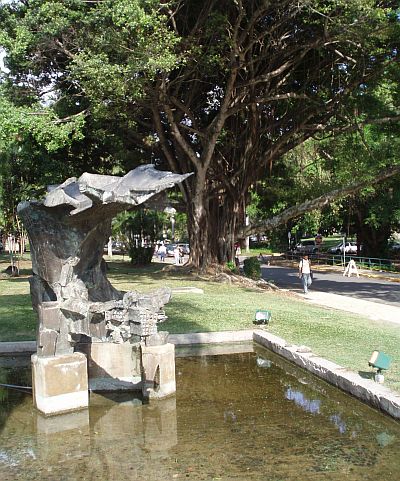 and a few more contemporary sculptures. Our favorite places so far (thanks to our host) were the Botanic Gardens (we're hoping to go back tomorrow and see the orchids, which are further into the gardens than we had time for last time) and the Loquillo Rainforest.
6. How about the food? What is it like?
It took us some time to find Puerto Rican food. Our hotel "boat bar", so convenient and friendly has only the tiniest taste of it. They do have "epanadas" which are a traditional, common food here, a pastry filled with something like chicken, or whatever is chosen for filling. In Old San Juan there was some. A lot of places are "fusion" as in California food... but we had "mofongo", fried mashed green plantain with other things on top, is a traditional dish. We had that and like it very much. At the University most food is sandwichy, but our host brought us to an outdoor lunch stall in the law student center, which has the best coffee, and also soups cooked off-site by someone who cooks traditionally.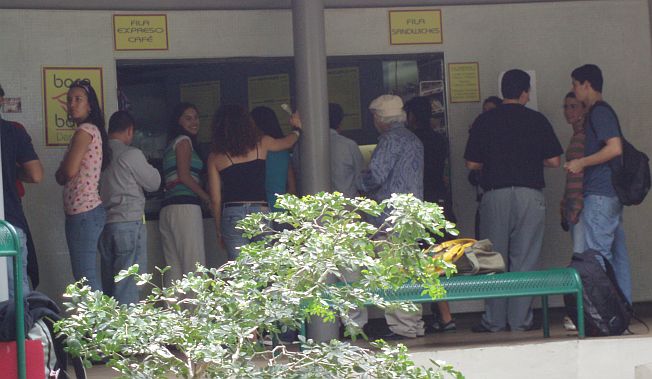 Kath will definitely make some of this for poets! Green plantain soup (often mixed with carrot or pumpkin) is delicious and not sweet. Seasoned with cumin and cilantro.
Eventually we got to know an excellent cab driver who told us where to go near our hotel (Bebe's) and we've had a couple of meals there, more authentic, with rice and beans.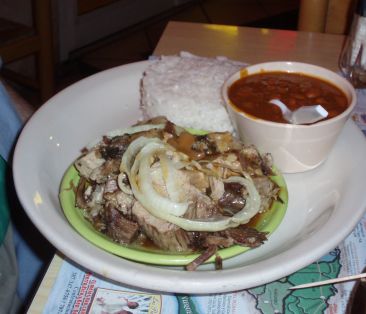 The beans here are red kidney beans, seasoned in a traditional way, in a sauce. We are told that black beans are used in Cuba and the Dominican Republic. Tonight, after looking in the local guidebook, we went to a large hotel nrarby, to find live music and dancing... and also had some black bean soup... we asked the waiter and he told us it was Cuban style. It was served with raw onions, rice and plantain chips to sprinkle into it. Another good dish for poets night! There are restaurants everywhere that feature Chinese, Japanese and Italian cuisine, and French pastries.
7. What are you drinking?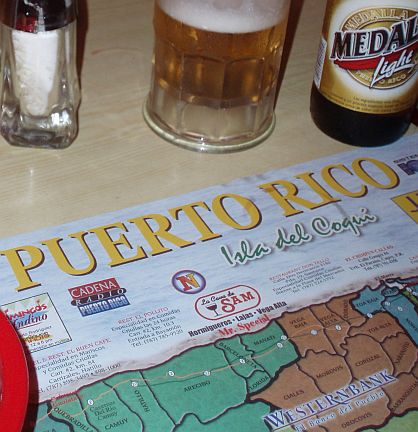 The coffee is mostly pretty good, not too weak. (We like it strong and rich.) We found that coffee is served with milk unless one makes a point of asking for it to be left out (we drink it black). Espresso is the best here, we think. The most common and the only Puerto Rican beer served (and very inexpensive) is "Medalla". It's very refreshing. I am sitting at "the boat bar" having one now! We've had rum drinks, which tend to be very fruity and watery... but our favorite so far, recomended by our waiter last night was a Margarita! It tasted homemade, not made with a mix, not too sweet, limey and salty.
8. What about music and dancing???
Oh yes. We do hear music everywhere, recorded salsa style music in the cabs, the hotel boat bar, restaurants. In Old San Juan there was live music and dancing outdoors, with singing and maracas. Tonight, after some research, we realized that the place for live music is in the big hotel bars ...so off we went.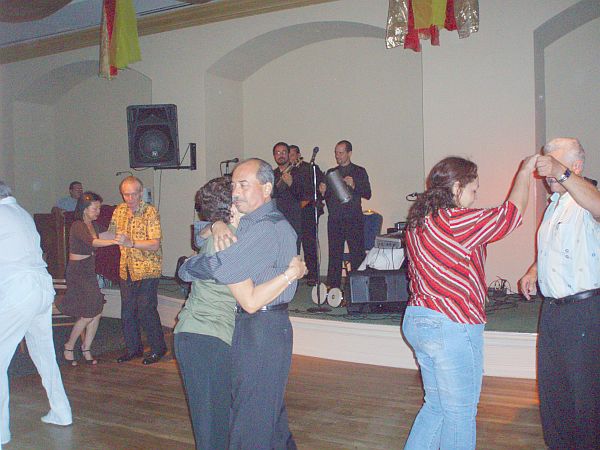 Interesting and fine percussion too. One of the most delightful things here is the dancing, and especially how many men do it as a matter of pride and skill. Charming. We're hoping to go to a music store to see percussion instruments tomorrow. You can't see Kath in the photo... but she did bring her sparkly dancing shoes, and danced with the "natives"... hee hee...
9. What are coquis and why are they important?

Coqui are tiny tree frogs that have very loud voices, and as the story goes they are harder to see than Irish leprahauns. Coquis are the national symbol of Puerto Rico. Before coming here, we'd never heard of them. Now our lives feel complete. Their charming, very loud voices are heard everywhere, especially after dark, and their call sounds just like their name! Co-keee! Co-keee! Wonderful, and if you did not know better, you would be sure it was a bird! The picture below is on Riock's new tee-shit and quite fanciful in color...they really are light brown... although we have never seen one except in photos!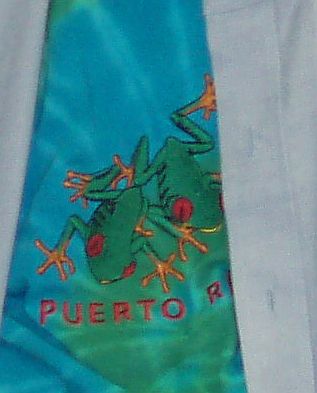 10. Would you come back?
We ARE coming back in August, by invitation, and now that we've been here once, we'll know a bit more about how to find things, and how to organize our time. Hopefully it will not take us 33 hours to get here... which gave us a very slow start!


Go to Puerto Rico Travel Index
Go to Into the Rainforest
Go to First Day at the University and the Botanic Gardens (includes sounds of coquis)
Go to Crazy Travel to and Happy Arrival in Puerto Rico
Go to Kathy&Rick Home Page